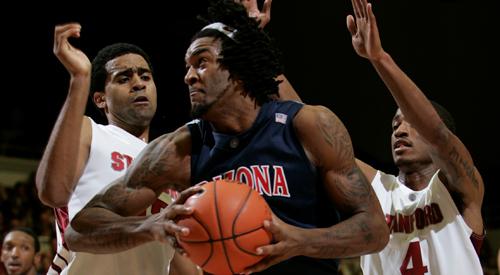 The 2009 NBA mock draft… five years later
June 1, 2009
With the finals for each respective conference quickly drawing to a conclusion and the championship round set to begin many diehard fans have been rendered average spectators. Our teams have long been eliminated (many of them from playoff contention months ago), leaving the hope of a championship to only those fans of a select four teams, while the rest of us choose between the remaining Orlando Magic and Los Angeles Lakers.
That said, everyone whose team is not still in contention is likely already looking past the Finals and has their sights set on a fresh season, where no one has been eliminated and diehard status will be renewed.
Hope is everything to a sports fan. The possibility of contending for a championship, no matter how slight the possibility may be, is all it takes to erase the sorrows of a year ago and renew the passion and enthusiasm that sparked our fandom so many years ago.
The breeding ground for such hope is the NBA Draft. The annual talent auction has a long standing reputation for changing the fortunes of entire franchises, however for the change to be a positive one the player selected must have a combination of skill, will and opportunity to flourish; a combination that even many elite prospects have lacked from the get go (cough, Kwame Brown, Darko Milicic etc.).
While many sites are quick to provide mock drafts that show you where players are expected to land when David Stern calls them to the podium at Madison Square Garden, we here at The Good Point have elected instead to speculate what kind of career each of the top five picks will have over their first five years in the league.
[php snippet=1]
No. 1 Overall – The Los Angeles Clippers select Blake Griffin
A lot has happened for the No.1 pick over the past five seasons. Griffin averaged a healthy double double in his rookie season and garnered ROY honours as expected. The Clippers led by young stars in Griffin, Al Thornton and Eric Gordon were able to renew the spirit (and conditioning) of both Baron Davis and Marcus Camby to establish one of the most imposing starting fives in the entire association and ultimately won the championship in just Griffin's second professional campaign.
Five years later Griffin is a champion, a perennial All-Star and All-NBA talent who is widely considered the best power forward in the game, following the retirements of Tim Duncan and Kevin Garnett.
No. 2 Overall – The Memphis Grizzlies select Ricky Rubio
After beginning his first American season coming off the bench behind Mike Conley, Rubio's dynamic play earned him the starting job just 15 games into his rookie campaign. His run and gun mentality has allowed Mayo and Gay to flourish on the wings, while increasing the effectiveness of players like Hakim Warrick.
Five years later Steve Nash has long retired and Rubio joins Derrick Rose and the 2010 No. 1 overall pick John Wall amongst the top point guards in the NBA, but while the Grizzlies have enjoyed great success in the regular season their lack of front court defensive presence has made them easy prey for conference contenders like the Clippers and Thunder.
No. 3 Overall – The Oklahoma City Thunder select Hasheem Thabeet
Thabeet starts at center from day one in OKC, where he combines with a star studded team of up and comers to establish one of the most formidable young teams in the association. Kevin Durant and Russell Westbrook are studs and players like Thabo Sefolosha and Jeff Green only see their impact increase with the addition of Thabeet's defensive presence.
The Thunder make the playoffs in Thabeet's rookie season, but suffer a setback early in his second year when he breaks his hand attempting to block a Dwight Howard dunk. While the Clippers go on to eventually win the championship that year, the Thunder plummet back to the lottery where they draft Thabeet's former Uconn teammate point guard Kemba Walker and return to win the championship in their own right in just his third season.
No. 4 Overall – The Sacramento Kings select Jordan Hill (who they quickly trade for Brandon Jennings)
The Kings did not need another power forward, what they needed was a point guard, but with Rubio already taken and Hill the best player on the board they elected to wait and see where Jennings fell and then trade for a player with a lower base salary and other considerations.
Hill ends up in Golden State, where they have yet to figure out that their lottery picks should not be wasted on power forwards every single year. Brandon Wright, Anthony Randolph and Hill all fight for minutes for Hill's first two years in the L until finally someone interjects to fire both Chris Mullin and Don Nelson. Hill is subsequently traded to the Toronto Raptors (who lost Chris Bosh to free agency in 2010) for draft mate Gerald Henderson, whom Toronto selected with the No. 9 overall selection. No one in Raptorland even realizes that Bosh ever left as both Hill's appearance and game are exactly the same.
No. 5 Overall – The Washington Wizards select James Harden
Returning Gilbert Arenas and Brendan Haywood to a core of Caron Butler and Antawn Jamison should make the Wizards a playoff contender right away, adding a multi-skilled player like Harden to their starting five should ensure it.
What makes sense doesn't actually ever transpire in Washington however, as DeShawn Stevenson decides to insult and ridicule Harden from day one (just like he does to all players who are better than he is), and Arenas refuses to embrace his role as a true point guard, leaving Harden to run the show from the two guard position.
All the talent in the world can't save Washington from their lack of team chemistry until Arenas goes down with yet another injury in Harden's third season. Javaris Crittenton assumes the point guard duties allowing Harden to flourish alongside Butler, and the pair combines to form the best scoring duo in the Association averaging a combined 51 points per contest. The Wizards go all the way to the conference finals where they lose to the eventual champion OKC Thunder.
[php snippet=1]