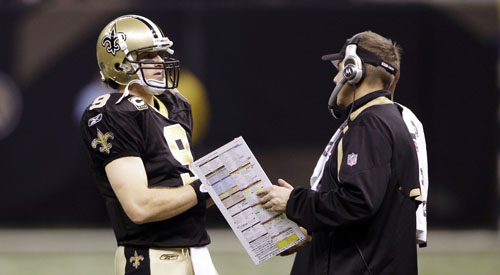 2010 NFC Championship Preview
January 24, 2010
In contrast to the AFC championship game, the NFC championship features the two teams that dominated the conference in the regular season. The New Orleans Saints went 13-3, while the Minnesota Vikings were just a step back at 12-4. Both took care of business in the divisional round last weekend, with the Saints demolishing the Arizona Cardinals 45-14 and the Vikings knocking off the Dallas Cowboys 34-3. They both have great quarterbacks, with Drew Brees leading the Saints and Brett Favre piloting the Vikings' offence, and they both have solid run games. There are plenty of interesting factors to consider in this matchup, so I spoke to some knowledgeable NFL bloggers to examine how it breaks down.
Mark Hooper edits the Fanball Sports Network's Saints website, WhoDatBlog. He said last weekend's blowout win over the Cardinals surprised him, especially considering the poor way the Saints finished the season.
"To be honest, I didn't see that coming," he said. "I expected more of a track meet, and I thought that first play from scrimmage set the tone. I really was thinking the Saints would do their normal slow start then finish strong, but they were cranking on all cylinders from play one. Drew Brees had arguably the best game of his season balancing the running and passing game, keeping the Cardinals on their heels all day. The Saints could do anything they wanted at any time."
Hooper said Sunday's game should be a good quarterback duel. He's been impressed with Brett Favre's performance to date, but he thinks Drew Brees will have the better game.
"Favre had a remarkable game against the Cowboys, tossing long pinpoint passes to talented WRs and escaping the pressure," Hooper said. "I think that game was also his finest performance of the year, and that's saying a lot. I just don't see him being able to duplicate that against the Saints' defence. The Saints have had issues in their secondary this season, but their opportunistic defence and better safeties will make Favre work harder for his scores. Brees just has too much talent and at home will put together a solid game."
Hooper said the running game is more evenly balanced. The Vikings have star running back Adrian Peterson, but the Saints can throw out three talented runners in Reggie Bush, Pierre Thomas and Mike Bell.
[php snippet=1]
"I see Peterson having a bigger impact than he did against the Cowboys, and I think he may be a big factor in keeping drives alive and third-down situations manageable," Hooper said. "Reggie Bush could be a game-changer, but that's a tossup right now."
Hooper said the matchup Saints fans should worry about is the Vikings' talented wide receivers against the Saints' cornerbacks.
"That's the biggest concern," he said. "The Saints will need to get pressure from their front-four to alleviate the pressure on their corners. If they have to resort to blitzes to slow down Favre, it could be a long day for Saints fans."
Hooper said he thinks the Saints will do enough to prevail 34-31 in a close one, though.
"I don't think you can overlook the Saints' confidence coming off a blow-out win versus the Cardinals (and another aging yet productive QB), and more importantly, the home field advantage," he said.
Dan Zinski is the lead writer at the FanSided network's Vikings site, The Viking Age. He said the Vikings have pleasantly surprised him this year.
"I'm not embarrassed to admit I thought the Favre experiment would be a flop," Zinski said. "I figured he'd stink or his arm would drop off and we'd limp to the finish with Tarvaris Jackson as our quarterback, and not even make the playoffs."
Zinski said the way the team played this year gave him confidence going into the postseason, though.
"Once we made the playoffs, however, I thought we had a good shot to beat whoever we faced in the divisional round, just because we've been so dominant at home," he said. "I was surprised we crushed Dallas as bad as we did, but I wasn't surprised that we beat them."
Some have questioned the Vikings' transition from a run-first offence prominently featuring Adrian Peterson to a more balanced game incorporating Favre's passing abilities. Zinski said it's been a necessary move, though.
"There's no doubt that the Vikings have gone away from having Peterson as the centerpiece of the offense, but it's out of necessity, because for whatever reason he just isn't the same runner he was in past years," he said. "I think the fumbling has gotten in his head and I think, frankly, our run blocking hasn't been as strong as in past years thanks to turnover in personnel and Steve Hutchinson fighting a back injury (a fact that seldom gets brought up by the national media folks).
"Frankly, the way Favre and the receivers have played most of the year, it just makes sense to throw the ball more, so Peterson ends up being a guy you pound in there to keep them honest, and use when you get close to the goal-line. Actually, I think Chester Taylor is probably a better back for the way this team plays now; he's a better receiver and a better blocker. The advantage Peterson gives you is, teams still commit the extra guy to stop the run which leaves tons of one-on-one coverage. Sidney Rice almost never sees double-coverage which is a big reason why he's having a huge year. Plus, it seems to me tacklers have been making an extra effort to go low on Peterson and tackle him around the ankles. He needs to make some adjustments in the offseason, I believe."
Favre and Brees have both had very solid years. Zinski said he'd rather have Favre starting for his team than Brees, though.
"He has that old No. 4 magic," Zinski said. "Yes, I've drunk the Kool Aid. Plus Brees is a Purdue guy and I hate all non-Badger Big 10 players. And that thing on his face annoys me."
Zinski said one matchup that might go the Vikings' way Sunday is star wide-out Sidney Rice against the Saints' defensive backs.
"The matchup I like right now is Sidney Rice against whoever is covering him, because I don't think anyone can cover him," he said. "I think he is a nightmare for DBs because he can jump, and because he has that great Randy Moss-like talent for keeping his hands down so the corner/safety doesn't even know the ball is coming. The only Moss attribute he lacks is flat-out speed, but it doesn't seem to matter, because even when the DB is all over him, he makes the catch. His great advantage over Moss is that he tries on every play even if he doesn't get the ball thrown to him.
He said the Saints' edge rusher Will Smith might cause some problems for Vikings' left tackle Bryant McKinnie, though.
"The match-up that worries me is Will Smith vs. Bryant McKinnie because Smith is a good pass rusher and good pass rushers tend to become great pass rushers when they go up against the most undeserving Pro Bowler in the history of football," Zinski said.
Despite his team's successful performance this year, Zinski said it will be tough for them to come away with a victory Sunday.
"As much as it pains me to say, I think the Saints will win," he said. "Our pass rush will not be as fearsome as it was last week, and Drew Brees will have time to make monkeys of our mediocre defensive backs. The crowd noise will mess up our offense same as it did to the Cardinals last week and Favre will get sacked a bunch and probably picked off by his old buddy Darren Sharper at least once. The Saints will win it going away, Favre will tearfully retire about a week from now, and then, in a couple of months, force the Vikings to cut him so he can sign with the Cowboys and become quarterback/head coach."
[php snippet=1]