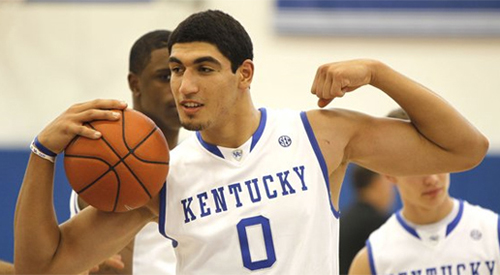 TheGP's 2011 NBA Mock Draft
June 20, 2011
With the NBA Draft set for this Thursday, the combine long gone and player workouts practically over, it becomes increasingly obvious that impressions have begun to take form. It's an NBA mock draft fan's dream.
At this stage we know who the top prospects are, so all that is left to be determined is how the chips will fall and where they will land on June 23.
Each selection influences the next, and a chain reaction can occur where players fall to teams that thought they would be long gone. But, it's not always a case of the best talent available, team needs are far more important than they would have you believe. A 15-man roster just doesn't work when five of your top eight players are power forwards, or your four point guards all need the ball in their hands and have no one capable of scoring to pass it to.
The following looks at the teams selecting in the top 10 and takes into account talent, but more importantly team needs, in projecting what should transpire on draft night if trades don't blow all of our mock scenarios out of the water.
[php snippet=1]
With the No. 1 pick the Cleveland Cavaliers select… Kyrie Irving: The much talked about Duke freshman point guard is still almost certainly going to be the first player to exit the Green Room on Thursday. He will provide the Cavaliers with a new face for the franchise, and possesses the kind of skill set and leadership potential that could make him a career starting lead guard in a league where the position is becoming increasingly dominant.
With the No. 2 pick the Minnesota Timberwolves select… Enes Kanter: If Minnesota decides to stand pat at shooting guard, which I'm skeptical that they will, Kanter seems like the most likely choice given the gaping hole at center currently patrolled by former No. 2 overall selection Darko Milicic. If Minny decides to go for the best player available in Derrick Williams then you have to expect another No. 2 pick, Michael Beasley to be on his way out the door, given their similar abilities and Kevin Love's stronghold on the power forward position for the foreseeable future. Still, with Beasley's uncertain value and the recent signing of Rubio, it's hard to see the Wolves drafting anything but a center at number two, and Kanter is the best of that bunch.
With the No. 3 pick the Utah Jazz select… Derrick Williams: Reports have the Jazz very high on Brandon Knight, but if Williams should fall to them it is hard to imagine them letting him slide to the four spot for Cleveland to scoop up and pair with Irving. Williams could combine with Favors to lock up the forward positions in Salt Lake for years to come, and with Devin Harris already on board, the Jazz are anything but desperate for a point guard.
With the No. 4 pick the Cleveland Cavalier select… Jonas Valanciunas: The Cavs would love to see either Williams or Kanter still available here, but unless the Jazz are completely stuck on Knight, that seems unlikely. There's no way that they will select two point guards in the top five with Baron Davis and Ramon Sessions still under contract and such a large hole at center. Valanciunas may have more long-term potential than even Kanter, and teams seem very impressed with his attitude and work ethic and believe he is less of a risk than big men prospects like Donatas Motiejunas and Bismack Biyombo.
With the No. 5 pick the Toronto Raptors select… Brandon Knight: Knight is a top three talent in this draft, and the Raptors are enamoured with his athleticism, size and scoring ability. That being said, he really should not be available at five, but given the fact that Cleveland took a point guard with the first pick, the Wolves need to draft another point guard in the top five like they need a whole in the head, and since Utah couldn't possibly pass on a talent like Derrick Williams available, this is where we find ourselves. Knight's jumpshot coupled with DeMar DeRozan's athleticism on the wing should give Toronto something they've long been after: a backcourt.
With the No. 6 pick the Washington Wizards select… Tristan Thompson: If the Wiz can trade up to select Kanter they most certainly will, but if they are unable to swing a deal there is no way that he will still be on the board at six, and the one thing that is certain in Washington is that they will be going big. Jan Vesely is another possibility here, but he's more of a small forward despite being 6'11", and with Rashard Lewis's future in DC unlikely to be a long-term answer and Andray Blatche doing everything he can to play himself out of a job Thompson seems like the smart choice here. He works hard, has a good attitude and can play defence and rebound. His offensive game is a few years away, but he shows flashes that could entice the Wizards to take a chance.
With the No. 7 pick the Sacramento Kings select… Kemba Walker: The Kings need a point guard to pair with Tyreke Evans, but more than anything they need a leader, and Kemba Walker fits both bills. He and Evans can both handle the ball, and they can both score, but the calming influence that a proven winner like Walker can have on young talent like Reke and DeMarcus Cousins is something that you just can't find in the draft too often. Jimmer Fredette could also be a possibility here, due to his ability to space the floor, but Walker's pedigree should be enough to get him the nod.
With the No. 8 pick the Detroit Pistons select… Bismack Biyombo: The best talents available are two defensive minded small forwards in Kawhi Leonard and Jan Vesely, but Detroit still has Charlie Villaneuva, Tayshaun Prince, Austin Daye and should be returning Jonas Jerebko from injury this season. Even if Prince leaves via free agency, the three spot is clearly not their biggest roster gap. Biyombo would give the Pistons the second coming of Ben Wallace to pair with Greg Monroe up front, and he already has the skills necessary to play lock down defense and control the boards on both ends.
With the No. 9 pick the Charlotte Bobcats select… Kawhi Leonard: Leonard is probably the best defensive guard/forward in the draft, and with the trade of Gerald Wallace last season, Leonard's impact in Charlotte would be greatly welcomed. His jump shot is apparently making strides, and with that being the greatest question surrounding his game, the Bobcats would be lucky if he is still on the board when the No. 9 pick rolls around. Crash 2.0 would be a fan favourite in Carolina from day one.
With the No. 10 pick the Milwaukee Bucks select… Alec Burks: It's long been rumored that this is who Milwaukee has had their sights set on all along, and if he's still available it is difficult to imagine them passing on him. Burks is one of the purest scorers in this draft, and with the inconsistency of John Salmons last season, and Michael Redd's chapter with the team likely closing he could team up with Brandon Jennings to create a pretty potent offensive backcourt. Vesely and Marcus Morris could also make a lot of sense for the Bucks, and Motiejunas's offensive ability could pair nicely with Andrew Bogut, but Burks seems like he's their guy.
The next five…
GS- Jan Vesely
Utah- Jimmer Fredette
Phoenix- Marcus Morris
Houston- Donatas Motiejunas
Indiana- Klay Thompson
[php snippet=1]