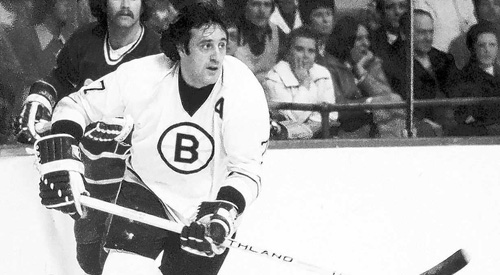 99 Facts About 100-Point Scorers: Part 1 – Firsts
March 20, 2012
The 1968-69 NHL season was the first to feature a 100-point scorer when Phil Esposito of the Boston Bruins led the league in scoring with 49 goals and 77 assists for a total of 126 points. His was 29 points higher than the previous record of 97 points shared by Stan Mikita and Bobby Hull. Amazingly, Hull (58-49-107) and Gordie Howe (44-59-103) followed Esposito into that elite territory that same season.
The century-mark is reserved only for the elite scorers in the NHL. Not every team in the league features a 100-point scorer, nor has there been one in every season since 1968-69. If you were to look at a list of 100-point scorers, you would easily recognize many of the names. 
[php snippet=1]
A total of 105 players have combined to record 269 100-point seasons since that first year. In the first part of our 99 facts about 100-point scorers, we'll look at some of the defining figures regarding firsts in the history of the 100-point season:
First player born outside of Canada: Ken Hodge, born in Birmingham, England, recorded 43-62-105 for the Bruins in 1970-71.
Expansion team: Bobby Clarke recorded 37-67-104 and Rick MacLeish went 50-50-100 for the Philadelphia Flyers in 1972-73.
Player to reach 100 points in a season he was traded: Jean Ratelle spent the first 13 games of the 1975-76 season with the New York Rangers going 5-10-15. He was then traded to the Bruins, along with Brad Park and Joe Zanussi for Phil Esposito and Carol Vadnais, for the final 67 games going 31-59-90 to finish with a total of 36-69-115.
Player to record 100 points with two teams in separate years: Marcel Dionne recorded 47-74-121 for the Red Wings in 1974-75. He was traded to the Los Angeles Kings after the season and went 53-69-122 in '76-77.
Swedish player: Kent Nilsson went 49-82-131 for the Calgary Flames in 1980-81. He was born in the town of Nynashamn.
Slovakian player: Peter Stastny recorded 39-70-109 for the Quebec Nordiques in 1980-81. He was born in the capital city of Bratislava.
Finnish player: Jari Kurri went 45-59-104 for the Edmonton Oilers in 1982-83. He hails from the capital city of Helsinki.
Player born in France: Paul MacLean recorded 41-60-101 for the Winnipeg Jets in 1984-85. Though he played for Canada, he was born in the town of Grostenquin.
American player: Neal Broten recorded 29-76-105 for the Minnesota North Stars in 1985-86. He is from Roseau, Minnesota.
Russian player: Alexander Mogilny, born in Khabarovsk went 76-51-127 for the Buffalo Sabres in 1992-93. Pavel Bure of Moscow joined him that year going 60-50-110 for the Vancouver Canucks.
Czech player: Jaromir Jagr recorded 62-87-149 for the Pittsburgh Penguins in 1995-96. He is from the town of Klando.
Player born in Germany: Dany Heatley went 50-53-103 for the Ottawa Senators in 2005-06. Like MacLean he plays for Team Canada, though he was born in Freilberg.
A big first for all 100-point scorers is the draft, as all great players have to be drafted before they begin their careers and start putting up big points (well, for the most part). Of those 105 players, 16 have gone undrafted. Half of them (Phil Esposito, Bobby Hull, Gordie Howe, Bobby Orr, Johnny Bucyk, Ken Hodge, Jean Ratelle and Vic Hadfield) were playing in the NHL before the amateur draft began in 1963, so there was no chance for them to be drafted anyway. However, the remaining eight players (Rene Robert, Jean Pronovost, Wayne Gretzky, Peter Stastny, Dino Ciccarelli, Joe Mullen, Adam Oates and Martin St-Louis) all began playing after that first draft and somehow managed to escape scouts' attentions.
Gretzky, of course, was well known and only went undrafted because he signed a contract with the Indianapolis Racers of the World Hockey Association. Gretzky was traded to the Edmonton Oilers eight games into his first season and he entered the NHL the next season when the league absorbed the Oilers, along with three other WHA franchises.
Of the 100-point scorers who have been drafted, more than half were selected in the first round. But that doesn't mean the rest of the draft isn't good for finding players who can put up big points. The total number of 100-point scorers taken by round are: first round – 55, second round – seven, third round – three, fourth round – nine, fifth round – two, sixth round – six, seventh round – two, eighth round –one, ninth round – two and the fifteenth round had one as well. Considering how few players drafted in the late rounds actually manage to make it to the NHL, those numbers are not too shabby.
One final player, John Cullen, was taken in the supplemental draft that started in 1986 and lasted until 1994 and was used to select collegiate players who were not available for the entry draft. Here are some more interesting facts about the draft:
The highest position selected where no draftee has ever recorded 100 points is the 11th pick. Jarome Iginla, drafted by the Dallas Stars in 1995, has come the closest, recording 50-48-98 for the Calgary Flames in 2007-08.
On the other hand, 12 players selected after the 100th pick have reached the century mark.
Draft classes with the most 100-point scorers: 1980 – eight, 1979 – seven, 1974 and 1988 – five and 1972, 1983 and 1987 – five each.
Teams who have drafted the most 100-point scorers: Penguins – 10, Flames – seven, Islanders – six and the Bruins, Red Wings and Kings – five each.
Even with over 100 players having reached the 100-point plateau, that doesn't mean the mark is easy to reach. Some of the best players in the history of the NHL have never been able to hit the mark. Ray Bourque recorded 1,579 points in 23 seasons, the most points for any defenseman and the 11th highest total of any player ever, and yet he never cracked the century mark. His career-best season came in 1983-84 when he recorded 96 points for the Bruins. Here are some other players who got close to 100 points:
Most assists without reaching 100 points: Dale Hawerchuk recorded 16-80-96 for the Buffalo Sabres in 1992-93.
Most goals without reaching 100 points: Lanny McDonald recorded 66-32-98 for the Flames in 1982-83.
Highest career point per game average with out reaching 100 points: Jean Beliveau – 1.084 points per game, Stan Mikita – 1.052, Ziggy Palffy – 1.042, Tim Kerr – 1.029 and Rick Martin – 1.023.
Players with a career-high of 99 points: Syl Apps – 32-67-99 in 1975-76, Troy Murray – 45-54-99 in '85-86, Brian Bellows – 55-44-99 in '89-90, Dave Andreychuk – 54-45-99 in '92-93 and 53-46-99 in '93-94 and Peter Nedved – 45-54-99 in '95-96.
The 100-point season did become rare for a short period of time and from 1996-97 to 2003-04, only eight players managed to reach the plateau, doing so a total of 11 times. Only four seasons since 1968-69 have failed to produce a 100-point scorer; 1994-95 due to the lockout-shortened 48-game schedule, 1999-2000 when Jaromir Jagr led the NHL in scoring with 42-54-96, 2001-02 when Jarome Iginla recorded 52-44-96 and 2003-04 when Martin St. Louis finished at the top of the NHL with 38-56-94. There are also five current teams to have never had a 100-point scorer. They are the Columbus Blue Jackets (Rick Nash has come the closest with 40-30-79 in 2008-09), Minnesota Wild (Marian Gaborik, 42-41-83 in 2007-08), Nashville Predators (Paul Kariya, 31-54-85 in 2005-06), Florida Panthers (Pavel Bure, 58-36-94 in 1999-2000) and New Jersey Devils (Patrik Elias, 40-56-96 in 2000-01).
This has been the first of three parts in a series looking at the history of 100-point scorers. Part two of this project will go over how 100-point scorers have affected team play and part three will look at the unique individual achievements from the players who have hit the plateau.
*** Be sure to check back for "Part 2 – Teams" and "Part 3 – Players" in the coming weeks to learn more about the history of 100-point scorers in the NHL.
[php snippet=1]