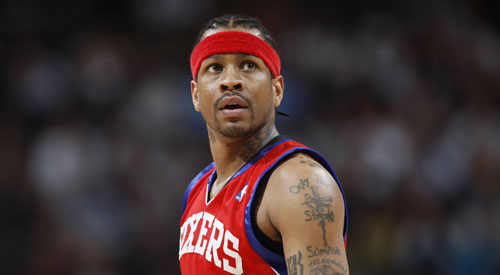 Allen Iverson: The Answer was lemonade all along
January 22, 2010
When life hands you lemons, it's a subtle sign that life really wanted Allen Iverson to start in the All-Star Game. How else would you explain Rajon Rondo coming off the bench in one of the weakest All-Star voting categories in recent memory?
Regardless of the injustice, it's recommended – nay, necessary – that you brew yourself up some lemonade so fierce that it dulls the pain of this apparent nightmare as fast as humanly possible or else you're going to be in for one long, depressing night.
In other words, if the official vote tally is in, the invitation has been sent, and the man himself doesn't feel obliged to pass on the invitation, then why not at least grasp for straws of hope that we can one day parlay into good karma? Hell, why not even cheer for him?
For obvious reasons Allen Iverson isn't considered one of the most deserving players in the NBA this year. I get that. But when the actual game tips off, there's an awfully good chance he's going to be there alongside Dwight Howard in a strange basketball-themed remake of Back to the Future.
Sure it speaks to the oft-questioned All-Star Team selection procedure, but it is what it is, whether we like it or not. Just like lemons are lemons whether we like them or not.
[php snippet=1]
It's logical to assume that the majority of NBA fans would want to see the five best basketball players from each conference start the game for their respective teams, but maybe we've just misinterpreted the meaning of the game all along.
Regardless of what actually matters on the score sheet or the box score, the game itself means nothing. On that we can all agree. Assuming that that's the general consensus, maybe we can all agree to stop taking the game so seriously and acknowledge it for what it really is; a Bizarro World exhibition game of WTF.
In 1998 Kobe Bryant was voted in as an All-Star starter despite having not started a single game for the Los Angeles Lakers as of the All-Star Weekend. His flashes of brilliance were on clear display, but not so much as to reasonably deny Jason Kidd or Mitch Richmond who were having considerably better seasons. But of course as history tells us, he made it, he even waved off a screen from Karl Malone so he could go one on one with Michael Jordan.
Nobody in their right mind believed back then that Kobe Bryant, who finished the season averaging 15.1 points (and starting one game all year), was genuinely more deserving than some of the players he replaced, but the collective wanted it and the collective got it.
Flash forward to the moral outrage surrounding Iverson this season and it puts things into perspective – lame perspective, but perspective nonetheless: the fans have spoken and they want him in the game. Combine with that the fact that he had to compete with Bryant, Steve Nash and Chris Paul on the Western Conference ballot for the first few days of the voting process and it's clear; for some strange but perhaps poetic reason, masses of people worldwide saw it fit to start Iverson alongside Dwyane Wade and LeBron James – the men who took his torch.
It's been two tumultuous seasons since Iverson last played what appeared to be a functional, content season, and that was with the Denver Nuggets. It's been four since he last took the form of the Allen Iverson that fans grew to love.
If a stale old veteran who pouted his way in an out of three cities in the past two years doesn't deserve to play in the NBA All-Star game, then certainly we can let slide a former NBA icon, one of the most significant figures of the post-Jordan era suiting up for what will no doubt be his last tour of duty (team-wise, not necessarily season-wise).
If you're less than 25 years old, there is a good chance this man is one of the reasons you love the NBA as much as you do. It's not hard to imagine that his impact, in popular culture at least, will exceed anything that LeBron James puts forth when all is said and done. And that's saying a lot.
So like some fans and media begged and pleaded Vince Carter to relinquish what was then a well-deserved 2003 All-Star Game starting spot for Michael Jordan in the awkward twilight of his career, the masses have spoken once again, only this time in a more quantifiable manner.
There is no doubt that Iverson's return to Philadelphia is one of the biggest stories of the season, so why not let that reflect onto the All-Star Game starting line-ups? It's not like he'll be out of place amongst the real All-Stars or won't be able to hold his own, he may even threaten for the game MVP (which, to the chagrin of many, routinely comes down to whomever wants it the most).
Apparently this game is all in good fun. Who knew?
So why don't you just get that sour taste out of your mouth and enjoy the celebration of Allen Iverson's bizarre journey back to where it all began?
That's a lemon joke for ya.
[php snippet=1]