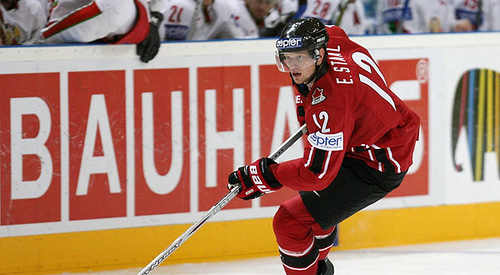 A welcome return to the AHL
September 18, 2012
Now that the NHL has officially locked out its players for the third time in 18 years, fans are attempting to figure out where to get their hockey fix. It shouldn't be very hard to find. After all, the NHL isn't the only hockey available; there are plenty of leagues to choose from. One place they should all turn to is the American Hockey League, which is often overlooked but will benefit from the lockout.
This is a league chock-full of players just a small step from being good enough to play in the best league in the world, and it's about to receive an injection of some of the best young talent available. It didn't take long for teams to once again send their young star players and prospects to their AHL affiliates so they can continue to gain experience at the professional level.
It's obviously not an ideal scenario, but a year in the AHL can do wonders for a young player. Eric Staal played with the Lowell Lock Monsters during the 2004-05 NHL lockout, and a year of being the man in the AHL is what allowed him to go from 31 points with Carolina in 2003-04 – a very respectable total for a rookie in that era – to 100 points in 2005-06.
Jason Spezza and Michael Cammalleri finished as the top scorers with 117 and 109 points respectively. Even those that didn't post superstar numbers like Zach Parise (who potted 58 points for the Albany River Rats) got that extra seasoning they needed to make the jump from college to the NHL.
The number of big names to play in the AHL All-Star Game that season before they made it big was astounding. The aforementioned four players made it, along with Jay Bouwmeester, Patrick Sharp, Rene Bourque, Dennis Wideman, Patrice Bergeron, Niklas Kronwall, Tomas Plekanec, Ryan Kesler, MikkoKoivu, Dustin Brown, Ryan Miller, Kari Lehotnen and more. All of them are among the top players on their teams now, with many thanks owed to that extra year of development.
The All-Star Game will be held in Providence, Rhode Island this season for those who are anticipating a superstar-studded lineup.
[php snippet=1]
Although young players have come to rule the game, it's still common for a player to be rushed into the NHL before he is ready, putting a damper on his development. With less pressure, more ice time and a reprieve from the glaring media spotlight, players can fulfill their potential at their own pace.
This may be the best-overall collection of talent the American League has ever seen. Some of the players sent down don't just have great talent, but have already proven themselves in the NHL. Case in point: Sean Couturier.
It was obvious all season, especially the playoffs when he successfully kept Hart Trophy winner Evgeni Malkin in check, that Couturier is a defensive stud. He excelled in a fourth line role as an 18-year-old, but now the two-time 96 point scorer in junior will get a much bigger workload and will learn to score at a much more consistent rate at the professional level, and he'll be joined in Adirondack by Brayden Schenn.
A pair of Adams – Henrique and Larsson – had fine playoff runs, helping New Jersey reach the Stanley Cup Final for the first time since 2003. Henrique was especially clutch as every goal he scored, including two series winners in overtime, was huge, and while Larsson's inexperience showed at times, defense is the hardest position to master and the AHL will be his to dominate. They will provide a tremendous boost to the Albany Devils who finished 14th in the Eastern Conference last season with 73 points.
Ryan Nugent-Hopkins, Jordan Eberle and Justin Schultz will give the Oklahoma City Barons a legitimate chance to win the Macgregor Kilpatrick Trophy for most points in the regular season. Jeff Skinner, who successfully made the jump to the NHL as an 18-year-old, and Justin Faulk will be more than enough to get the Charlotte Checkers into the playoffs after falling short by a single point last season.
If he didn't have to pass through waivers to be sent down, Boston's Tyler Seguin would be there as well and Bruins fans know he is just some consistency away from being one of the NHL's top scorers. Fortunately for AHL goalies, he is one less nightmare they have to worry about. Players who aren't on two-way contracts would have to pass through waivers in order to be sent to the AHL, as anyone who has played more than 160 games cannot be sent down in the event of a lockout.
So if you're a fan of gaudy point totals, then you've been disappointed by the NHL in recent years anyway as the 100-point scorer has once again become a rarity. But expect point totals in the AHL to skyrocket if the lockout lasts all season, except when these players go up against the Hershey Bears, who will be backed by Brayden Holtby, who has already proven that he owns the American League. He'll have all the confidence in the world following a playoff run in which he posted a .935 save percentage and 1.95 goals-against average.
There's nothing that can make up for missing yet another NHL season, but fans in AHL cities will be able to see the game's top young players for a price way lower than what the NHL would charge them.
[php snippet=1]