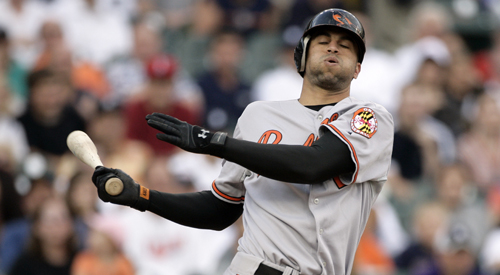 Wasted life in the American League East, possible Armageddon
August 25, 2009
Life in the American League East is as miserable as it gets. It's as depressing and pointless as anything has ever been or ever will be. The inevitable presence of doom that plagues its five-team membership repeatedly swallows the soul of hard-working, baseball-playing men, drowning their hopes in futility and dreams in despair.
Much like the anticipated global phenomenon predicted to occur in 2012, there's little anyone in the division can do to avoid the wrath of their own fate but simply wait and cross fingers, hoping that somehow, someway, they slip through the cracks of destiny and survive to live another day. In 2008, the Tampa Bay Rays were just that lucky.
But unlike the supposedly forthcoming apocalypse, the crisis in baseball's toughest division is surrounded by no such doubt or speculation. The Boston Red Sox and New York Yankees are very much real and have proven time and time again that when the winter solstice of Tomorrow rolls around, they will continue to astronomically overwhelm and kill anything and everything in their path.
Let's take a step back and forget the Tampa Bay Rays of last year. Go ahead and forget them this year too. Life in the AL, even despite Tampa's brief ascent to league supremacy last fall, is still a very bleak affair. In the 14 postseasons that have used the wild card format, 10 have featured a WC entry from the AL East. Of those 10, eight were either the Red Sox or Yankees, the only exceptions being the 2008 Rays and 1996 Orioles. The 1997 Orioles, in an act of heroic grandeur and Rafael Palmeiro-glory, actually led the entire division at season's end, by two games over the Yankees.
[php snippet=1]
So then it must be hard for the three traditional AL East "bottom dwellers" who, in spite of regular appearances above .500 in the standings, are faced each and every year with the monumental task of reversing fate simply in order to land a playoff spot. It is what it is, and what that is is the result of having sport's most insurmountable division in the only league that allows just four post-season contestants per section. Existence is futile.
Like the prospective climate change in store with our changing galaxy, the stars of doom have aligned in Major League Baseball, leaving the Orioles, Rays and Toronto Blue Jays with little optimism for much of the past two decades and into the future.
It raises the question of "What's the point?" Need the Jays even fool themselves that trading Roy Halladay might one day yield enough prospects to return to the glory days of '89-'93? Or that Matt Wieters be enough to bolster a playoff-bound Baltimore offense?
Since 1995 there have been 24 playoff teams in the AL East, and the Boston/New York tandem has accounted for 87.5% of them. In simpler terms, only three times since Bud Selig reshuffled baseball's foundation has any team from the American League East not short-named BOS or NYY ever enjoyed the mental or financial gain of October baseball.
Life, much like baseball, is a beautiful experience filled with surprises; filled with promise, potential and prospects of the future. Take all of that away however, and suddenly its purpose is stripped. Take it away and you're left with the American League East.
As the era in which we're expected to live uninterrupted winds to an end (1214 days left to be exact), theories surrounding our potential destruction face criticism from skeptics and uncertainty from all. As we safely assume, if our demise was in fact guaranteed, our time on Earth herein would be severely affected and chaos would ensue.
If our demise were, say, 87.5% guaranteed, the global uprising would be just as significant and hope would in large part be lost. This is the tragedy that baseball fans in Ontario, Maryland and Florida face every year. It's a bleak, fruitless catastrophe that exists under the radar, veiled in Yankee tradition and Red Sox charm. Their worlds would end on a yearly basis had they ever even began.
With just over three years remaining before the end of the Mayan calendar and destiny in flux, citizens of our planet will ponder the merit of ancient prophecies, galactic speculation and cocaine-fueled message boards.
They'll wonder aloud if December 21, 2012 will truly bring about a monumental change in life as we know it and their progress will be well-documented. But what won't get reported in this time of uncertainty is the struggle that one division faces each and every time its residents take the baseball field.
More ominous than any mere polar reversal or mid-orbit collision with another planet is the fruitless task of qualifying for post-season baseball in the American League East.
[php snippet=1]