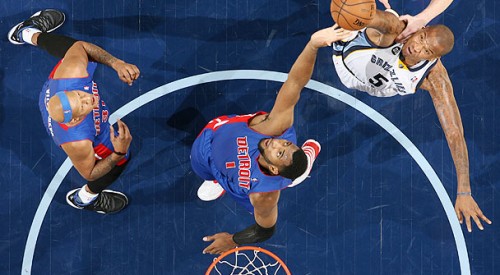 On Andre Drummond and Quarter-Life Crises
January 10, 2013
There's a difference, I'm told, of growing old and growing up. The former is inevitable, the latter not as much. Although basketball fanhood is, in and of itself, a special thing, there's something to be said about the particular joy that comes along with falling deeply and maddeningly in love with an individual athlete – it doesn't happen every day.
While the collection of players and personalities that we idolize as youths – and the fact that we even connect with anything unrelated to us on such a profoundly intimate level – changes with time (diminishes, even), and ultimately takes a back seat to the responsibilities we inherit in life, the fact that we once experienced those sensations is what stays with us when the trials and tribulations of adulthood get in the way. It acts, in a sense, as a souvenir that reminds us of the excitement of being a kid.
That's what I used to think it would be like to get older.
Then the Pistons drafted Andre Drummond.
[php snippet=1]
In the past five years, my life has taken me down a path that so many of our readers have gone down themselves; a none-too-original series of events that hits anybody, TheGP reader or not, some time after they graduate and before they officially start their family. Though not as impressionable as adolescence or as innocent as childhood, this specific life phase – let's call it findyourwayhood – sets the stage for one's feature presentation: being, of course, a legitimate, mortgage-paying adult.
In this findyourwayhood we determine what we want to do, how we want to do it, where we want to live and with whom we want to share the whole damn thing. For some that means securing full-time employment, for others it's moving out on their own, for others yet it means wedding proposals, geographic relocations, pet acquisitions and actually learning how to grind coffee beans the real way and not by simply asking a barista to do it at Starbucks.
For me it was all of the above.
"This adulthood isn't so bad," I told myself when I first emerged on the other end of it, sipping a freshly ground breakfast blend, overlooking the backyard that I'd actually maintained with my own two hands. I'd developed the habit of mailing utilities checks, you see, and cleaning the furnace, shoveling the driveway – even thumbing through the Home Depot flyers for God's sake – all with zero apprehension of the maturational identity crisis that was coming right for me.
***
Andre Drummond – I'll spare you the full detail of my therapist's working notes – changed all of that in a way that I can't explain, igniting a sense of passion and enthusiasm that I haven't especially felt since I was 13 years old.
He might not be an instant Rookie of the Year lock like Blake Griffin was three years prior, he might not have the flash or flair that John Wall and Kyrie Irving debuted in the years before him, but damn me to a life of 38-year-old Ben Wallace highlights if he isn't the most affable of the bunch.
Though Drummond had his share of knocks heading into the NBA Draft last summer, the fact that he dipped as low as he did (eighth overall to the Detroit Pistons) stuck out as immediately significant. He may have come off as oafish, goofy and unpolished, but the raw, physical talent was obvious enough that everybody who watched him get passed on in picks one through seven all sort of knew better. Maybe they just hoped they were wrong.
Today Drummond serves as a relic of the type of rookie that we no longer see in the NBA. Though every bit as capable as the serious blue chip assets that have come before him, he hasn't been living the life of a professional prospect for the past half-decade and hasn't grown tainted as a result of it. At least – let's clarify – if he has, he hasn't shown it. Not ruined by superagents nor stripped of his joviality, Drummond is a breath of fresh air in 21st century sport and especially 21st century basketball.
I say that with confidence because it's obvious, just watch the man order himself fast food or try to shoot promotional footage with Hooper, the Pistons' mascot.
Drummond – though technically a reserve on a forgettable team far from .500 – carries himself with the same aura that one would expect from a young, ridiculous, Shaquille O'Neal. Don't be a prude and convince yourself that that's not special.
Where his peers have been hardened by the routine of the industry, young Drummond behaves as any 13-year-old might provided they too grew curious and stole a giant's body. His smile is contagious, and not simply because you're afraid of not humoring his jokes. He giggles and it's awkward and it's awesome and you love it.
What's more, however, is that he's not just refreshing off the court, he's impressive on it and demonstrably so. To say that his PER (21.6) is tops in Detroit far from satisfying, but it's the highest of any rookie and 18th in the entire NBA. On the losing-more-often-than-not Pistons, his plus-48 rating trails only two situational shooters, both of whom are charged solely with the task of putting points on the board in limited minutes (Charlie Villanueva and Austin Daye). Besides, he's played considerably more minutes than either of them anyway.
In other words, for the first time since the demise of the Chauncey Billups Pistons Era, Detroit fans have motivation to wake up in the morning, on game days at least, and their hilariously puerile first-round draft pick is the predominant reason why.
In a world where elite level athletes come and go, establishing and re-establishing records, guiding franchises to new heights and being replaced by others that do the same, the actual impact that they leave on the game is a cold, quantifiable one. It's not unreasonable to say, however, that legacy – and we're talking real legacy, not simply raw, tangible Hall of Fame qualifications – is determined by the number of souls connected with, the number of children awed and the number of individuals who cite a given athlete as one of the reasons why they fell in love with the idea of being a fan in the first place.
If I were 13 years old, Andre Drummond would be on the top of that list for me, and I'd save my allowance for months just to get my hands on one single replica jersey. Adidas, Reebok, Champion, it didn't matter, I'd wear it to every game.
As an adult though, things are a little bit different. Apparently there's a process for dealing with these sorts of emotions, one that until the juvenile giant from UCONN started suiting up for the very team I'd spent my childhood worshiping, I hadn't even bothered to consider.
Now, so long as there's enough money in my bank account for the mortgage to come out, I can buy all the replica jerseys I want.
Yeah, this adulthood thing isn't so bad.
[php snippet=1]