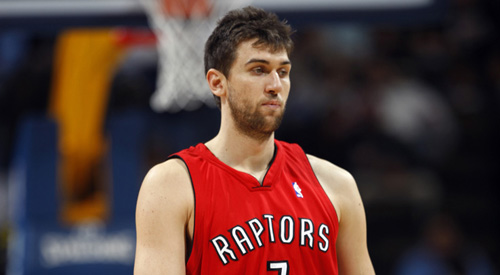 Andrea Bargnani: The NBA's most improved player?
February 6, 2012
In a year marked by some bad teams, the Toronto Raptors are one of the worst. This is not a new thing. They've been bad for years, with a defense more porous than Havarti cheese. Last year, they regularly allowed 120 per game, sometimes as much as 140. You don't have to know basketball to know that's bad.
The stats bear that out: the 2011 Raptors allowed the fifth most points per game, the fourth-lowest SRS and lost the third-most games in the league. And Andrea Bargnani, their much-maligned star, finished the season with just 2.6 Win Shares and a 16.4 PER, despite playing the second-most minutes on the team.
Things aren't much better for the Raptors this season. They dropped eight in a row in January, are 8-16 and have the league's second-lowest points scored per game (86.8). And that's mostly because of Bargnani. I mean it in a good way.
His season's been short, marred by a calf injury. He's only played in 13 games, but in them he's been the lynchpin of the Raptors offence. He's averaging 23.5 points and six rebounds per 36 minutes, has a 22.2 PER and an offensive rating of 109, all career bests. And his 1.5 Win Shares is already more than half of last season's total.
And that's not even the best part of his season. 
[php snippet=1]
The Raptors have, for most of the recent past, had an awful defense. Part of this came from a secession of bad players, but it also came from poor coaching. Sam Mitchell was at the helm for five years and left with a .452 record. His replacement was Jay Triano, who lasted only three seasons. Together they combined for 243 wins in 574 games, a .423 winning percentage. Neither has had a head coaching job since.
This past offseason, Raptors GM Bryan Colangelo brought in Dwane Casey, former head coach of the Timberwolves and then an assistant with the Dallas Mavericks. His experience working with Dirk Nowitzki – to whom Bargnani is so fruitlessly compared – and as a defensive expert, gave him credentials no Raptors coach has had in years. This far into 2012, he hasn't turned the ship around, but he's got the rudder working.
His changes, including a reliance on zone defense, are some of what's making the Raptors look better. As James Borbath of Dino Nation Blog said, "(Casey's) defensive system has a lot of zone principles in it."
He added how it helps use their star more effectively.
"It's easier for Bargnani to grasp as it is used often in Europe and if you watch tapes of Bargnani back in Europe he was an effective defender in zones."
Their offence is still catastrophic at times – just look at any DeMar DeRozan stat line – but their defense has improved leaps and bounds. Last season, their defensive rating was the worst in the league at 112.7, translating roughly to that many points scored per 100 possessions. As of February 5, it's down to 103.2, 18th in the NBA. Granted, they're playing at one the NBA's slowest paces, but even that's a step in the right direction. On paper, this team isn't much better than last year's and maybe it's even worse. Playing slower; more in control, means there's less of a chance to have the score ran up against you.
And the biggest change has come in the play of Bargnani, who's been busting his butt on defense. He finally appears to have bought into a coach. He's playing help defense, taking a lead role on offence and getting praise from all corners, including props from Sports Illustrated's Ian Thomsen. In it, he gets Casey to explain how the first-overall pick is finally playing like one:
"He's got the money, he's got the notoriety, he's got his commercials," said Casey. "He's got everything, so now all he's got to do is win. Build a foundation to win, and that's what we're doing now."
There's a little more to it than that, though. Finally, the star player is being held accountable.
"When you look at the changes in Andrea," said Borbath, "it begins with a press conference at the end of the season in which Bryan Colangelo basically called him out. Andrea seemed to take that message to heart…  No matter what's going on for him on the offensive end of the floor, he doesn't let it impact him on the other end."
But the most telling part of his success this season is how the team looks with him off the court: at turns disorganized, at others overwhelmed and sometimes just lost. This season, Bargnani's missed 10 games. Toronto's lost all but one.
Bargnani's presence doesn't make Toronto a playoff team, but his absence makes them one of the worst in the association. When he's not on the court, the Raptors offensive production drops and their defense gets worse. According to 82 Games' detailed breakdown, there's a net difference of 10 points per 100 possessions. Last season, it was -2.6 points per 100, mostly because the Raptors allowed many more points when he was on the floor. In other words, he's no longer a liability. The Raptors are finally better with him on the floor than off.
How does he compare? Not too bad, when you look at players with a similar PER: he's behind LaMarcus Aldridge, right beside Russell Westbrook and ahead of Louis Williams. No mean feat, considering how the Sixers, Thunder and Trailblazers are better all-around teams than Toronto.
And that shows more of Bargnani's value: he's not just the best player on a bad team; he's the only good player on it. Even with him, the Raptors are floundering, but without him, they're impossible to watch. That difference is not only what makes him the most improved player in the NBA, but one of the more valuable, too. If he keeps this play up, he'll deserve a few votes for MVP.
[php snippet=1]