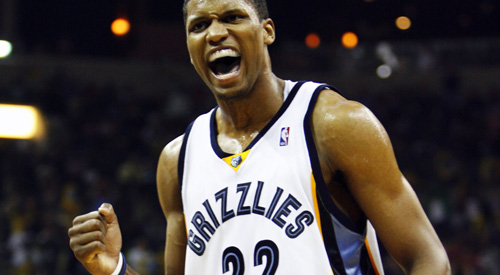 The Rebirth of Shimmy
January 27, 2009
If you happened to glance over the Memphis Grizzlies' roster heading into this season you may or may not have been surprised to find Antoine Walker's name penciled in amongst the plethora of young talent assembled in Tennessee.
To the untrained eye, his addition to the team was undertaken simply to make the salaries balance in the O.J. Mayo – Kevin Love deal that took place on draft night, and his lack of any in-season floor time and subsequent dismissal by the team seem to hold true to that idea.
There's a little known fact, however, that he was not but an afterthought in the trade, rather brought in with a clearly-defined purpose by a Grizzlies' brass who have consistently had difficulty luring an enthusiastic fan base to their home games. As such, Walker, the aging master of an all but dead tradition was coveted to educate one of Memphis's young and upcoming stars in the ways of "The Shimmy".
In 22-year-old Rudy Gay, Walker was presented with an athletic and explosive canvas on which to pass his renowned artistic vision. As a fan favourite, Gay has both the exposure and influence to build on Walker's foundation of a simple celebration with the capability to transcend sport, gender, race and all levels of talent.
[php snippet=1]
Anyone who has made their defender look foolish has experienced a burst of confidence and enthusiasm that fuelled physical personification. Whether it was expressed by screaming, dancing, or even shimmying, there is no doubt that someone watching was able to feel at least a little bit of the emotion showcased in that precise moment. Such an effect has been absent in Memphis since the team arrived, but no longer. The addition of a player who did not even play an official minute for the team in 2008-09 has reshaped the future of the franchise.
Few celebrations live on. Most die with the expiration of their inventor's final contract, or disappear into obscurity with a simple waiving from a roster on which they were little more than an afterthought. Jordan's tongue waving symbolism has faded, Tiger's fist pump is likely to similarly disappear upon his retirement, but Antoine Walker's shimmy will live on for at least one more generation of sport fans to enjoy.
Next time you see Rudy Gay throw down a ferocious tomahawk and follow it up with a little shake that starts at his shoulders and carries through his arms make sure that you stop and reflect on No. 8. The legacy of Antoine Walker isn't measured in threes made, points scored, or championships won, but continues to grow with a shake here and there in Memphis, and carries over to a new generation of young ballers who follow his lead.
[php snippet=1]