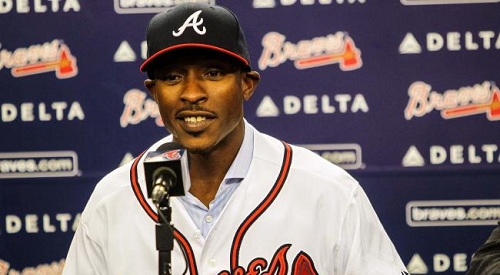 It's still about the long ball
December 21, 2012
Michael Bourn gave the Braves a 6.4 WAR, the 13th-best mark for a position player according to Fangraphs. They in turn signed B.J. Upton with his 3.3 WAR and OBP under .300.
Both players are exceptional defenders and dangerous baserunners, so why did the Braves (and seemingly most teams) prefer Upton to Bourn?
It's because of the long ball (and Scott Boras).
You'll remember: Chicks dig the long ball. And apparently baseball executives do, too. Upton hit 28 bombs in 2012 while Bourn only hit nine.
Bourn was coming off a year in which he posted career-best totals in both walks (70) and home runs. He played Gold Glove-caliber defense in center and swiped 42 bags while only being caught 13 times. His offensive game was vastly superior to Upton's because he didn't make nearly as many outs. He was a key-cog in a devastating Braves outfield that featured Martin Prado and the improving Jason Heyward.
But no dice. The Braves went with the quick bet and signed B.J. Upton to a five-year, $75.25 million dollar deal.
[php snippet=1]
It's no secret how home run numbers have declined in recent years as the game's become cleaner, but are they still so desired that a guy with an OBP only .22 points better than Brandon Ryan (Brandon Ryan!) is really more appealing than Bourn (and his extra Boras fee).
Upton is two years younger than Bourn. Whichever team signs Bourn will have him for his age-30 season and onward. That's not exactly an ancient player. That's a player with a solid three to four years left, at only a gradual decline.
Bourn's one of those good character types with a high work ethic. Upton had to be chewed out by his teammate Evan Longoria after dogging it on an outfield play. With Chipper Jones retired, there's no clear focal point for leadership in that Braves clubhouse. Will Jason Heyward call out Upton the next time he slacks off on a play? The Braves are a young, exciting team. But if no one steps into a leadership role, Upton's attitude could become an issue.
It's possible Bourn gets a short-term deal and then re-emerges in the next offseason to chase the desired long term, big dollar contract. It's also possible that a dark horse emerges this offseason and gives him the dollars he wants (Yankees, Brewers, Red Sox, Mariners are all teams that could join the Bourn bounty). Regardless, he has to be wondering if Boras is the right agent for him. Teams have become wary of Boras' tactics and know that any offer they give will be parlayed into a bigger offer from another team. Standard agent practice, it's true. But Boras will sit and sit, preferring one-year deals if his client doesn't get the years he wants.
Adrian Beltre signed a one-year rental contract with Boston and promptly had a monster year which led to his contract with the Rangers. It's a risk though. If Bourn takes the one-year deal and doesn't perform, he'll greatly damage his long-term value. Ryan Madson signed a one-year deal with the Reds and then got injured prior to the season. This offseason he had to agree to another one-year deal with the Angels. You have to wonder that if his agent hadn't been Boras prior to signing with the Reds, if some team wouldn't have come forward and offered that multi-year contract and he and his agent had accepted, instead of sitting, and sitting.
Teams are aware of how long Boras will wait, so if they have the chance to sign a guy early in the offseason, thus assuring them of something going forward, they'll do it (Upton). Boras' patience can work out in the form of a big deal, but it can also prevent many teams from becoming involved because they know by the time they're either successful of unsuccessful in the pursuit of one of Boras' clients, most of the other free agents will have signed and they'll have to work harder to find value in the crop that remains.
As it's shaping up it looks more and more likely that Bourn will have to do the one-year rental and then re-establish his value. Whatever his offseason training plan is like, but he could probably learn something from these guys.
[php snippet=1]