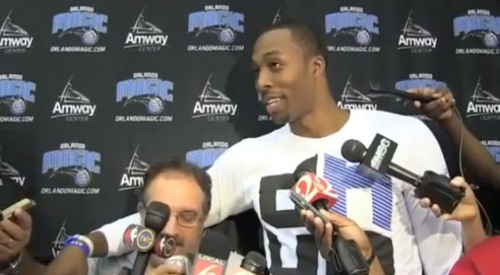 Big threes and the big headache
July 16, 2012
We're all following the Celtics' lead now.
They were the first to put together a big three, when in the same summer they added Kevin Garnett and Ray Allen to their roster, creating a powerful on-court trio with Paul Pierce.
Miami was next, signing LeBron James as a free agent and completing a sign-and-trade with Toronto for Chris Bosh to complete their trio with Dwayne Wade. And now everyone's going for their own big three.
The Lakers have theirs now too, with Steve Nash, Kobe Bryant and Andrew Bynum (not the mention Pau Gasol). And throw the Brooklyn Nets into the mix with young center Brook Lopez, guard Joe Johnson and Deron Williams at the point.
All in all, it's a very good trio for Brooklyn. With Williams, they've got one of the league's best point guards – last season he averaged about 21 points and nine assists per 36 minutes – and at 28, he's still got a few years left in his prime. That'll come in handy with Lopez, who just signed a four-year, $61 million deal with Brooklyn. Yes, he's had injury problems, but he's also good for 20 points per night and should improve playing on a better team. And don't forget about Joe Johnson, who's coming off one his best shooting season (.557 True Shooting, .521 Effective Field Goal percentage and about 19 points per game). The first season for the Brooklyn Nets could be better than the last five in New Jersey were. 
[php snippet=1]
But the big takeaway from their big three is how it's the big three nobody really expected to see at the Barclays Center. Lopez and Williams were already on the Nets, yes, and Johnson wasn't a complete surprise of a signing. The surprise is who isn't there: Dwight Howard.
For someone who's never played an NBA game in anything other than an Orlando Magic uniform, Howard already has quite a history with the Nets. Last month, he publically demanded a trade to them. He also asked to be traded there last February, and last December, too. Obviously, he doesn't want to be in Orlando and has a pretty good idea of where would like to be, but life's rarely so cut-and-dry.
For one, Orlando has done everything Howard's asked. They shook up their roster, trading for players like Jason Richardson and Hedo Turkoglu, in an attempt to satisfy and push their team to top of the East. They gambled on Gilbert Arenas, hoping he'd still have a spark of his meteoric days in Washington (losing that bet). And this year, with rumors of discontent swirling around them all year, they held on to Howard and loped their way to a 36-win, sixth-place finish, good enough for the playoffs where they won exactly one game before losing four in a row.
And then, on May 21, came the biggest move of all: the Magic fired Stan Van Gundy, a coach with a career .641 winning percentage and 259 wins in Orlando. They also let general manager Otis Smith go, too. This was biggest move of all by the Magic to keep Howard happy: all season he'd expressed his displeasure with Van Gundy – albeit from behind closed doors. Publically, Howard was another story. Case in point: a memorable press scrum where Van Gundy told media how he'd heard that Howard demanded his firing, followed by Howard coming out, hugging Van Gundy and calling those statements bull. Funny how that worked out, isn't it?
And the funniest part is how everything went for Howard. He made demands and the team honored them. He didn't like Van Gundy, arguably the best coach the Magic have ever had, so the team let him go. He wanted to play with Gilbert Arenas and they made that happen. And this spring, when Howard could have opted out of his contract and become a free agent, he didn't, waiving his opt-out clause.
In so many words, Howard chose to stay in Orlando. He could have left and signed with any team he wanted to. He chose to stay with the Magic. At the time, Howard said "I'm loyal… I just love this city too much." That was in March. Now it's July and Howard has changed his mind yet again. It's enough to drive fans crazy.
Throughout his career, Howard's tried to show himself as a goofy, likeable character. He came off stunningly a few years back in the dunk contest, when he put on a Superman cape for a dunk. But he's undone years of image making in less than 12 months. Instead of goofy, he comes off as insecure. Instead of likeable, he appears indecisive. Howard's the guy who keeps looking at the menu, trying to decide between bacon, sausage or ham, while everybody else waits impatiently.
There has to be a line; a point where the Magic stop capitulating to their superstar. They've bent over backward for him and he's made a mess of a good situation: it wasn't all that long ago when he led the Magic to the NBA Finals. But what's the team to do? Keep an unhappy player, someone the team's built around, and see them go through the motions for a year?
It's time for the Magic to cut ties with Howard and make a clean break. He wants out? Accommodate him and tell him to hop a train, bus or plane. Trade him to another team, hope to get some picks back and start rebuilding. Just move him somewhere and end this drama once and for all.
Just please don't send him to Brooklyn. They already have their big three.
[php snippet=1]