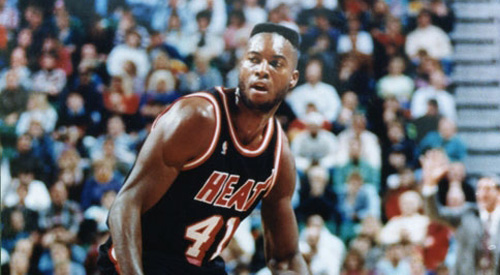 The biography of unheralded Glen Rice
June 22, 2011
Dwyane Wade, LeBron James, and Chris Bosh will be title contenders for years. Before that, it was Wade and Shaquille O'Neal who gave Miami its first championship.
A decade earlier, Alonzo Mourning and Tim Hardaway were the duo that put the Heat on the map. In their short span of existence, the Miami Heat organization has certainly seen its share of stars.
These are the Heat you remember; these are the players that have turned Miami into a consistent contender over the years, but the first true bona fide star to ever put on a Miami Heat uniform was Glen Rice, number 41. Remember him?
The NBA had expanded the year before Rice entered the NBA Draft, adding the Heat and Charlotte Hornets to its list of teams. As expected, both teams struggled mightily — the Heat especially, as they finished last in scoring in their inaugural 1988-1989 season.
In desperate need of offense, they used the fourth-overall selection in the 1989 Draft on Rice.
In college, Rice played four years as a Wolverine at the University of Michigan, starting in his final three. Originally projected as a mid-to-late first-round draft pick heading into his senior year, despite an excellent junior season, Rice needed to break records to raise his draft stock.
From the beginning of his senior year, it was clear Rice had improved an already excellent game, by the end of it, he had established himself as a pure offensive juggernaut.
[php snippet=1]
People were already talking after he had grabbed the Big Ten scoring record with 2,442 points, but it was his final NCAA tournament where Rice really turned heads.
In 1989, on the biggest stage of his basketball life, Rice shined as no one else had before, scoring 184 points (through six games) in the NCAA Tournament. It was more than enough to lead the Wolverines to a championship over Seton Hall.
This past NCAA Tournament, we got a taste of what a title run can do for its star player. Kemba Walker pulled off a season similar to Rice's, supplementing a great junior year with a phenomenal tournament. Walker led his team all the way to the title and dominated the headlines throughout the tourney. Even so, he only had 141 points, a full 43 points less than Rice over the course of six games. The differential serves as a testament to how dominant Rice was in that '89 tournament.
After his offensive display, Rice seemed a perfect fit for the Heat. They drafted him with their fourth pick and immediately gave him 30 minutes a game. Though he struggled at times in his rookie year (especially from three-point range), it wasn't long before he made the necessary adjustments in time for his sophomore season.
Over the course of the next five years, Rice averaged a combined 20 points per game, including two seasons at 22 per. Here he became the deadly three-point shooter we know of him as today, sinking 41% of his threes in his final season in Miami.
Rice gave the Heat offense, which they so desperately needed, and in the process became a household name. He remained in South Beach until a 1995 trade sent him to Charlotte along with Matt Geiger in exchange for the aforementioned Mourning.
Never a significant rebounder or assist threat, Rice was never asked to provide anything besides pure offense – his obvious specialty. He played good fundamental basketball on the defensive end and that was enough.
After three good seasons in Charlotte, the Hornets traded Rice to the Los Angeles Lakers for fellow All-Star Eddie Jones. Rice gave the Lakers two solid seasons during a critical time in their transition from promising young team to NBA contender and was as deadly as ever from three-point range, but the marriage wasn't meant to be.
As a third option behind Shaquille O'Neal and Kobe Bryant, Rice had to adjust to playing without the ball out in his hands, relegated mostly to spot up shooting. It was no secret, Rice's dissatisfaction returning to L.A. for the 1999-2000, but he did manage to earn a ring for his troubles when the team exercised their option against his wishes.
The following year, Rice decided to sign with the New York Knicks on a four-year deal. Though he started at the beginning of the season, the then-33-year-old was quickly relegated to the bench where he struggled with lingering plantar fasciitis.
After one forgettable season in NYC, but a decent one considering the circumstances, Rice was traded yet again — this time, to the Houston Rockets.
Rice would go on to play two seasons for the Rockets before a another deal sent him to the Utah Jazz team who promptly released him. He signed on with the L.A. Clippers for part of the 2003-04 campaign before saying goodbye to the NBA altogether.
Though hardly a memorable season, it was with the Clippers during that final year when Rice became the 48th player in NBA history to score 18,000 points, a milestone reminder of the impressive, if unheralded, career he had managed to put together.
Over the course of his 15 years in the NBA (just 12 of which he played over 27 games) Rice was named an All-Star three times. His 18.3 average over exactly 1,000 career appearances, a timeless reminder of the subtle impact he had on his generation of fans.
In the years since his retirement, Rice has laid relatively low. Making news only recently with criticism over Scottie Pippen's now infamous remarks comparing Michael Jordan and LeBron James.
"I thought Scottie was drinking when he said that," Rice told Yahoo! Sports. "There's no way. Michael Jordan's the best player ever, come on."
"Think about it: Jordan became who he was when it took a miracle for people to call a foul. That was the era of the Bad Boys. And he was still scoring at will. But these guys now, I mean you put a fingernail on them and there's a foul ? I honestly think that if I played in this game today, I could have had a 30-point-average season, probably."
Though he certainly throws himself a bone in his support of Jordan, it begs a serious question. Could Rice have averaged 30 a game in at least one NBA season if he was in his prime today?
Considering the differences in the NBA today compared to just 15 years ago, it seems possible.
Often we look back and wonder how a player of a previous generation would fit in with today's game. It's that trans-generational curiosity that sparked the original Pippen comments in the first place.
When you look back at Glen Rice's career – where he was one of the most prolific scoring three-point shooters of the '90s – it's obvious there would be nothing to wonder about. Glen Rice would fit right in.
[php snippet=1]