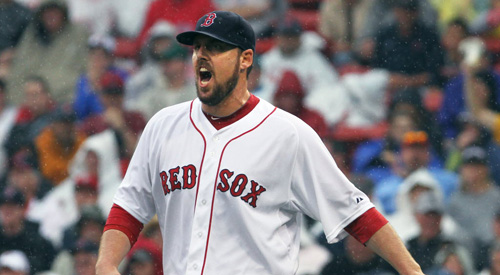 The real reason behind the Boston malaise
April 26, 2012
A check swing on a cold April night in Burlington, Iowa. Appeal to the bases umpire: No swing, ball two. An obscenity is spat by one of the hundreds of fans scattered through the bleachers.
The mother of the batter, a young Blue Jays prospect named Kellen Sweeney, cringes. "I'd forgotten about how fans can be," Mrs. Sweeney says, and gives a shudder. Mr. Sweeney grins tightly and shakes his head.
Minor league ball isn't just about preparing the players for the Big Leagues; it's preparing the Sweeneys, too.
In just a handful of days, they'll travel to Fenway Park to support their older son, Ryan, an outfielder traded to the Red Sox in the offseason. If the Red Sox continue to struggle, the vitriol from the fans in Beantown will dwarf all outbursts Mr. and Mrs. Sweeney have ever experienced before.
There's a different feel to Bostonian sports fans than anywhere else in the country; an emotional range unmatched in its intensity. Whatever else they may be, Red Sox rooters can never be labeled disinterested. They love or they hate, and they can somehow manage both at the same time, screaming for a J.D. Drew clutch homer while inwardly cursing his name for all of those other wasted at-bats, or booing Alfredo Aceves off the field while simultaneously remembering how well he pitched in 2011 compared to his lazy, beer-drinking, chicken-eating, gut-growing, higher-paid teammates.
Red Sox fans have their World Series title memories now – two of them in the last decade – and the Patriots, Celtics and Bruins have all won recently enough that it couldn't be earthly possible for Boston's century-long combination of fatalism and self-pity to have re-grown.
Self-loathing is another story. 
[php snippet=1]
Boston's image is that of the underdog town, the blue collar workers, the tough talkers, the hard drinkers, the city battling to get out from under the shadow of New York City. No, it wasn't true, especially not when Beantown was represented by the snobs of Harvard, the arrogance of Ted Williams, and the gloating success of Red Auerbach.
Still, Bostonians reveled in the idea of the upstart little brother battling against sophisticated New York egocentrism. It made the 2004 season the perfect narrative: A ragged, bearded, drunken group of idiots coming back from an impossible 3-0 deficit against the favored Yankees on their way to a curse-breaking championship. Another title followed three years later, as if to truly put any thoughts of Red Sox failure to permanent rest.
Now? An avalanche of bandwagon Red Sox "fans" and such retrospectively ridiculous acquisitions of Edgar Renteria, Julio Lugo, J.T. Snow, Daisuke Matsuzaka, Carl Crawford and John Lackey have fully knocked down the façade of a community-supported, white collar ballclub. It's all cause for raucous laughter among Yankees fans: All of those Boston supporters railing in the late 1990s and early 2000s about how the Yanks bought themselves a World Series, how do they look now?
Like hypocrites.
That's what all of this booing toward Bobby Valentine, Larry Lucchino and the current Red Sox administration is really about. Red Sox fans don't want to root for this team. They don't want a celebrity manager, a year removed from inane ESPN commentary. They don't want a lineup of high-priced busts and backup cast-offs. They want their guys, Dustin Pedroia and Jason Varitek types, unshaven and emotional, giving their all and dirtying their jerseys – and not blowing nine-run leads to the Yankees at home.
But Bostonians, unlike so many fan bases around the Majors, will not stop caring. Ballpark seats will stay filled and tickets will still sell out. Pubs will stay packed. Red Sox caps will be worn ragged. And, from Cambridge to the Pesky Pole, they'll holler their lungs out, booing till they grow hoarse, shouting every obscenity that they know, until they have vented their every ounce of frustration and ire upon the men who call Fenway their workplace.
This is the cauldron that Mr. and Mrs. Sweeneys are preparing to enter: baseball mad and emotionally tortured.
It's enough to make a person cringe.
[php snippet=1]