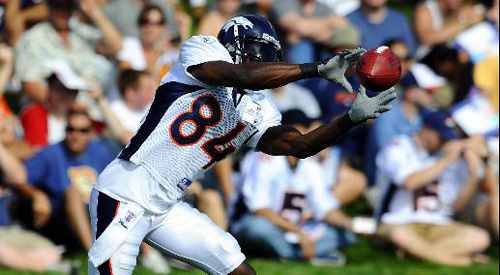 The curious case of Brandon Lloyd
March 26, 2012
When the 2012 NFL season starts, wide receiver Brandon Lloyd will be 31 years old and for the first time in his nine-year career, he will play on an elite team. Lloyd signed a three-year, $12-million contract with the New England Patriots on March 18, 2012, and he confirmed what had been the worst kept secret of free agency–Lloyd wants to win.
Winning is something he hasn't experienced often so far in his career, having played for the San Francisco 49ers, the Washington Redskins, the Chicago Bears, the Denver Broncos and, finally, the St. Louis Rams. The combined record of these teams since the 2003 season is 51-93 with Lloyd on their roster. That, in other words, is ugly.
Lloyd's career is an interesting one to examine as he's seemingly as gifted as any other receiver, but he never managed to break through in any meaningful way until the 2010 season with the Broncos: 77 catches for 1,448 yards and 11 touchdowns – which amount to about one-fourth of his career totals for catches and one-third for yards and touchdowns. In 2010, Lloyd was 29 years old and most receivers that age have long ago established themselves as bona fide NFL starters. Otherwise, they wouldn't have a roster spot.
Despite unproductive seasons, Denver gave yet another chance to Lloyd – why? Was it because he has never been formally labeled a bust? And if that's the case, is it only because he was drafted out of Illinois in the fourth round in 2003 with little fanfare? If so, Charles Rogers probably thinks that life is unfair. 
[php snippet=1]
Regardless, the Patriots will be Lloyd's sixth different team, and let's hope he finally finds a place where he belongs because few receivers can go head-to-head with him when it comes to making the spectacular catches.
Joining the Patriots could help Lloyd redefine his legacy as someone other than the greatest YouTube wide receiver of all time (a quick "Brandon Lloyd spectacular" search on YouTube can explain what this means).
Brandon Lloyd isn't the fastest or the tallest, but what makes him great is a capacity to make the spectacular seem routine. Lloyd might have a few drops every year, but don't hold it against him as he makes up for them 10-fold by catching many passes he shouldn't. He's shifty and reliable too, as his 18.8-yard-per-catch average from 2010 can attest.
Of course, this is true only if Brandon Lloyd is similar in 2012 to the player he was during the previous two seasons – and Lloyd's sample as a productive NFL receiver remains small. But from New England's vantage point, this signing makes a lot of sense and it starts with offensive coordinator Josh McDaniels. He is the same man behind the genius that was the 2007 New England offense; he is the method to the madness that was that offensive unit, who rejoined the Patriots just in time in 2011 to guide them to last season's Super Bowl. Of course, before he made his way back to New England, McDaniels made an appearance as the Broncos head coach in 2010 – the same season where Lloyd enjoyed his best time as an NFL receiver.
Signing a player like Brandon Lloyd is typical of the Patriots' approach in free agency. Little cost and high upside? Yep, that sounds about right. Bill Belichick doesn't believe in pursuing the rare big fish and would rather build depth with many versatile and low-cost players. Some might think that Belichick should have sent a contract offer to the Steelers' Mike Wallace, a restricted free agent, but it would have been much more expensive to do so than it was to sign Lloyd. And Belichick believes in using every last one of the 53 roster spots on his team wisely. Given the team's success since Belichick arrived at the helm, the Patriots deserve the benefit of the doubt for this decision.
The team hopes that Lloyd can deliver where Ochocinco failed miserably, starting by earning Tom Brady's complete trust. He may never be as good as Randy Moss was in 2007, but the fact that he thrived in McDaniels' offense suggests he has an affinity with Patriots' offense. And if that holds true, that means he could have an affinity with Brady. And should this happen, the payout could be huge for the Patriots.
In New England, Brandon Lloyd won't be a superstar – nobody but Brady is, really. Yet, he will get the ultimate chance to prove that he finally belongs to a team, and the Patriots are banking on the fact that Lloyd will repay them with the ultimate prize. As the Giants showed in Super Bowl XLVI, New England can't win without one player like Lloyd to stretch the opposing defense down the field, and the receiver can't win without the Patriots. Win-win.
[php snippet=1]