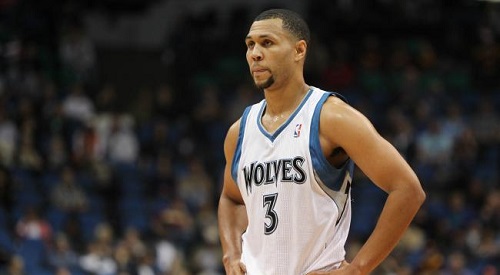 Brandon Roy, idol
March 13, 2013
On March 15, Dan Raley will release his book entitled The Brandon Roy Story. The Brandon Roy Story was initially completed over two years ago but shelved because the book's publisher ran out of money before it could come out. As it turns out, Mr. Raley has had a very difficult time getting the book into the hands of readers. So much so that a lot of writers would probably have given the project up for dead and moved on to something else.
In fact, the Seattle Post-Intelligencer staffer did consider doing just that. Or just releasing The Brandon Roy Story as an e-book. But Raley ultimately didn't do that for a couple of reasons. The first being that Roy himself actually encouraged him not to. The second being that, like a lot of people who have been in contact with Roy, Raley is a big fan of the current Timberwolves guard, and wanted to tell his story as best he could.
I haven't read The Brandon Roy Story, but I have followed the career of Brandon Roy and I hope the book will find success because the story of Brandon Roy is an intriguing one for basketball fans. Not just for fans of the Portland Trailblazers or of the Minnesota Timberwolves, but all fans of the sport and of "The Natural" in general. The remarkable thing about Brandon Roy is that, discounting his current (mostly inactive run) with the T-Wolves, he has only had five truly effective seasons as an NBA player. Given that fact, his influence as a personality and as a player has far outstripped his on-court accomplishments. After all, I can't envision anyone writing a decent book about fellow five-year wonders Joey Dorsey or Yi Jianlian. Obviously, there is a special appeal to Brandon Roy. And I don't think it stems solely from his play on the court, as fine a player as he was.
People fell in love with Brandon Roy because of his game, his personality, and because of his great story. [Ed. note: Guilty] Despite having been drafted with the sixth overall pick in the 2006 NBA Draft (behind forgettable players like Adam Morrison, Tyrus Thomas and Shelden Williams), Roy was always an underdog. From the beginning, there were concerns about his durability that affected his draft status. Some thought he lacked a true position in the NBA. His teammate LaMarcus Aldridge (selected two spots earlier in that same draft) was considered more of a can't-miss prospect. As it turned out though, Roy was the perfect superstar to lead the Blazers in their transition from the regrettable "Jailblazers Era". When the former Washington Huskies guard entered his rookie year, Jailblazer notables Darius Miles and Ruben Patterson were already out the door and troublemaker Zach Randolph was soon to follow.
[php snippet=1]
What long-suffering Blazers fans found in the place of those players was a fun, likeable group led by the soft-spoken, unassuming Roy. A departure from the questionable characters that defined the early-'00s Blazers, dedicated family man Roy wasn't found in the news for any negative reason and there was no "dirt" to be found on him anywhere. He also tended to let his game do the talking in a big way. So much that he captured 2007 Rookie of the Year award nearly unanimously, and went on to three consecutive All-Star appearances. In the meantime, he dropped 52 pointson the Suns in one of the most memorable games for a Blazer ever and led Portland to the playoffs every year between 2008 and 2010.
Roy played so well that during that span that, at one point, he was being considered among the best shooting guards in the entire league along with guys like Kobe Bryant and Dwyane Wade. When he came into the NBA, many never thought that the relatively unheralded Seattle native would be even a decent role player, much less considered among those greats. And you can't blame them.
Physically, Roy never possessed many of the traits we associate with elite two guards in the NBA: not particularly long, not particularly strong (although he improved in that area as his career went on), and definitely not a great leaper (although he had his moments). Look up a scouting report of Wade or Bryant in their primes and you'll see phrases like "explosive" and "athletic". Check out one for Roy and it will say things like "crafty" and "fundamentally sound". The game of Brandon Roy was always a cerebral one. Lacking the elite athleticism of many of his peers, Roy relied heavily on a great jump shot and a superior sense of timing, along with excellent change of pace moves and an uncanny ability to drive and finish with either hand (qualities that allowed him to average 20 PPG his first four seasons in the league).
Roy's style of play no doubt contributed greatly to his popularity. Players like Wade and Bryant will always be popular, but not always relatable. That's because it can sometimes seem like they belong to another species: leaping and flying through the air preternaturally, muscles and tendons bulging everywhere.But if those guys were the Superman and Captain America of the NBA, Roy was Batman. Blessed with no extraordinary powers, he seemed to get by on just his wits and sheer willpower. We appreciated him for that. As great as Roy was, he seemed like he could have been the guy who played in your rec league that was just really, really good. He seemed human. And that isn't to say that his game wasn't easy on the eyes. Roy may have been blue collar through and through, but he was no Tony Allen, all reckless energy and uncontrolled fervor. Roy's game was never rough or ugly. There was a smoothness to his game, and he always seemed under control. When he played, it was just as aesthetically pleasing as that of Wade or Bryant, only in a drastically different way.
A lot of NBA careers have been considered "wasted" over the years, for a variety of reasons.They range from substance abuse issues (John Lucas) to lack of drive or effort (Eddy Curry). In other cases, we simply over-evaluated the potential of a player (Kwame Brown). Without a doubt the most frustrating reason for a player's career to fall short of expectations is injury. Over the years, there have been a multitude of players who fall into that category: Bill Walton, Ralph Sampson, Yao Ming, the list goes and on. The story of these players is heartbreaking because, unlike the Eddy Currys and Kwame Browns of the world, they had all the drive and talent to be all-time greats, but their bodies simply betrayed them. The signs were there from the beginning that Brandon Roy could be one of those players. In each of his first three seasons in the league, Roy endured medical procedures involving his lower body, but one of the most inspiring parts of Roy's story was his ability to play on despite those limitations.After an injury-shortened rookie year, he missed only an average of six games per year in 2007 and 2008.
For a time, it seemed like the Blazers and Roy could manage his body in a way that would extend his career. A 2008 Sports Illustrated piece (in which Roy acknowledges his issue is "trying to keep my body healthy so I can perform every night") even highlights some of the efforts taken by both team and player to keep Roy able to perform on the court. Unfortunately, it may have been Roy's drive to play at all costs, that trait admired so much by his fans, which endangered his career the most. In 2010, Roy was expected to miss the entire first round of the playoffs due to surgery to repair a meniscus tear, but he was back on the court a remarkable eight days later. The Blazers won the game (in part due to the heroic effort from Roy), but lost the series. And one wonders just what effect that series may have had on Roy's long-term health.
Roy did come back the next season to play in 47 games, but he was already a shell of his former self, putting up career lows in nearly every major statistical category. The lone highlight of the entire season was his offensive explosion against the Mavs in Game 4 of the first round of the playoffs.
And then like that, he was gone. Citing the deteriorating condition of his knees, Roy shockingly retired the next season and seemingly walked away from the game before it was truly his time, not unlike many Trailblazers before him (Sam Bowie and Walton among them). It was not the fairytale ending Roy or his fans would have hoped for. But that situation seemed to rectify itself when Roy announced his comeback with the Minnesota Timberwolves prior to this 2012-13 season. After undergoing the same platelet-rich plasma procedure that seemingly reinvigorated the career of Kobe Bryant, Roy seemed confident in his ability to contribute to the Timberwolves at a high level.
Unfortunately though, things didn't work out that way. After a series of setbacks involving his knees, Roy has only played five games for the T-Wolves in 2012-2013, and coach Rick Adelman recently admitted that he doesn't expect Roy to play again this season.
If Roy never does play another NBA game, it will no doubt be a sad end for the former All-Star. He clearly still has a burning desire to play, and it seems unlikely he can find a second life as a role player in limited minutes the way that other former injury-plagued swingmen like Grant Hill and Tracy McGrady have in the past. His body simply won't let him.
Roy, however, has expressed an interest in coaching, and his playing style and feel for the game would seem to suggest he could potentially find success in that area. If Roy goes on to a long career as a coach, his days as a player might just become a footnote. The story of Brandon Roy the player, though, is one worth remembering. It's the story of a man whose passion for the game, for better or worse, sometimes went beyond concern for even his own health. And it's a story we probably could all stand to learn something from.
[php snippet=1]