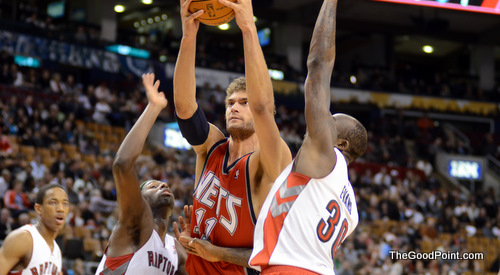 Brook Lopez: The future is frightening
April 14, 2011
At first glance Brook Lopez is an imposing figure in a Jack and the Beanstalk sort of way – especially for those unfortunate enough to have to check him in a half court offense – but a perplexing first-step combined with his undisputedly harrowing size make him more than just imposing, they make him rather frightening.
The fact that he's managed to emerge as a legitimate 30-point threat while admirably handling the rigors of a franchise in constant flux all at just 23 years old? Well, maybe frightening is a bit of an understatement too.
As far as the NBA is concerned, Brook Lopez is horrifying. The worst part is? He's only getting better.
"I try to work on everything," says Lopez. "You never know what's going to happen in a game."
It comes off, at first, as generic sports talk from an athlete whose heard it all before, but only until you go over the game tape, the footage of the legitimate seven-foot, 260-plus-pound pivotman jab stepping, lunging and breaking towards the basket with an efficiency you wouldn't expect from a specimen his size.
You see it again when he establishes screens before cutting towards the basket with hands soft like a gigantic tight end on a masterfully executed football route. You see it when he posts a free-throw percentage of a man six inches shorter for a third consecutive season and then runs the floor with the enthusiasm of an inexperienced stud for whom the game comes easy.
[php snippet=1]
Lopez isn't about to redefine the athletic standard for big men, he lumbers about the court as any random passerby would assume – and with no particular tenacity on the boards – but his ability to do what he sets out to do (score) and do it well makes him one of the most intriguing big men of the future.
The twin brother of Phoenix Sun Robin Lopez has the bulk to play a traditional low-post game, lobbing hook shots and squaring up for awkward-leaning jumpers made available only by his size, but what sets him apart from the typical back-to-the-basket centers of his stature is that he's already shown such a firm grasp of the skills exclusively pertinent to his craft.
Aside from some less than desirable production on the glass stemming from a lack of mobility and energy in congested traffic, Lopez's understanding of the concept of using his giant frame to create scoring opportunities is something the New Jersey Nets will be able to take to the bank from here until Brooklyn. And believe me, they'll take it to Brooklyn.
Just recently the franchise took the steps to pair their organization-grown star with a legitimate running-mate, former Utah Jazz All-Star Deron Williams. He may not be Carmelo Anthony, but in the long run, the move may very well have more of an impact on the hulking weapon they've been grooming since 2008-09.
"He just makes everybody else on the floor's job so much easier," says Lopez, one of the key benefactors of Williams' brilliance. "That's his job as the point guard, he has great court vision. He just gift wraps points for people."
Those gifts are something he'll happily accept, stat lines like Williams' recent 21-assist night on Apr. 5 (before he shut it down for the season in favor of mid-April wrist surgery) are hard to say no to. That night Lopez dropped 30 points and 12 rebounds.
Although the Nets struggled towards the end of the season, Lopez stepped in and shouldered even more of the load he had already been carrying when three of the four starters he shared tip-off duties with (Williams, Anthony Morrow and Kris Humphries) fell in the final weeks of the season.
In a six-game stretch lasting from Williams' 21-assist night until Apr. 11, Lopez topped 30 points five times, the lone time he failed to reach the plateau he still managed 27.
Now with nothing but an impending move across town muddying the waters ahead, Lopez and co. can focus on coming into their own in a post-Melo rumor era.
"We have a good group and they ignored it for the most part," says Lopez, of the incessant rumors that plagued the team from the day Anthony hinted that he wanted out of Denver until the one that saw him dealt to New York. "Obviously it's hard to block it all out but we just ignored it and played basketball for the most part."
Whether it's the result of the increased opportunities without his comrades or the impassioned byproduct of a late-season slump that may have triggered a sense of urgency in the young big man, Lopez showed more glimpses of the player he'll eventually be April than in any month previous.
If the Nets can keep their star in the middle scoring with ease and potentially improving in the rebounding category, there's no reason to believe the hen will stop laying golden eggs any time soon – even when Williams and the rest of his teammates join him next October.
"I think we're doing a lot of very good things, preparing for success down the road."
One way of doing so is through standard health maintenance. This off-season, Lopez claims that "it's possible" he'll undergo surgery on his right elbow, a minor procedure with the intent of clearing out calcium deposits, but he stresses that it's of no particular, long-lasting concern.
"It's nothing," he says, and who are we to disagree?
After dropping 15 of 17 games to end the 2010-11 season, Lopez will be hell-bent on exorcising the frustrations that plagued the franchise in one way or from the time owner Mikhail Prokhorov expressed an interest in acquiring Anthony to the team's season finale loss at the hands of Lopez's draft mate Derrick Rose and the Chicago Bulls.
Long story short, if you thought Lopez was scary as it is, you don't want to see him when he's angry.
[php snippet=1]