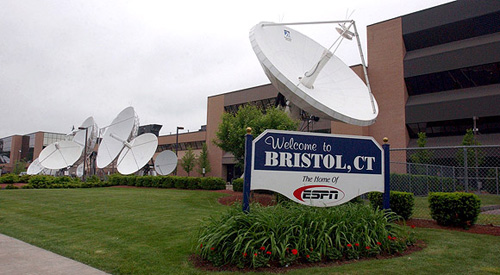 Bruce has been freed, but ESPN ethics questions remain
September 8, 2011
One of the most intriguing stories of the summer in college football didn't focus on player movement, conference realignment or institutional scandal, but rather a journalist's treatment by his employer.
Renowned ESPN journalist Bruce Feldman's apparent suspension for editing the Swing Your Sword book (by former Texas Tech coach Mike Leach), that included troubling comments and revelations about the network and its personalities, spurred outrage across the college football world and spawned a massive #FreeBruce movement on Twitter.
ESPN and its ombudsman, the Poynter Institute, issued waves of denials, but ignored many of the key questions at the heart of the Feldman debate, and that's where the story sat until Friday.
Friday saw a massive shift in the landscape, as Sports Illustrated media writer Richard Deitsch landed an interview with Feldman and reported that he would be moving to CBS. Feldman didn't hesitate to burn bridges behind him, either, remarkable for a journalist in today's media landscape, and he took plenty of shots at ESPN types (in particular, color commentator Craig James, who was allegedly involved in, among other things, ESPN's coverage of the allegations that Leach locked James' concussed son in a closet).
What's notable about Feldman's comments, though, is that they're not just minor complaints of someone spurned by an employer. Rather, they reveal some of the deep ethical issues at the heart of ESPN's coverage of college football. Those haven't gone away.
[php snippet=1]
Feldman told Deitsch he'd informed countless ESPN executives of what was going to be in the book long ahead of time, but they still grew upset and told him not to bother working when its revelations became public. They also pulled a contract offer he'd already been extended and offered him a less-than-stellar one-year deal. As he told Deitsch, that was rather insulting considering both his long history with the company and its continued employment of more questionable figures like James.
"I was literally the first hire on what became ESPN.com when I was in Bristol in my mid-20s," Feldman told Deitsch. "This is the way they treat you. To watch them sit there and try to spin their way out of this and only make it worse. They made such a mess, and then they never cleaned it up. I'll tell you this: A few weeks before I was on that conference call, my contract was coming up and [former ESPN The Magazine editor-in-chief Gary] Belsky had reached out to me and said, 'Look, we want to give you another three-year contract and it will be with a raise. I said, 'OK.' But when I brought that up on the conference call, [ESPN senior vice president and director of news] Vince Doria started bringing up credibility questions. That was the word he used with me – credibility. I'm thinking, 'Wait a minute, you are bringing up my credibility and my future with the company and you guys still put Craig James on the air?'"
As College Football News columnist Matt Zemek said when the Feldman issue first started this summer, its implications transcend merely Feldman's individual situation and even college football as a whole. They raise significant questions about ESPN's credibility as a news outlet, and that matters for sports fans.
"Why is the Bruce Feldman-Craig James episode such an important and revealing story with such profound implications for sports journalism?" Zemek said. "Consumers who want good sports journalism need to know if any media entity or outlet is fundamentally committed to journalism or to PR and entertainment. One needs to know if money, advertising, and market share are more important for broadcast entities than who, what, when, where, and why."
As Zemek added, it's not just the consumers who are impacted by ESPN's journalism (or lack thereof), either. As both a provider of sports news and analysis and a broadcaster of games, ESPN has significant reach and impact on the college sports landscape. In a sport like football in particular that's largely ruled by polls and significantly impacted by NCAA rulings and infractions penalties, ESPN has real power to make or break individual programs or coaches – as they allegedly did with Leach and Texas Tech.
"It's important to emphasize that many people other than consumers (fans) are affected by this," Zemek said. "If some college sports programs get punished while others either avoid punishment or receive smaller punishments, the question will linger in everyone's mind: 'Did ESPN (or the involved media entity) either overemphasize or ignore this story because of its financial interests?' That kind of black cloud cannot linger over the organizations that are ostensibly supposed to provide credible, trustworthy reportage to their audiences."
It's important to note that ESPN was not a victim, a passive participant or merely a reactive force in the Leach-James scandal, either. Their treatment of the story both leading up to Leach's firing and the subsequent broadcast of Texas Tech's Alamo Bowl matchup on Jan. 2, 2010, suggests that they were involved as an active player. The book Swing Your Sword provides evidence that much of the ordeal was driven by Craig James and his public-relations firm, Spaeth Communications.
"While James manipulated the way in which this story was covered, ESPN wasn't just the receiver of manipulation, an entity that acted wrongly out of weakness," Zemek said. "ESPN was an initiator and enabler for James from the very beginning. Do remember that James was slated to call the (January) 2010 Alamo Bowl when the 2009-2010 bowl matchups became official. When reports of Leach's mistreatment of Adam James surfaced in late December of 2009, ESPN – confronted with the fact that Texas Tech was playing in the Alamo Bowl – reassigned Craig James to another bowl.
However, Zemek continues:
"That wise decision was overwhelmed by two other terrible decisions ESPN made in the following days: First, James's on-air football broadcast partner, play-by-play man Mike Patrick, was still allowed to work the Alamo Bowl. Patrick was hardly an objective source; like any other play-by-play man in relationship to his on-air partner, Patrick spent an extensive amount of time on the road with James as a work colleague. If James should not have analyzed a game involving his son's team – and the coach who might have mistreated his son – Patrick shouldn't have been allowed to remain in the play-by-play chair in San Antonio. By leaving Patrick in the booth for the Alamo Bowl, ESPN set itself up for disaster."
Of course, Patrick and fill-in broadcast partner Bob Davie went on to spend much of the game editorializing and bashing Leach, which appeared to be just fine with the ESPN suits. Neither was suspended following that, unlike Feldman.
In fact, ESPN has a long history of inconsistency with regards to treatment of their employees, suspending some (like Jemele Hill and Tony Kornheiser) while leaving others (like Chris Berman and Colin Cowherd) alone for similar offenses. It's also interesting that many of the same senior figures reportedly involved in Feldman's persecution, such as Doria and executive vice president of production Norby Williamson were heavily involved in last month's move to throw Deadspin's Tommy Craggs out of a meeting (despite his having received an invite).
Feldman has since landed on his feet, moving to CBS and starting the perfectly-titled Free Bruce blog. However, questions about the Leach-James-Feldman saga still remain, and they haven't been answered by Poynter's halfhearted attempt to cover the situation. As Zemek said, mistakes do happen in journalism, but ESPN's continuing disregard for ethics has already had significant consequences for some, like Leach and Texas Tech. If it keeps up, it may affect many more.
"Media outlets won't get every issue right," Zemek said. "Journalism is a messy and inexact art, and its practitioners will often fail to perfectly calibrate their reportage … No one's denying that journalism is a complicated and layered field of endeavor. Yet, a media outlet must at least show that it takes journalistic standards seriously. ESPN doesn't do enough to be seen as a practitioner of proper journalism. It really is the Entertainment and Sports Programming Network. On that matter, 'ESPN' as a brand and a corporate entity is honest. It's about the only honest thing about ESPN these days."
[php snippet=1]