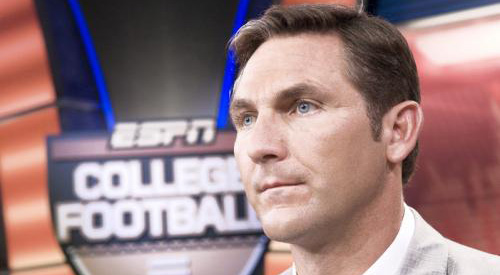 The ethics of sport journalism: ESPN struggles with media responsibility
July 20, 2011
Coaches' books have become quite a popular phenomenon recently, but few of them have any real news value. That's not the case with former Texas Tech head coach Mike Leach's recently-released book, Swing Your Sword, which goes into substantial detail about the controversial saga that saw him fired over allegations he mistreated a player.
That player is Adam James, and he's the son of ESPN analyst Craig James; Leach's book claims that Craig James and a PR firm he hired orchestrated ESPN's coverage of the saga and Leach's eventual firing.
Of course, ESPN's taken some significant heat from these revelations, but what's even more notable was the way they responded; by putting book editor Bruce Feldman, a well-respected college football journalist who happens to work for ESPN, on an enforced break from his regular duties.
A media organization taking one of its top writers off the beat for any reason would be notable, but this one sparked particular outrage amongst college football fans because of the particular circumstances. Feldman reportedly received permission from ESPN to be involved in Leach's book, so their decision to suddenly punish him seemed about as logical as Chiang Kai-Shek's watermelon rations. ESPN took plenty of heat on Twitter, where "#FreeBruce" trended rather quickly, and they waited 16 hours to deliver a terse statement disputing that Feldman had ever been suspended (while confirming they'd asked him to stop writing and tweeting).
After the statement, Kelly McBride from the Poynter Institute (which serves as ESPN's ombudsman) came out with a piece largely defending ESPN's handling of the situation. That hasn't stifled the criticism, though and Feldman still hasn't returned to work. Regardless of exactly how settled the situation is and how it's eventually resolved, it still raises plenty of questions about ESPN, its coverage of college football and the divide between its role as a broadcaster and its role as a supposed news organization.
College Football News columnist Matt Zemek said ESPN's action against Feldman suggests they're more preoccupied with protecting their announcing talent than fairly covering college football.
[php snippet=1]
"If ESPN – intent on protecting James – had a problem with Feldman's involvement in Leach's project, it should have said so at the outset," Zemek said. "This suspension appears to have no legitimate moral, ethical, or contractual basis. Unless new details emerge in the coming weeks, Feldman did nothing underhanded or inappropriate, nothing that was the least bit dishonest, purposefully vague, or deceptive. Outwardly, ESPN said it never did suspend Feldman, but the very fact that the network said Feldman 'resumed' assignments on Friday (a day after news outlets reported Feldman's suspension) exposes the pack of lies emerging from Bristol, Connecticut."
Ken Fang, who covers sports media issues at Fang's Bites, said ESPN doesn't handle conflicts and criticism well, and they have a poor track record on ethics issues.
"I do think ESPN has to clarify its policies," Fang said. "It's been more reactive than proactive, and it has to take someone to point out these conflicts and ethics problems. Herein lies the problem; even with an ombudsman, what was written about Feldman did not come off critical enough for me. The piece this week was done well, but it didn't go far enough. And no matter what ESPN says, people aren't going to believe what it's saying in situations like Feldman's. Perhaps it has to redefine itself in the next couple of years and decide what it wants to be. And there lies the problem."
Kyle Kensing of Saturday Blitz said ESPN's continual defence of James against all criticism raises serious ethical questions.
"It's gone beyond frustration with his broadcasting style and into forcing a lot of people to question the network's integrity," Kensing said. "James' not just willingness, but near insistence, on talking about Leach and Adam those first days after the story broke were a serious deviation from how ESPN generally covers stories involving staffers."
Kensing said the book's allegations about James and his camp attempting to manipulate the reporting of ESPN's Joe Schad are concerning, but more for what they say about James than what they say about Schad.
"ESPN reporters are under greater scrutiny as a result of carrying the network's label," Kensing said. "James and his camp using Schad's reporting to further their own agenda, if it did happen, has more to do with James than Schad. If Schad reports the facts to the best of his knowledge and ability, and those are misrepresented by another party, responsibility falls to that other party."
Kensing said he doesn't think ESPN's notably worse than any other big media outlet, but the James/Schad situation deserved more of a response.
"ESPN has the best reporters across multiple mediums and sports," he said. "That said, I do think one of the more notable misfires recently was how the James situation was reported. Covering a sensitive issue involving an employee is precarious, but allowing James to use broadcasts for his own purposes needed to be addressed."
Zemek said ESPN's failure on the James/Leach story deserves more scrutiny than it's received, as it suggests some severe ethical issues may still be present at ESPN – something displayed in some of their other coverage decisions.
"James has evidently mobilized resources to consolidate his position of employment (and appreciable visibility) at ESPN," he said. "He has used a high-powered public relations firm, Spaeth Communications, to manipulate public opinion and flex a little muscle behind the scenes. Given that James's proximity to ESPN created one-sided coverage of his public clash with Leach in late 2009, it's quite clear – in July of 2011 – that ESPN has not covered this issue down the middle at any point over the past 18-plus months. This story has obviously not been covered with the thoroughness, professionalism, and objectivity one would expect from a news-gathering, news-reporting organization, an organization that practices what one would reasonably call journalism."
"Barring the release of new information which would change the ethical calculus of this situation, ESPN practiced public relations in the James-Feldman-Leach saga, not journalism. ESPN certainly practiced public relations in LeBron James's 'The Decision'. It might not have practiced public relations in its constant promotion of Brett Favre during the summer of 2010, but that wasn't journalism, either – it was tabloid-style entertainment."
The issues with ESPN go beyond just the James/Leach/Feldman situation, though, and some of them are caused by the network's sheer size and scope. Fang said ESPN's often caught in the trap between doing what's best for their broadcast rights and doing what's best from a journalistic standpoint.
"It's a rightsholder and also trying to be a news organization; not easy," Fang said. "ESPN has to decide whether it's one or the other. Of course, it's not going to give up being a rightsholder because that's its bread and butter, so to speak. It has to walk a fine line and it stepped over the bounds repeatedly. The size certainly is a problem because ESPN is everywhere."
Zemek said it's in ESPN's interests to see the best players and schools competing in the games they broadcast, and it's in the NCAA's interests to get the most television money possible. That sets up conflicts of interest in cases where there might be a case to suspend players; both Cam Newton and the Ohio State players were cleared to participate in BCS games despite clouds hanging over their head.
"The persistently salient point, though, is that ESPN had a vested financial interest in seeing the NCAA and Ohio State arrive at that transparently bogus deal, a deal which insulted any and all notions of amateurism and (more to the point) legitimate NCAA compliance," Zemek said. "On a very similar note, how convenient it was for the powers that be in college football to allow Cameron Newton of Auburn University to play in both the SEC Championship Game and the BCS National Championship Game despite the fact that his father, Cecil Newton, undeniably tried to shop him to Mississippi State. Why did Ohio State's 'Tat Five' and Auburn's Newton get to play in the biggest games of their respective seasons? Easy: the television money was just too overwhelming; vested interests had too much of a stake in the matter."
Zemek sees this conflict as a rising problem for NCAA sports, and he thinks it might be why ESPN isn't breaking as many NCAA scandals as some of their competitors.
"This is the dark path being traced by college sports," Zemek said. "It should not come as any great surprise that Yahoo! Sports (specifically, the reporting duo of Dan Wetzel and Charles Robinson) is breaking almost every relevant college sports scandal these days. Yahoo! doesn't have TV contracts to worry about. In college sports and in television, two plus two still equals four. Follow the money and look at who wields power in the back of the room."
One issue where following the money could get very interesting is with ESPN's partnership with the University of Texas to run their new television network. Kensing said ESPN's rise has generally been a positive development for college football fans, especially those who follow smaller schools, but the Texas deal might signify a further shift in coverage towards the power conferences.
"I do worry the Texas Network is a shift toward an 'NFL-ization' of college football, meaning all but 40 programs are phased into the background," Kensing said. "Should UT go independent, which is what I feel like the endgame of this network could be, then UT picks and chooses its games. That's less revenue coming in for the Kansas States, Iowa States, even the random [Conference USA schools] and Wyomings Texas plays."
Kensing said having ESPN directly involved with a particular school is also problematic from an ethics standpoint, but it's not necessarily damning.
"There's also the question of how ESPN will handle an institution it's financially tied to," he said. "Hypothetically, UT gets in trouble similar to Ohio State. Is ESPN hesitant to pursue that story as aggressively? NFL.com does a great job keeping its website an actual news service as opposed to PR, so it is doable."
Zemek said the saga of Leach, James and Feldman and ESPN's continuing response to it suggests that they're moving further and further away from journalism, though. He finds that troubling, given ESPN's dominance on the NCAA scene.
"The point is plain: ESPN lacked ethics and the standards of a journalism-practicing outlet in December of 2009 and early January of 2010, and it lacks those same things now," Zemek said. "This is the broadcaster that – through its collection of channels such as ESPNU and its partnership with ABC Sports – will televise the vast majority of college football games this fall. It will televise almost all of the 35 bowl games that will be played this upcoming winter. It will also televise the vast majority of major regular-season (and conference tournament) college basketball games this winter. And it will do so with no journalistic credibility. None."
Zemek said the focus needs go beyond just James and Schad to the people that allow those kinds of decisions to be made and that kind of an environment to flourish.
"That's why Bruce Feldman's suspension matters," he said. "That's why ESPN executives need to be fired even more than James and Schad, who was the mouthpiece for the network's slanted reportage on the James-Leach controversy in late December of 2009. That's why ESPN's Longhorn Network – in which broadcasters will have to satisfy Texas's wishes and desires – is a publicity and recruiting vehicle more than a purveyor of news coverage and objective analysis. That's why any team-specific network can't be taken seriously as a journalistic enterprise. That's why ESPN's policies and priorities are out of whack (and have been so for a long time)."
"Finally, that's why ESPN deserves to face sustained scrutiny, continued protests, and unrelenting economic pressure even after lifting Feldman's suspension (the suspension it disingenuously claims it never imposed in the first place). Nothing ESPN has done has signalled to the public – or to the community of sports journalists – that it values journalistic values more than entertainment and public-relations values."
[php snippet=1]