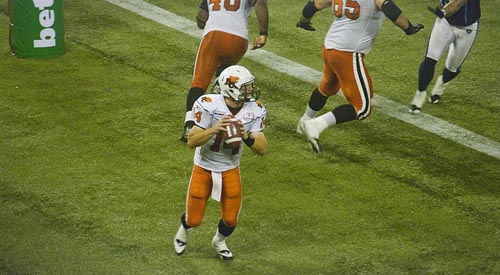 Vancouver hosting another championship, but a very different one
November 24, 2011
There's a high-level football championship taking place this week, even if few in the U.S. are aware of it. It may be Thanksgiving weekend south of the border, but Canada has its own special occasion going on, and it also prominently involves football. Yes, it's Grey Cup Week; a full week of revelry, insanity and mayhem leading up to the championship of the Canadian Football League.
Here in Vancouver, where I'm covering the week and the game itself for Yahoo! Sports Canada, the air's filled with excitement and anticipation. The practices, media events and parties have already started, and they'll be rolling for the entire week leading up to Sunday's game (6 p.m. EST). Up here, this is one of the biggest national sporting events of the year, and it's about as good as it gets.
Of course, this isn't even the first professional sports championship held in Vancouver this year, as the Vancouver Canucks lost the Stanley Cup Final to the Boston Bruins in a Game Seven played just across the street from B.C. Place. That loss sparked a riot that caused millions of dollars in damage, and that shadow still lingers over the Grey Cup preparations to some extent, but it's largely been put out of mind, and it's extremely unlikely to happen again. The key reason why? The difference between the two events.
In a sense, the Grey Cup is the most stereotypically Canadian event you can think of, which is probably one of the reasons it's such a big deal up here. Sure, there are passionate fans of both teams involved, but they come together (as do fans of every current team not involved, plus fans of some teams no longer around, like the Baltimore Stallions, and some teams that never existed, like the Atlantic Schooners) to hang out and party all week rather than to taunt each other. It embodies politeness, community, shared tradition and history, and perhaps most importantly, a recognition that we Canadians are different and we're just fine with that.
[php snippet=1]
The CFL is quirky, odd, different and frequently mocked, so it's a perfect fit for Canada. Yeah, it's a league with 12 players on each side of the ball, a bigger field, a specified-by-rule mix of Canadian and American players, three downs, rouges (single points) for missed field goals different kick-return rules and even different goalposts. Sure, it can be confusing for Americans who tune in for the first time, and it's easy to bash for being different. So?
Those criticisms could apply to many things about Canada, and we're perfectly fine with our league being distinctly different. The larger field and passing emphasis make for highly entertaining games, the kicking/goalpost rules produce some incredible finishes, and much of the time, no lead is safe. The CFL used to have a pair of great marketing slogans, such as "Radically Canadian" and "Our Balls Are Bigger," and they sum up pretty well how many of us feel about this game. It's not the NFL or the Super Bowl and it doesn't need to be; the CFL and the Grey Cup have their own charms.
What's also remarkable about the Grey Cup is how much emphasis is placed on the average fan. Sure, there are corporate suites and such too, but there aren't the waves of VIP-only parties you see around the Super Bowl. The parties are here, with each team putting on their own events, but they're targeted at regular fans; regular people who can come and hang out with some of their favorite players. Each party has its own character, representing a team, a city and a province, but they tend to be very inclusive. You'll see some Calgary Stampeders fans at the Spirit of Edmonton and some Hamilton Tiger-Cats' fans at the Toronto Argonauts' Double Blue Bash.
The fans get their own attention from the league, too; CFL commissioner Mark Cohon will be holding a town hall with fans on Friday, there's going to be a league-sponsored Tweetup and there are other events throughout the week targeted at whoever wants to go. Grey Cup Week focuses on inclusion and a communal celebration of the game, and that makes it an incredibly unique sports event.
The Stanley Cup, especially in Vancouver, evoked a ton of rage and hyper-partisanship with the way it played out. It's hard to see the Grey Cup doing that. Sure, the fans of the hometown B.C. Lions will be disappointed if their team comes up short, but it's very difficult to see today's CFL fans smashing and looting. The more likely response is heading to one of the local bars or parties to drown their sorrows and congratulate the victorious fans. The 2011 Stanley Cup riot may be remembered as one of Vancouver's darkest moments, but the city and its residents now get another championship game, and this one may go down as one of the local highlights of the year.
[php snippet=1]