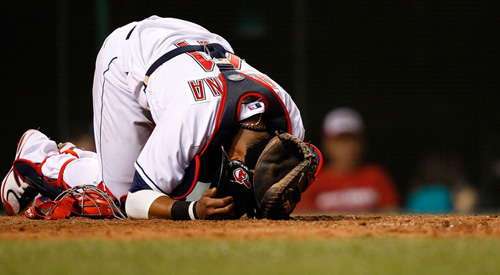 Blocking the plate revisited with Carlos Santana
June 28, 2011
Last month at AT&T Park in San Francisco, with two outs in the 12th inning and the game tied, Giants catcher Buster Posey tried to catch a throw from right field to tag out Marlins center fielder Scott Cousins barreling in from third.
Instead of recording the out, though, Posey, without catching the ball, collided with Cousins and wound up fracturing his left fibula and tearing ligaments in his left ankle.
"It's bad. It's bad because I had the same problem as him last year," said Cleveland Indians catcher Carlos Santana of the incident.
That's the thing many people forget about when discussing Posey's injury.
Last year at Fenway Park, Indians right fielder Shin-Soo Choo threw a strike to home plate, where Santana caught the ball and promptly tagged Red Sox outfielder Ryan Kalish with his leg extended in front of the plate. Despite the recorded out, though, Kalish ran right over Santana's left leg, injuring the lateral collateral ligament of the catcher's left knee. The injury forced Santana to undergo season-ending surgery and spend months in recovery.
"It's something that happens in baseball, but [you need to] be careful catching when the runner is coming to home plate," Santana told The Good Point.
[php snippet=1]
Immediately after Posey's injury, there was an outcry to change baseball's rules on blocking the plate and home plate collisions. Posey's agent, Jeff Barry, reached out to MLB officials and raised the idea of changing the rules, and Giants manager Bruce Bochy publicly stated one day after the incident that "It might be time to consider doing something to protect these guys".
Sadly, after Santana's injury, there was no such reaction to changing the rules. While Posey, a US-born, US college product drew national attention when he was injured because he was such a highly-regarded player and prospect, Santana was no slouch, either.
Heading into the 2010 campaign, Baseball America ranked Santana as the Indians' top prospect and 10th-best in all of baseball, and with good reason. Touted as one of baseball's elite prospects and having the potential to be a perennial All-Star at the Major League level, Santana had been the MVP at every level of the minor leagues that he had played.
He was finally called up to the Majors two months into the 2010 season, and was injured two months after he made his debut. Yet, as impressive of a prospect Santana was considered, the Dominican Republic native's injury didn't pull on anyone's heartstrings to the extent that Posey's has.
Many catchers in baseball history have been injured as a result of home plate collisions as well. Ray Fosse, Carlton Fisk and Darren Daulton, among others, all come to mind.
To Indians first base coach Sandy Alomar Jr., that's just baseball.
"Baseball is the way it is, [blocking the plate] is a tough play," says Alomar. "Many guys have been hurt. You can't change the rules because of that one play."
That being said, blocking the plate has been an issue in baseball for many years. It's a split-second sequence of movements that can drastically impact a game, not only producing an out but preventing the opposing team from scoring what could be end up being a key run.
To Santana, actually having the ball determines whether or not risking an injury by blocking the plate makes sense, and he said that that frame of mind has been the same in both the minor leagues and the Majors.
"I am blocking the plate [only] if I have the ball. If I don't have the ball, I can't block home plate," he said.
It sounds straightforward, but Alomar, a former Major League catcher, points out that even with having possession of the ball, the catcher has to show at least part of the plate when a blocking scenario arises.
"Most of our teachers that show that play to the guys give them somewhere to slide and then take it away, because if you don't show the runner the plate, his intention is to run you over," Alomar said.
The other factor that many overlook when it comes to blocking the plate is that the throw to home drastically impacts the outcome, as the ball dictates where the catcher will go in such a complex play. Even with hours of practice, it's impossible for a catcher to fully prepare for a collision at home plate because every incoming throw will be different.
"You can be in the best position, but if the ball hops the wrong way, you can instantly be in the wrong position for one second. In that particular second, the guy could be there," Alomar explains.
"It's not that you know how to block the plate or not, it's the throw that dictates a lot, especially the one from right field when you're blinded."
While the injuries from home plate collisions take center stage, there have been countless successful plays at the plate where catchers have stood their ground and prevented a runner from scoring. Even though both Posey and Santana displayed incorrect mechanics in their respective incidents, there's also a risk to the runner in these situations.
Sure, the runner has more momentum, but catchers are protected with shin guards and a mask, and colliding into those at any speed is going to create the risk of injury.
"The runner is taking a chance as much as the catcher," Alomar says. "A lot of runners have been hurt, too."
As home plate collisions continue to occur, critics will continue to call for Major League Baseball to change their rules on the issue. Whether Posey's popularity relative to other catchers who've been similarly hurt plays a role in the decision or not remains to be seen.
[php snippet=1]