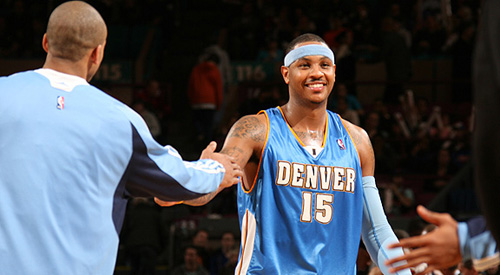 The Cold War: The Nets, the Knicks and Carmelo Anthony
January 14, 2011
On Tuesday afternoon, a picture leaked of the new arena being built in Brooklyn; the one that's been on the planning table for years and the one the New Jersey Nets are planning to move into once it's ready sometime in the near future.
It looks like it's coming along nicely. There's a shell of the stadium already and while the ground's frozen (there's snow bordering the site), it looks like they've dug out quite a bit of dirt. Now comes the process of filling it in, which is probably more work than it looks like.
The picture came out at an opportune – some may even say deliberate – moment. TheCarmelo Anthony sweepstakes, our long national NBA soap opera, is reaching a fever pitch as two teams are going all out to get his services.
The New York Knicks have long been rumored to be his destination, but the cross-town rival Nets are making waves too. Indeed, the latest tasty rumor breaks down as follows: the Nets wind up with Carmelo, Richard Hamilton, Chauncey Billups and – according to a complex set of levers, gears and calculations done by ESPN's trade machine – nine wins more than usual, while the Detroit Pistons and Denver Nuggets get a few players, some cap relief and a few less wins, according to the elves that set the projections.
But wait, before you get too vested in hitting up a store to buy a cheap Nuggets jersey, remember it's only a rumor and Denver doesn't like these rumors. They may yet walk away from the whole thing. Hell, according to a report on Yahoo!, they're even so spiteful they would trade him to the Knicks (one can only guess how the Rube Goldberg-style transaction would unfold) if the Nets can't keep a lid on things.
The Nuggets are worried things are too public? If this whole soap opera of trade talk has been one thing, it's been public! It's been played out on internet message boards and on television since before the season's start. Our own Austin Kent even addressed this very same Carmelo Anthony trade talk back in October – and almost nothing else has been talked about since! It's been a bunch of hyperbole, speculation and "sources say" with nary a conclusion in sight.
[php snippet=1]
Charles Bukowski said that people drink for two reasons. One is that something has just happened. The other is to force something to happen.
Back to the picture. There is a cold war going on here between the Nuggets, Nets and Knicks. The Nuggets aren't happy with how the inner workings of the trade are so visible. So the Nets make something happen. They release a picture showing their new Brooklyn digs are coming along well – and will be their home court fairly soon. The Nets almost seem to be saying "you want visible? Look at this, Carmelo!" They're trying to force Anthony's hand, for him to tell the Nuggets the trade is good, let's get it over with.
Is it a low blow?
The biggest advantage the Knicks have right now is – and let's not kid ourselves here – the city of New York, the biggest basketball stage in the world. Make it there, you can make it anywhere, as the refrain goes. Carmelo wants to be a star? Well, here's your chance: go play alongside Amar'e Stoudemire in the hype capital of the planet. Bright Lights, Big City.
The picture the Nets released cuts into that. It's saying, "Here's another option. The arena is being built, the team is being built, why not let us build them to your leisure." It's neutralizing that NYC advantage by putting another one just as good on the table; the Knicks have a storied history, sure, but Anthony can become the Nets history.
The Nets are not what you'd call a team with a distinct culture, especially post-Jason Kidd. Last season they were historically bad, winning just 12 games. But they're rebuilding. They have some talent, like Brook Lopez. They have an owner who isn't afraid to tackle the big boys. They aren't just rebuilding an arena, they're building a new era.
And if they can steal Anthony from the Knicks, they'll have built themselves a nice little cross-town rivalry, too.
On some level, it's a shame that rivalries are built like this: by one team openly inserting themselves into a trade rumor and attempting to poach away players. But New York's best rivalries are built on this – just look at Alex Rodriguez and how he nearly ended up in Boston.
And really, it's only the latest step in a budding cross-town war: remember when the Nets put a billboard up by MSG?
[php snippet=1]