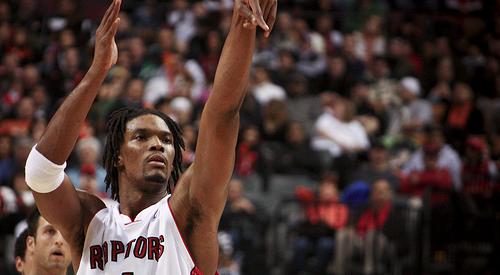 The Death of Chris Bosh's Dreads
November 25, 2010
There was a big change in Chris Bosh this July, when he went to Miami. It wasn't the new jersey or number or teammates. It was his dreads, or rather, the lack of them. Indeed, it was a clean-cut Bosh who hung out on stage with LeBron James and Dwyane Wade.
His hair may seem like a minor detail, but it's just one example of how Bosh, in his Toronto days, worked to stand out from the NBA crowd and what his individualism meant in the NBA – and how his role in the larger scheme of things has changed this season.
A long while back, I wrote how Bosh was the NBA's answer to Lady Gaga: he was somebody who seemed to realize he wasn't just a star athlete, he was a star entertainer.
His hair helped him stand out in Toronto: just by a quick look, you knew when Bosh was on the floor. It was unique on the team and in the NBA, where most hairstyles are fairly standard. That Bosh, the one with the dreads, was somebody who dabbled in social networking, connecting with fans on Twitter before most of the NBA caught on. He was somebody who starred in smart viral videos that featured a cast of characters all by himself. It was a Bosh that was known for being more than just another power forward.
This season's Bosh, the one with the close-cropped hair in Miami, is quieter. His video output has slowed and so has his scoring and rebounding. What happened?
It could just be as simple as the change in location.
[php snippet=1]
In Toronto, Bosh was not only the leader of the Raptors, he was it's big star. He was the player who people thought of when they pictured a face for the team. Yet, he seemed to exist in a vaccum. In Canada, and especially in Toronto, his Raptors were always a second-fiddle to something else, be it to the Maple Leafs or just hockey in general. Sure, he'd be on TSN's Sportscentre, but he never led. And his games always seemed to be on some remote channel – The Score or Raptors TV, usually, and sometimes as deep as TSN2.
And in the US, where Bosh was from, the Raptors are all but invisible. Even when it's teams are world-class good, Toronto is barely on the sports radar: when was the last time the Jays were on FOX? The Raptors on ESPN? The Argos on… anything?
Like all star athletes, Bosh is driven by his ego. If he didn't have that me-first drive, he never would have made the court at Georgia Tech, let alone make it Toronto at all. He wants to succeed, to be famous, to get the shoe deal and make money (as does every other athlete). After all, he did go to Miami to play alongside James and Wade.
It's as if he eventually realized that to matter in the US, and to get on the cultural radar was to be more than just another NBA player, even if was already an All-Star talent. Thus his wildly successful Vote for Bosh video, the one where he dressed as a used-car salesman and pitched himself for the All-Star team, the roster of which is fan-voted. And it worked: he made the team and got some media attention along the way. He followed it up with more self-produced videos, created a cast of characters played by himself and eventually filmed a DVD documentary about getting his first tattoo.
He wasn't alone in this pursuit of publicizing himself without the help of the traditional media. Steve Nash, for one, has also filmed himself in short movies – although unlike Bosh, his film work goes a lot further: he was executive producer for one of ESPN's 30 for 30 documentaries.
But what set Bosh apart from everybody else was how well he was marketing himself. In a country where basketball is probably fourth or fifth in popularity, Bosh was making himself known. He was even interviewed on CBC Radio – and I can't remember another Raptor ever getting that honor. He was smart, funny and unafraid to poke him at himself; the cliche meathead jock, he was not.
Like Dwyane Wade said in this month's Esquire, "Guys are brands and guys are part of big brands." Both Bosh and the Miami Heat are brands.
Where his videos in Toronto were quirky, low-budget and possessed a certain charm, his latest is a professional production, done in partnership with Funny or Die, and features actual actors, costumes and professional-seeming photography. Content-wise, it's not much different. But in terms of production, it's light-years ahead of his older work. Like Bosh himself, it's big business.
The old Bosh has all but vanished. His YouTube page is quiet – since the release of his DVD he's posted one skit – his Twitter account hasn't been as relevant and his hair, his mane of dreadlocks, has been trimmed, possibly for good.
Sure, there was a subtext to what his haircut meant: by shaving his hair, he was symbolically cutting ties to his past. It was a fresh start for Bosh as part of the big three in Miami. It reflected the change in his on-court role: he's no longer the star of a team, he isn't expected to carry an undermanend roster throughout the season. At best, he's a third option, behind James and Wade. Could this reduced role have something to do with his decline?
It almost feels that way. It feels a little like following the career of an edgy comedian you saw back when Conan O'Brien hosted Late Night, from being funny and coming out of nowhere to some success and, eventually, settling into a role on a CBS sitcom and just being… okay. Or when R.E.M. signed to Warner and released Green, their most underwhelming record to that point.
In 2009, his last season on the Raptors, Bosh put up the following stats: a 25.0 PER, 9.9 Offensive Rebounding Percentage, and a Offensive Rating of 117. This year, a 21.2 PER, 4.5 ORB and a 121 OR. His offense is up (which may be expected, given his teammates) but his rebounding, especially offensive rebounding, is down. He's playing a different role, but is he playing better?
Amidst talk of getting traded and being a bust of a free agent signing, Bosh dropped a season high 35 points on Phoenix on the Nov. 17. He followed it up with 22 points and 14 rebounds against Charlotte two days later. Either could easily qualify as his best game this season.
Maybe Bosh is one of those people who need a fire under them to get motivated – not a bad thing. Some great people produced their best work under pressure; Dostoevsky wrote Crime and Punishment to settle a gambling debt and Robert Graves wrote I, Claudius under similar pressure.
Remember: in order to stand out in Toronto, he was supposed to carry the team and be more than just another starting power forward – and he was. In Miami he doesn't have to be. He's not leading the team. He doesn't have to put on a show to get mentioned on ESPN's Sportscenter; by virtue of playing with the Heat, he's almost assured to get mentioned every time they play. He doesn't need to go viral any longer.
But still, one has to wonder if Bosh will return to what he was in Toronto, and not just on the court. In so many words, he needs his mojo back.
It couldn't hurt if he let his hair grow out.
[php snippet=1]