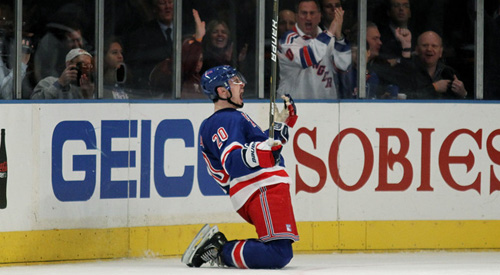 Chris Krieder, playing hockey
October 16, 2012
Perhaps the only thing quicker than Chris Kreider's rise from college hopeful to NCAA champion to NHL playoff hero last season is his blazing speed on the ice.
Kreider, a native of Boxford, Massachusetts, has that rare ability to do things at top speed that so many other players have trouble pulling off standing still. His impact last season was nearly as explosive as his first few strides. He won his second national championship in three years with Boston College on April 7 and was tearing up on Broadway just over a week later.
In three seasons at BC, Kreider totaled 49 goals and 92 points in 114 games, including a team-high 45 points in 44 games his final season. He didn't have much time to bask in the glory of his accomplishments as his baptism by fire in the NHL began in the midst of New York's first round series against the Ottawa Senators.
He responded well. His first career goal proved to be the game-winner that forced Game 7, which the Rangers would take 2-1. He then recorded another winner in Game 1 of the Washington series and had a three-game goal-scoring streak in the first three matches against New Jersey in the Eastern Conference final. His five playoff goals are the most ever by a player who did not appear in a regular season game.
His experience in college gave him a lot more than a stepping-stone to professional hockey. Kreider continues to take his studies seriously and is currently working on a project focusing on the collective bargaining agreement negotiations.
Jeff Z. Klein of the New York Timeshas wrote:
Kreider may have more insight on the topic than most rookies: he is doing an independent study project at Boston College on the collective bargaining agreement and the labor negotiations. "It's interesting, and something I've grown passionate about and want to stay informed about," he said. "I was interested in the N.F.L. and C.B.A. negotiations, too. Obviously, this has a direct relation to what's going on. I kind of took an interest in the whole legal side of it." 
[php snippet=1]
More than just a wide-eyed greenhorn, Kreider is clearly knowledgeable and uses his hockey smarts to play a solid two-way game, an obvious requirement for any John Tortorella-coached team. That he played 13:09 per game for 18 games in the highest-pressure hockey tournament in a market as big as New York is downright incredible and serves as a great teaser for when his career really takes off.
For now though, Kreider will continue to gain experience with the American League's Connecticut Whale and, most importantly, have fun in spite of the frustration stemming from the lockout.
Any sport is made that much better when experiencing the success Kreider has so far. Two national championships and a trip to the conference final in three years is nothing to scoff at and has given Kreider a wealth of experience at just 21. It's not just his natural skillset that Kreider is leaning on, he is eager to learn as much as possible and is using his stint in the AHL to increase his chance to becoming an impact player once the NHL gets its act together.
That experience, along with the confidence bound to come with it, has helped Kreider continue his trajectory into becoming a major threat. In two exhibition games, Kreider recorded four goals, including a hat trick in his first preseason game with Connecticut, relying on a fantastic combination of size and speed.
Paul Doyle of the Hartford Courant noted Kreider's fast start to the 2012-13 season:
Skating with veterans Kris Newbury and Chad Kolarik, Kreider displayed the speed and shot that attracted scouts throughout his teenage years. Kreider was a 2009 first-round draft pick out of Phillips Andover Academy and went on to play three years at Boston College, winning two NCAA titles.

At 6 feet 3, 230 pounds, he has the size to out-muscle defensemen. On his first goal Sunday, Kreider took the puck from an opponents in the Whale's zone and used his speed to start a 2-on-1 break before scoring on a slapshot from the left circle.
If that goal sounds familiar, it's because he scored one very similar against Washington. Wrist shot or slap shot, his weapon is lethal from any point on the ice, using sublime accuracy to pick a spot and fool any goaltender. He's still a few years away from entering his prime, so his apprenticeship in the AHL will turn him into a nightmare for goalies, and even at a young age, he's only a small step behind the other NHLers.
The regular season started off slowly, Kreider has two assists and is a minus-two as the Whale started the season with consecutive losses. At least he's playing hockey though, and as he continues to progress will improve the fortunes of the Whale and, ultimately, the Rangers.
[php snippet=1]