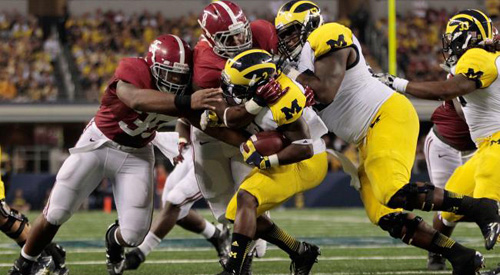 How to succeed in college football without really trying
October 22, 2012
For a long while, the dominant narrative in college football has been about offensive innovation. Many teams around the country are going to more passing-focused spread offenses and finding remarkable success with them, and coaches like Mike Leach and Dana Holgorsen have pushed the boundaries even further with their Air Raid tactics. It's not all about the pass, either; Chip Kelly's Oregon Ducks pile up the points at a ludicrous rate with their read-option scheme, but most of those come thanks to the run, as they're just 82nd in NCAA Division I FBS with 212.0 passing yards per game through nine weeks of play.
There are plenty of teams that continuously put up incredible offensive stats week after week, and that makes for lots of great viewing on Saturdays. However, the question is if an explosive offense is necessary to win a national championship, and both recent history and the 2012 season to date suggest it isn't.
First, consider the last five national champions and how they ranked in total offensive yards per game (using CFB Reference, which considers postseason games as well as regular-season ones). Alabama, 2011-12? 429.6 yards per game, 31st amongst the 120 Division I FBS schools. Auburn, 2010-11? 499.2 yards per game, seventh. Alabama, 2009-10? 403.0 yards per game, 42nd. Florida, 2008-09? 445.1 yards per game, 15th. LSU, 2007-08? 439.4 yards per game, 26th. One top-10 offense in five years doesn't exactly bode well for the overall value of elite offense.
In contrast, consider where those teams ranked in total defense(total offensive yards allowed per game). Alabama, 2011-12? 186.3 yards per game, first (the next-closest team was national championship runner-up LSU, with 261.5 yards per game). Auburn in 2010-11's the exception, as the 360.4 yards per game they allowed ranked 60th, but the other results are more encouraging for defense. Alabama, 2009-10? 244.1 yards per game, second. Florida, 2008-09? 285.3 yards per game, ninth. LSU, 2007-08? 288.3 yards per game, third. Four out of those five national champions had a top-10 defence, and the only one not to had by far the best offense of this lot. Plus, there are first, second and third-ranking defenses here; on the offensive side of the ball, the best ranking nationally was Auburn's seventh. 
[php snippet=1]
Take a look at the national title contenders this year and you get a similar impression. The only team in both the Top 10 in the BCS standings through nine weeks and the Top 10 in total offensive yards per game? That would be Oregon, fourth in the BCS and eighth in offense (529.14 yards per game). The rest of the top five in the BCS standings: Alabama (1st, 39th), Florida (2nd, 100th), Kansas State (3rd, 42nd), Notre Dame (5th, 74th). Those aren't just non-dominant offenses; in the cases of Florida and Notre Dame in particular, they're pretty terrible. Meanwhile, all of these teams are impressive defensively: Alabama's first in total defence, while Notre Dame's sixth, Florida's seventh and Kansas State's 23rd. Even Oregon, the outlier at position 46, isn't all that bad in the grand scheme of things. The Ducks' defense has certainly been more impressive than Florida's offense from a yardage standpoint.
Why have top defenses become so crucial to winning? Well, one thing that comes to mind is that a great defense can bail out a struggling offense, while that isn't necessarily the case for a great offense. Defensive turnovers can lead to points both directly (interceptions or fumbles returned for touchdowns) and indirectly (turnovers that create a short field for the offense). Meanwhile, even if your offense scores every time it gets the ball, it can't get the ball again until either you get a defensive stop or the other team scores. If your defense is bad enough, that can be a problem, and that's what's led to spectacular shootouts like West Virginia-Baylor. In recent weeks, the Mountaineers' outstanding offense (14th, 500.17 yards per game) hasn't been enough to overcome their tire-fire of a defense (113th, 493.57 yards allowed per game). Meanwhile, teams like Florida have been able to survive nicely despite an offense that can't move the ball; they still put up points, as the defense and special teams either score directly or set the offense up.
Is that a complete case that you only need a defense? Well, not quite. For one thing, a caveat to consider is the conferences these teams play in. All five of those BCS champions (and this year's Alabama and Florida teams) come from the SEC, a conference that currently has just one top-10 offensive team in terms of total yards per game (Texas A&M, ninth) and just one other team inside the top 30 (Georgia, 18th). The conference isn't as wide-open to a scoring environment, which certainly affects these numbers. Moreover, there have been offense-oriented teams that have either won a national championship (Auburn, 2010) or come close (Oregon, 2010).
Still, on the whole, most of the recent champions have been far better on defense than offense, and that trend's looking to continue this year. It may not make for the prettiest or most entertaining football, but if your school's looking to win national championships, focusing on defense seems like a pretty reasonable tactic.
[php snippet=1]