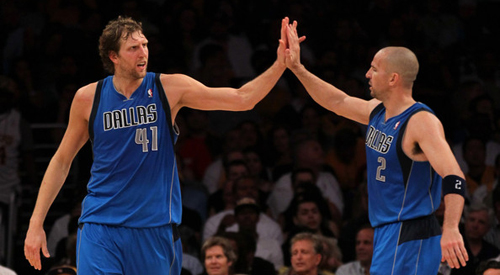 Last chance Dallas Mavericks: America's team
May 30, 2011
Rewind to June 20, 2006. Dallas is at home, playing Miami in Game 6 of the NBA Finals. There's about 30 seconds left and Miami is holding a slim lead. The shot clock is winding down as Dwyane Wade holds the ball and moves to his left. Dirk Nowitzki stands there, they collide and Wade is awarded two free throws. He hits both and Miami hangs on to win, 95-92.
That was the last time these two teams met in the Finals and ever since things have seemed star-crossed for the Mavericks. The next season they ripped out 67 wins, Nowitzki was named MVP and the Mavericks lost a six-game first-round series against the Golden State Warriors, an upset of historic proportions.
Since losing in the 2006 Finals, Dallas had won only one playoff series – until this year. This season, they have come off like a team forged by their own defeats. Just ask Jason Terry, who got a tattoo of the Larry O'Brien trophy on his arm. Ask Nowitzki, who's shed both cliche and label in this postseason with explosive, dynamic 40+ point games. They are the lone remnants of that 2006 team, one that outlasted San Antonio in a gruelling seven games and got past a just-won-his-second MVP Steve Nash's Suns.
But it's not just them with something at stake in the forthcoming NBA Finals rematch. The core of this Mavericks team is a group of players who have gotten deep before and, for one reason or another, just fallen short. Jason Kidd made two finals back in his Nets days, but had the misfortune of facing three of the best players in the NBA, each in their prime.
Or look at Shawn Marion, who's jam in the final minute in Game 5 put an exclamation point on Dallas' win. He was a key cog on the seven-seconds-or-less Suns, a team which suffered through heartbreaking loss after loss, after loss in the postseason.
[php snippet=1]
The same Marion, who, in Jack McCallum's book on the Suns, was described as sensitive, even insecure (he more than noticed when his likeness wasn't on a bobblehead display or his jersey worn by team dancers) but more versatile and dynamic than anybody else on the team. But, wrote McCallum, when the Suns needed overtime to win Game 6 against the favored LA Lakers, Marion played 50 minutes, covered both Kobe Bryant and Lamar Odom and made key plays in crunch time.
That season and the next, the Suns flamed out in the postseason. Partway through the 2007-08 campaign, Marion was sent to Miami as part of the Shaquille O'Neal trade, a team that would go on to win just 15 games that season. About a year later he was moved to 33-win Toronto. His acquisition by Dallas in the 2009 offseason was a high-risk, high-reward move.Yahoo's Kelly Dwyer explained it best: "Expecting a trio of players who are past their primes to have two consecutive turn-back-the-clock seasons? That's tough. That really doesn't happen".
It's banal to say a player has turned it on in the postseason, but for Marion it's true. His numbers haven't exactly blossomed in the playoffs after an unimpressive regular season, but his 26 points in the climatic Game 5 of the Western Conference Finals were the most he'd scored all season. Same with the nearly 40 minutes spent on the court. As teammate DeShawn Stevenson told ESPN last week, he's hit the switch.
It's a turnaround that veteran point guard Kidd is also privy to. From a statistical standpoint the 38-year-old guard is past his prime. The 2010-11 campaign was his worst season yet in terms of PER, and one of his lowest in Win Shares, Turnover Percentage and Assist Percentage. Though he's never been known as much of a shooter, his shooting stats are the lowest he's had since 2008, when he played his way out of New Jersey.
In contrast, his postseason advanced numbers have been among his best ever. He's shooting better (a .553 True Shooting Percentage this postseason; .500 this regular season) and his Win Shares per 48 minutes are actually better than the two times he went to the Finals.
It's not hard to think those trips would have been the high-water marks of his career, even if they ended with him on the losing end. In 2002 he finished second in MVP voting as he dragged the Nets – a team for which Kenyon Martin and Keith Van Horn where leading scorers – to 52 wins and a Finals appearance against the Lakers. They were swept as LA won their third ring in a row.
The next season, in 2003, they again lost in the Finals. This time in six, with the final game capped by a 19-0 run by the San Antonio Spurs. None of Kidd's teams would advance past the second round from then on. And it's worth noting that in the years since, Kidd's teams lost to both Wade and LeBron James in the years that the Heat (2006) and the Cavaliers (2007) went, themselves, to the Finals.
In his gigantic tome, The Book of Basketball, Bill Simmons painted an ultimately unflattering picture of Kidd and suggested that because he couldn't score, his teams would never win.
If there's ever a time for Kidd to take vengeance, it's now.
Not only the jewel of Dallas, the NFL's Cowboys have long been called America's Team, it's a label some are now putting on the Mavericks. Shared locale aside, it's not hard to see why: Miami entered this season about as unpopular as any team has ever been; just look at the reception they got in Cleveland or Memphis. They've got the Big Three, a trio surrounded by pomp and hype who started counting their championship banners before a game had even been played. They seem assumptive of winning, like it's something they already have dibs on. In other words they come off as arrogant.
Dallas doesn't have that. Did anybody see them getting this far before season's start? Not likely; ESPN's prediction page for the Mavericks has most people pegging them for an early-round exit. They're a team built around people who haven't won, in an advanced part of their career. Unlike the Heat though, they're a good story. Basketball fans salivate at the thought of Kidd or Nowitzki taking revenge on the Heat for past sins or where Marion finally puts it all together.
Those aside, the Mavericks are just a fun team to root for. Who doesn't want to see Kidd, Marion, Nowitzki or Terry pick up a ring in what will likely be their final chance? It'd even be nice to see David Stern smile while he hands the Larry O'Brien trophy to Mark Cuban.
If the NBA does indeed head into a lockout, what better way would there be to end the season?
[php snippet=1]