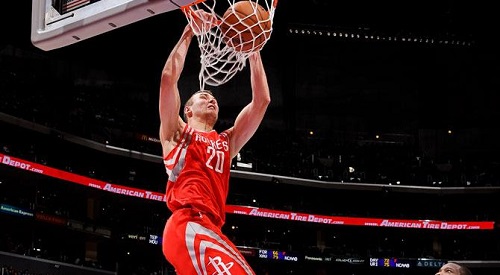 Daryl Morey and the Overnight Houston Sensation
February 28, 2013
Somewhat surprisingly, it's a good time to be a Houston Rockets fan in 2013. I say surprisingly because 2013 was scheduled to be a rebuilding year filled with lots of losing for a young Rockets team. Of course, the Rockets have become somewhat accustomed to losing over the last four lottery-bound seasons, but the team was set to hit a new low in 2013. This was by design on the part of Rockets general manager, Daryl Morey. Morey was hired in 2007 by Houston as part of the first wave of statistician turned NBA executives that have become increasingly prevalent in the NBA recently (see the recent hiring of John Hollinger by the Memphis Grizzlies).
Indeed, the background of Morey (bachelor's degree in computer science with an emphasis on statistics from Northwestern University, MBA from the MIT Sloan School of Management) makes him appear more appealing as the owner of an IT Company than the boss of a professional basketball team. But the arrival of Morey seemed to signal the arrival of "Moneyball" in the NBA.
Unfortunately, the use of this statistics-based approach didn't work quite as well in Houston as it did for the 2002 Oakland Athletics. ESPN personality Bill Simmons often opines that the worst situation in the NBA is the no mans lands inhabited by teams that are neither lottery teams nor legitimate championship contenders. That's exactly the situation the Rockets found themselves in between 2006 and 2008. The team lost twice in the first round of the playoffs and once in the Western Conference semifinals during that run, averaging 53 regular season wins.
The main issue during that time was that the Rockets tied their fortunes to the performance of their two fragile superstars during that era, Tracy McGrady and Yao Ming. Unfortunately for them, T-Mac only averaged 43 games played between 2006 and 2008, and Yao wasn't much better at 66. With Yao and McGrady often on the bench in street clothes, the Rockets relied on their Moneyball approach to field a fleet of relatively unknown, cost-efficient role players such as Shane Battier, Chuck Hayes, Luis Scola and Carl Landry. The team often managed to outperform expectations (remember the winning streak?) but ultimately never seriously competed for a championship.
[php snippet=1]
That all changed in 2010. McGrady and Yao had moved on, and Morey began the process of the bottoming out. In the NBA, the old adage is that the only way to get better is to get worse, and the Rockets set about doing that immediately. By that time, Morey, once considered the genius whiz kid who would lead the Rockets to glory, was being maligned by many as strictly a "stats guy", someone who didn't know enough about the actual on-court aspects of NBA basketball to build a successful team. It didn't help that he fired coach Rick Adelman, one of the most respected sideline generals in the league, and hired Kevin McHale, a former great player with a spotty coaching record. It also didn't help that Morey, who in spite of all his Moneyball associations, began desperately seeking a new superstar as soon as Yao and McGrady left tow and lost out on trading for Dwight Howard last offseason.
The Rockets had diligently assembled cap space and trade assets for multiple seasons to trade for a superstar, and Howard seemed like the perfect target at that time. The Rockets missed and were left holding the bag so to speak, with an incomplete roster, a ton of cap space, and draft picks (three first-round picks in the 2012 Draft: Jeremy Lamb, Royce White and Terrence Jones). Undeterred, Morey went to work, after all, he'd already completed two of the most praised deals of the offseason. The first was signing mega-popular point guard Jeremy Lin away from the Knicks, a surprisingly PR-savvy move by the front office maestro.
Because of their past association with Yao, the Rockets have a substantial following in Asia, and signing the Asian-American Lin could only grow the Rockets' presence in that market, especially important with the 2013 All-Star Game looming in Houston. Morey had also secured the services of Turkish center Omer Asik, a classic Moneyball move. Asik is a player relatively unknown to the basketball masses, but advanced statisticians (and hardcore hoops fans) know that Asik (and his borderline ridiculous defensive rating of 92 in 2011-2012) had coupled with Joakim Noah to drive the Chicago Bulls' dominant defensive unit.
With those two younger players already in place (and on relatively reasonable contracts), Morey went about finding his superstar. On October 27th of last year, he landed that star; shooting guard and reigning Sixth Man of the Year James Harden (formerly of the Thunder). Harden was dealt by OKC to the Rockets for Kevin Martin and Jeremy Lamb, two first-round picks and a second-round pick. Harden immediately signed a contract extension with the Houston Rockets for five years worth $80 million, and Morey called Harden a "foundational" player. The trade was immediately considered a positive on the part of the Rockets, but few (except perhaps Morey) knew just how good James Harden would come to be.
Morey, the supposed computer geek with no eye for actual basketball Xs and Os, had landed himself an MVP candidate. Harden, boasting a career-high 23.6 PER, has averages over the past 9 games that are eye-popping at LeBron James-esque levels: 29.1 PPG, 1.9 SPG, 6.8 RPG, and 6.9 APG on .539 shooting. Those ridiculous numbers landed Harden a deserved All-Star berth at Houston, and that's just one reason why things are so exciting in Houston right now. The team that was predicted by ESPN to finish 12th in the Western Conference is currently fighting the Utah Jazz for a playoff spot. The team that was expected to fumble instead saw Harden lording over All-Star Weekend and Lin grinning his way through the Skills Challenge. Without doubt, Houston's path to respectability has been rocket-boosted by the front office manoeuvrings of that stat geek, Daryl Morey.
And just last week, he did it again. He acquired Kings power forward for Thomas Robinson for Cole Aldrich, Toney Douglas, Patrick Patterson. In other words, Morey got a 21-year old power forward (not coincidentally the Rockets' greatest position of need) and former top-five overall draft pick who averaged a monster double-double just one year ago as a college junior in exchange for a handful of role players. What the Kings were thinking in the deal remains a mystery, but certainly teams may want to re-think about dealing with Morey in the future: he has a habit of fleecing them.
So now the Rockets have a ultra-young core (average age of their starting lineup? 24 years old) and future cap flexibility. They could technically have enough money in the offseason to sign a Dwight Howard, Josh Smith or a Chris Paul.
Even if they don't, you can bet that Morey is currently in his laboratory crunching numbers and planning some other move that will improve the Rockets while simultaneously making his competitors look silly. After all, it's what he does. That, and give stat geeks everywhere hope that they too can someday run an NBA team. Don't give up, boys. The mastermind, Daryl Morey, is continuing to make your best case yet.
[php snippet=1]