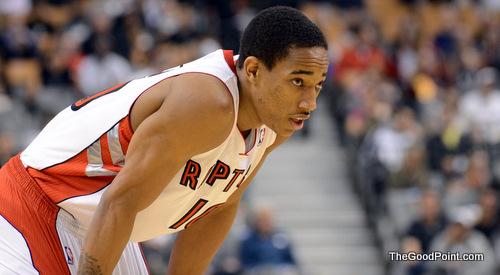 DeMar DeRozan: The future in the making
April 11, 2011
There's over two hours left until an injury-ravished Toronto Raptors team tips off against a similarly undermanned New Jersey Nets club in an arguably meaningless mid-April match up, but DeMar DeRozan is already sweating. Sweating for good reason.
Spotting up from just inside the three-point arc, the second-year shooting guard accepts passes from a trainer while game staff and media personnel alike flutter about the Air Canada Centre in preparation for the 80th game of the 2010-11 NBA season.
The Raptors, at 21-58, have long been eliminated from playoff contention but it makes no difference to DeRozan. At 21 years old and in his second NBA campaign, the former USC Trojan takes each pass, levitates and releases jump shot after jump shot, each stroke cleaner than the one before it.
It's no secret that the current campaign has been a transition one for young DeRozan and especially his teammates, even when fully healthy they've struggled finding their identity.
"Last year we were definitely fighting for a playoff spot and every game counted, this year we're just playing for pride," he says.
After gravitating from the baseline up to the elbow, DeRozan rounds the top of the key and starts working his way back down the other side. Eventually he'll run out of space and start again.
[php snippet=1]
Though not known specifically for his jumper, it's only natural to assume that it will eventually be another tool that he'll horde reliably in his belt. With a career shooting percentage a hair south of .500, he already boasts a subtle advantage over the world-class athletes from whose cloth he's so obviously been cut.
Though hardly conclusive of his value as a player, DeRozan's ability to consistently and efficiently connect on jump shots while leaping, contorting and fading his way across the court speaks to his legitimacy as a No. 1 option in the NBA. His 26.4 points per game in five April tilts without Raptors leading scorer Andrea Bargnani certainly don't dismiss a notion that the primary scorer's role will be his eventually, if not already.
Time passes and DeRozan changes paces, graduating to the next stage of his excessive pre-game routine. Instead of setting his position prior to receiving the pass, he cuts to and away from the basket in a simulated V-pattern more in line with the type of scoring opportunities he'll face later in the evening.
Though the result of the upcoming game will have little effect on the standings, the Compton, California product finds solace in the ritual, burying jump shots, experimenting with various means of using his dribble to create space, and essentially fine-tuning an already impressive offensive arsenal. Soon he'll have real life New Jersey defenders to help aid in his development.
"You try to do a little bit of both, (to progress as a player and to win)," says DeRozan, framing his thought process in the final stretch of a season that will end far short of a playoff berth. "You still play as a team, improve and still work hard."
Though 2011 may not be their year, DeRozan wouldn't be fine-tuning his craft as meticulously as he is if it weren't for a promising future.
"[My goal] for next season is just to come out strong, to come out of the gates playing every game like it's our last and let it take us from there."
Wherever that may be remains to be seen. After doubling his offensive output from his rookie campaign in 2009-10 (from 8.6 to 17.2), DeRozan will shoulder even more of the load in his forthcoming third season if for no other reason than because he's shown that he can.
With teammate Bargnani inheriting slightly more offensive responsibility in the absence of departed Raptor Chris Bosh, the onus will be on DeRozan to provide the necessary surplus to guide the club to heights that Bosh failed to lead them to.
Sure, success may hinge on more than just the continued development of DeRozan, but it certainly won't happen without it, making each and every pre-game mock possession all the more important.
With each cut, with each catch, more than just DeRozan's offensive repertoire is being built, the foundation of a franchise's future is being built.
When the Nets and Raptors ultimately tip off over an hour after a loosened DeRozan retires to the locker room for his final mental preparations, he'll be the lone starter healthy enough to take the court. Nursing injuries are everyone from Bargnani to the recently-hobbled Amir Johnson and long-gone Linas Kleiza.
Though the barrage of misfortune doesn't help Toronto's chance of ending the campaign on a strong note, it does create an opportunity for DeRozan to experiment with undivided attention for the first time in his career.
It's attention, a sweaty DeRozan hopes, that he will never see the end of. Only then will it all be worth it.
[php snippet=1]