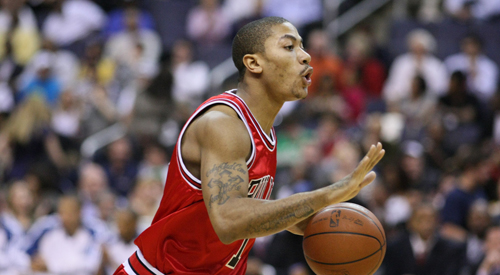 Derrick Rose: MVP 40 games in?
January 20, 2011
Is Derrick Rose the best player in the NBA at the moment?
No, but he may be the most valuable.
Truth be told, Rose does not lead the league in Win Shares or PER or in anything, really. In fact, he's 10th in the league in assists per game, behind Jason Kidd, Steve Nash and Chris Paul, among others. His PER is 15th, behind players like Blake Griffin and Kevin Love. Rajon Rondo has more assists, Amar'e Stoudemire has scored more and the Chicago Bulls are not the best team in the NBA or even their own conference.
He's not getting a ton of love from the media, either. For example, when handing out mid-season awards on Wednesday, Yahoo! Sports' Kelly Dwyer said Rose wasn't really a MVP candidate; Dwyer called Rose's defense and true shooting percentage into question. The real choices, he argued include Kobe Bryant, Chris Paul and LeBron James, among others – all solid candidates.
And Dwyer raises some good points about Rose: his true shooting is just .543 per cent, not even close to the NBA's top 20. And his defense? Well, his defensive rating of 102 translates to about that many points allowed per 100 possessions – higher than his team's rating.
But there's a funny twist to those numbers: even though they're not close to NBA-leading, they're a great indication to what Rose is doing this season and how much he's improved.
[php snippet=1]
To wit: those two stats are Rose's best to date and show a steady improvement in his overall game (for instance, he's already shaved 11 points off his rookie season's rating). And to take it a step further, although his defensive rating may be worse than James' or Dwight Howard's the fact that his team leads the NBA in defensive rating suggests maybe he's doing fine in his own end.
This season, Rose has taken over the injury-plagued Chicago Bulls and kept them going and alive in a competitive Eastern Conference. It's kind of like a hybrid car, where if the electric battery-powered motor cuts out, the gasoline-powered engine will kick in, almost without your even noticing or changing speeds.
While his numbers don't stun like the MVP favorites do, he's doing enough things right to warrant inclusion in the discussion. His PER of 23.1 leads the team and his offensive rating of 111 is highest among active Bulls (Joakim Noah still leads the team there). And he's already piled up 6.1 Win Shares, more than he's ever had in a full season – in 41 games!
He's explosive on offense, averaging nearly 25 points and eight dimes per game. Other advanced stats show how meaningful he is to the team: he's used in nearly 32 per cent of the Bulls' plays, and his assist percentage is through the roof: he gets assists on close to 40 per cent of his teammates field goals. It almost goes without saying he leads the team in both categories.
After all, it's most valuable player, not player-who-racked-up-the-most-sweet-dunks, or player-with-the-best-shoe-ad. Are there any other players who have been more valuable to their team than Rose has been to the Bulls?
As easy as it is to say James or Bryant are the MVP choices de jour, one has to keep their supporting cast in mind. Kobe has Pau Gasol (second in the NBA in Win Shares) and LeBron has Dwyane Wade (fourth in Win Shares). Rose's supporting cast has battled injuries all season – first Carlos Boozer went down, then Noah did.
In fact, since Noah's last game on Dec. 15, the Bulls have been 12-6, including three losses by one score, and Rose has been there every step of the way. In seven games he's led the team in scoring – and took the team on his back in one of their biggest wins of the season.
On the 15th of this month, the Heat and Bulls played a game that went right down to the wire. Sure, it's easy to look at that game, scoff and say: "Well, the Heat were missing LeBron! It doesn't really count!" And it's true, the Heat were shorthanded, as were the Bulls.
However, that's beside the point: look at how Rose and Wade battled, trading baskets, as the game wound down: from 3:48, when Wade made a free throw, to 0:25, when Kyle Korver hit a go-ahead three, it was basically Wade and Rose going at it. Even the Associated Press – not known for their hyping skills – said it resembled a playoff atmosphere.
Another way of putting it: Rose carried his team on his back to a win, against one of the NBA's best teams (Miami has a SRS of 6.89, highest in the East) and out-dueled one of the NBA's best scorers in the process. When the team broke down, he kicked into another gear, and it looks like he's cruising to his third playoff appearance.
Isn't that what you'd want from a MVP?
***
Derrick Rose is an obvious MVP candidate now, but he hasn't always been. Take a look at Mark Milner's article on the 2011 NBA MVP Race written at the season's 20-game mark.
[php snippet=1]