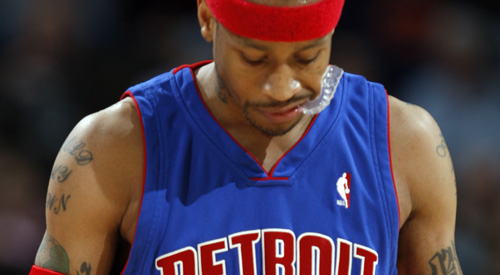 Stop, pay attention to the Detroit Pistons immediately
January 14, 2009
As the mathematical midway point of the NBA season inches closer and closer, it's hard to refrain from gauging how particular teams stack up against those of yesteryear. With every flip of the calendar, the sample from which we draw our opinions becomes more and more telling of the true basketball landscape.
Adversely, just days into the season the Toronto Raptors hadn't lost a game and looked poised to finally make a difference in the Eastern Conference. On that same token, just weeks into the campaign, the Boston Celtics were well on their way to set an NBA record for wins in a season. Two months later however, and both cases of dangerous wishful thinking had been effectively squashed – leaving in their wake, a more plausible scenario that sees the Celtics finish at, or near, the top of the pack while Chris Bosh and Jay Triano fight valiantly to keep Canada relevant.
Now, as we take our first steps into an agreeably more reliable time of year – when win/loss records can be viewed as more than just numerical grains of salt – a realistic portrayal of 2009's teams has begun to form. Now, although 72 wins may be out of the question for Kevin Garnett and the Celtics, the defending champions have clearly established themselves as a, once again, obvious force to be reckoned with.
But while playoff position in the East continues to ebb and flow, the true story of the conference lies not in the Celts attempts to break a virtually unattainable record, nor is it whether or not 2009 will serve as the year LeBron James officially takes over as Zeus reincarnated, wreaking havoc on the basketball world (though that's a good one, too), in fact, what's arguably the most compelling subplot of this NBA season revolves around a team that's seldomly even spoken of.
[php snippet=1]
When the Detroit Pistons pulled the trigger on a multi-dimensional deal that sent Chauncey Billups to the Denver Nuggets in return for Allen Iverson, speculation ran rampant throughout the basketball world as to who, in the grand scheme of things, would benefit. From ESPN talking heads to grandparents and soccer moms, cases were made for both teams as to who would come out victorious.
What happened next however, was typical; the Pistons quickly escaped public conscious into obscurity, the same anti-limelight within which they've thrived for the past half decade. Would the addition of Iverson disrupt Joe Dumars' established synergetic masterpiece? And just how valuable was that Billups guy anyway? Was the sacrifice of a Pistons team concept worth the financial benefits of expiring contracts just in time for the summer of 2010?
Questions certainly worth asking, but somehow left unanswered. Questions forgotten about when Boston won 19 in a row, when Devin Harris emerged as an All-Star and when LeBron James GoogleMaps-ed Madison Square Garden on his iPod for the 7,429th time.
The most consistently successful franchise in today's generation of professional basketball had flipped the switch on a potential legacy-altering transaction with both short and long term repercussion and two months later nobody even cares?
Well you should.
With 36 games under their belts, and No. 41 not far ahead, the fact that Detroit has hovered around the .600 mark isn't ground breaking news. They're good. We know they're good and chances are they'll continue to be good as long as they want to be good… but last season they toiled with .700.
Last season they didn't find themselves below the Orlando Magic in the standings… or on par with the Atlanta Hawks for that matter. And last year they didn't even snap a three-year ECF losing funk.
For a deal that certainly had short term goals (granted, with contractual perks on the side), it hasn't made much of an impact on tangible success. At least not the impact one would expect when giving up the cornerstone of a dominant franchise.
With an aging Iverson, Dumars essentially went all in while making sure to pocket enough cash on the side so that he could play a couple hands in the future. Sure, freeing up cap room in 2010 will come in handy when the glut of free agents hit the market, but you better believe he wouldn't have established the reputation he has on whimsical gambles like that.
The concept of pairing Iverson at 33 with Rasheed Wallace at the same age wreaks of a last ditch attempt to capsulize declining production, and it simply isn't paying off. At least not yet. So then, if we've learned anything from sample sizes, the longer Detroit goes without hitting their stride, the more worrisome it becomes.
It's unreasonable to say with any confidence whether the move will pay off or not, but with the fate of one of the 21st century's finest sport franchises in flux, you'd think the relevance of its aftermath would at least trump that of Stephon Marbury's free agency or Eddy Curry's bus driver, but no.
Now, for the first time this year as the All-Star break draws near, we can at least semi-realistically gauge some of the more significant storylines in the NBA – here's hoping we give them the attention they deserve.
[php snippet=1]