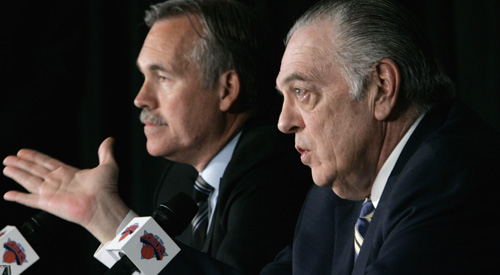 Thank you Donnie Walsh
February 24, 2009
Isiah Thomas left quite the mess in New York.
A bloated payroll built on a roster comprised of underachievers and unhappy campers, who couldn't even manage to co-exist with a great coach like Larry Brown resulted in a highly dissatisfied fan base in the league's largest market.
In the face of coaching changes, trades, questionable draft picks and media scrutiny they continued only to spiral further downward until things seemed virtually hopeless.
This past offseason Thomas was officially relieved of his duties at the helm of the team and replaced by long time Pacers executive Donnie Walsh. Walsh sought quickly to put his stamp on the team, outbidding Chicago for the services of the highly regarded offensive wizard from Phoenix, Mike D'Antoni.
Walsh then set his focuses on acquiring players who could flourish in D'Antoni's run and gun style while simultaneously fitting into the organization's plan to attract some of the highly 2001 discussed free agent class of 2010 led by LeBron James, Dwyane Wade and Chris Bosh.
[php snippet=1]
What's good for New York is good for the NBA, and while as a Raptors supporter I'm pretty much the antithesis to a Knicks fan, I'd still like to congratulate Mr. Walsh on the impressive changes he's made in his first campaign in the Big Apple.
Donnie, the spotlight is bright, and in spite of its harshness you've been able to provide hope to individuals who were still rendered hopeless as recently as last season.
You've been able to move the inflated contracts of pilon-esque players like Jerome James, Zach Randolph and Malik Rose that have no place in D'Antoni's vision, and bring in players like Larry Hughes, Chris Wilcox and Al Harrington. All who have flourished in up and down the court systems, and all with contracts that expire before the 2010 free agents become available.
And of those players who you couldn't move by faults largely of their own, well, you've elected to punish them just as they've punished you. Stephon Marbury's unwillingness to live up to his contract has resulted into a virtual paid suspension from the association for a season, and Eddy Curry's Thomas-crafted contract has been similarly touted as a robbery.
Marbury's $20,840,625 comes off the books at the conclusion of this season, and the time couldn't come any sooner. Still you're left to swallow Thomas' questionable commitments to Curry and Jared Jeffries into the 2010-11 season.
Other than those two deals however, the entire tarnish left on the team by Thomas will have been removed. In its place, a strategically crafted roster in perfect alignment with the desires of the coaching staff just in time for the Knicks' 2011 training camp.
Whether the team is led by LeBron, Wade, Steve Nash or some other combination of multi-talented tactical additions, New York will be freed out from underneath the dark cloud that's surrounded Madison Square Garden since the Sprewell and Houston days of the late '90s and early 2000s, all thanks to you.
Congratulations on establishing a plan and carrying it out. Many a franchise could stand to follow your lead.
Sincerely,
Basketball fans everywhere
PS: All I ask in return for these kind words is that you use your financial flexibility to sign players not named Chris Bosh.
[php snippet=1]