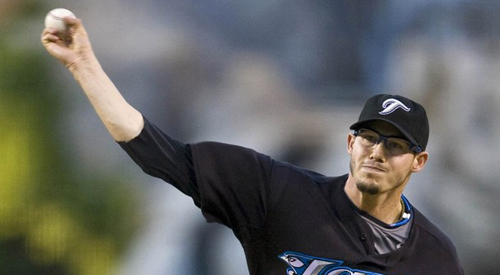 Dustin McGowan still hopeful to start for Blue Jays
March 17, 2011
Earlier this week, Blue Jays manager John Farrell announced that oft-injured right-handed pitcher Dustin McGowan will continue his current rehabilitation with the intent of returning, not as a starter, but a reliever.
"We're going to groom him as a reliever now," Farrell said. "Medically, that's the advice we've been given top to bottom."
For McGowan, a first-round pick by the Jays in 2000, a return to the Majors in the bullpen makes the most sense right now.
After reporting unbearable pain in his throwing shoulder during a start on July 8, 2008, McGowan was forced to undergo season-ending surgery to repair the fraying of his labrum, a procedure that requires shaving down unhealthy tissue and eventually re-attaching the labrum to the shoulder socket through sutures.
McGowan watched as a year passed without success following the operation, a disheartening blow to the promising pitcher's career considering the average recovery time of 3-5 months. Making matters worse was a developing concern over a lower body setback.
In July, 2009, McGowan underwent a second procedure, this time to repair articular cartilage damage to his left knee.
As recently as this past season, McGowan had still not fully recovered from his initial shoulder surgery in 2008. The Jays decided to take a more thorough approach to repairing their once-prized prospect's shoulder and sought examinations by multiple doctors that eventually led to another shoulder surgery, one that would address the rotator cuff and improve McGowan's range of motion.
[php snippet=1]
The procedure, as promised, cleaned up McGowan's shoulder but has kept him out of action ever since.
After the heartbreak McGowan has suffered over the last few years, things may be finally looking up for the soon to be 29-year-old. He is currently working out at the Blue Jays' minor league complex and chipping away at an eventual – albeit gradual – return to the big leagues.
"It's a slow process but I'm taking it day by day and it's coming along," McGowan said.
Despite the fact that the Georgian-born pitcher is making progress, there's no hiding the fact that this is the third consecutive spring training McGowan has spent rehabilitating from an injury. As such, the Jays are taking a different, more cautious approach with him, limiting him to bullpen sessions of just 25 pitches at 80 percent intensity. The results have been encouraging.
"The recovery time has been a little better; each time I throw I recover a bit faster than I did [the] last time," said McGowan following a workout in Dunedin, FL.
In his first public comments since the announcement that he would return to the big leagues only as a reliever, McGowan told The Good Point that he understands the decision.
"I'm fine with it, I mean right now I think it's the easiest way to really monitor my pitches and throwing. It's different when you're starting and throwing 80 to 100 pitches, you never know how you're going to react and come back. It's a just a way that they can keep watch on me."
Despite being supportive and understanding of the Jays' decision on his development, McGowan views it as a stepping stone, as he hopes to return to the mound as a starter sometime down the road.
"Down the line, I hope to start again," McGowan said. "It's mostly all I've done in my life."
McGowan understands that something of that magnitude would take time, especially given his injury history, so his goals for 2011 are fairly straight forward.
"[My goal is to] get back to playing, get back to baseball, but I've got to be smart too. I've got to take it slow and get it right, no more rushing," he said.
Regardless of how long it takes McGowan to return to the Major Leagues – if at all – Farrell was quick to point out that McGowan's drive and unfortunate situation has not gone unnoticed by his peers.
"He's dealing very well with the hand he's been dealt and he's an inspiration for everybody in that clubhouse," said Farrell.
"Everyone knows what he's gone through, and they see the attitude that he brings to the ballpark day in day out, regardless of how much time he's missed. It speaks volumes about his character."
[php snippet=1]