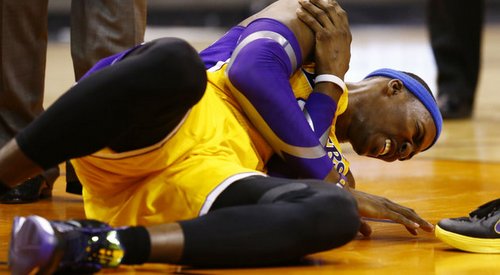 Under the Microscope: Dwight Howard's Back Injury
July 5, 2013
Despite having an admittedly down year, there is little doubt that come July 10, someone will pay Dwight Howard lots of money. The teams currently in the running for the highest profile free-agent of the offseason are likely betting on the fact that Howard's poor performance in 2012-13 had a lot to do with an offensive system that was ill-suited for his style of play, coupled with the fact that he was recovering from a back surgery in the offseason.
While breaking free from the shackles of Mike D'Antoni may go a long way to rectify the problem (unless he re-signs with the Lakers), there is some evidence to suggest that his back surgery could have long-term implications beyond this past season. If this is the case, are teams lining up to sign an All-Star center who is a year healthier, or a year more broken down?
During his final season in Orlando (2011-12), D12 began to complain of low back pain and weakness in his left leg. In an interview last year Howard described how his entire leg "went dead" and that he was unable to do a single calf raise. This type of weakness is a symptom of a radiculopathy, an injury to a nerve root resulting from inflammation in the area or direct compression on the root itself. There can also be an associated increase in pain or loss of sensation in the area that is supplied by the particular nerve root affected (Johns Hopkins website)
After further investigation, it was determined that Howard's radiculopathy was the result of a herniated disc. This occurs when the inner jelly-like substance (nucleus) of our disc rupture through the tougher outer layer (annulus) and protrudes into the space typically reserved for our nerve roots to exit the spine. As a result, Dwight underwent a lumbar microdiscectomy on April 20, 2012. This surgery involves the removal of the herniated disc material in an effort to relieve the pressure on the pinched nerve and to help resolve the weakness in his leg.
[php snippet=1]
While this type of surgery has generally had a positive impact on the symptoms and has allowed athletes to return to their sport, it isn't foolproof when it comes to getting an NBA player back to their past level of production. In a study looking at a player's ability to return to sport after a lumbar disc herniation, researchers found that 25% (6 out of 24) of players who underwent a discectomy did not return to the NBA. Of the players that did return, they played an average of 20 less games in their first season back from surgery. There was also a decline in statistical categories such as points per game, assists per game, rebounds per game and steals per game in their first season post-surgery (although no difference was found between players who had surgery and those who did not).
Howard's statistics clearly fit this pattern as he had his worst season since 2006-2007 in defensive rebounding and total rebounding, along with his lowest points per game average since 2005-2006. While his free throw shooting has never been solid, his percentage from the line dipped sharply in his injury season from .596 to .491 and remained the same this past year. Howard may also have been a bit less active attacking the rim this past season as his free throw attempts per game also dropped to a level not seen since 2006-2007. While this research looks favourably on lumbar discectomy and is limited by the fact that it only looked at player stats in the first season after their surgery, it does raise the question of how effective a player may be in the years following a herniation.
Another question surrounding athletes with lumbar disc herniation is their durability and longevity following this injury. In a study by Hsu et al, professional athletes who underwent a discectomy returned to their sport for an average of 3.3 years. We can hypothesize that some of these players retired after three years due to increasing age and declining performance, but once again, we can't ignore the possibility that the career of an athlete with a lumbar discectomy might be shortened compared to someone without a history of a disc herniation.
Panicking over Dwight Howard's statistics may be a bit extreme at this point in time. Most teams would be ecstatic with a "down year" from their starting center if that included 17.1 PPG, 12.4 RPG and 2.4 BPG.  There is a big difference between being healthy enough to play versus being NBA ready, and it is quite possible that Howard was still working his way back into shape during his return to the Lakers last season. The importance of the rehab program was underscored by Howard's surgeon, Dr. Robert Watkins. In a comment to the Hsu article, Dr. Watkins mentions that the "key to return to play is the rehabilitation and sports-specific training program for these athletes and not whether the patient had surgery or not". Another offseason of strength and conditioning should go a long way to help elevate his overall fitness and bring his game back up to the level we've come to expect of him.
While Howard is still on the right side of 30 when it comes to healing and recovery, it is fair to question the durability of a player who has been sidelined from a back surgery (in addition to a torn labrum in his shoulder suffered this past season). His position and style of play require him to play a physical brand of basketball, and to bang bodies with some of the largest men in the NBA over an 82 game schedule. Over the years, this can take its toll on even the fittest athletes in the world. While there is little to suggest that D12 won't regain his superstar status, when it comes to investing max dollars, it would be wise to consider what type of player you're getting, and in what kind of shape.
References
1)      Anakwenze OA et al. Athletic Performance Outcomes Following Lumbar Discectomy in Professional Basketball Players. Spine. 2010; 35(7):825-828
2)      Hsu WK et al. The Professional Athlete Spine Initiative: outcome after lumber disc herniation in 342 elite professional athletes. The Spine Journal. 2011; 11:180-186
3)      Watkins III, RG. Great Rehabilitation and great physical bodies allow professional athletes undergoing lumbar discectomy to return to sport at a high rate. The Spine Journal. 2011; 11:187-189
[php snippet=1]