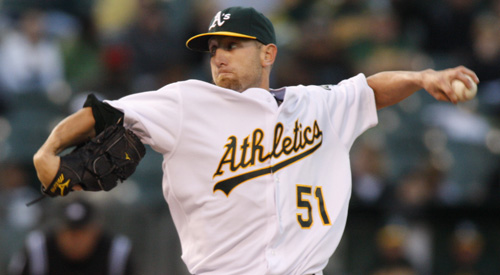 Escape from Oakland
January 24, 2012
The Roman Coliseum sits abandoned; a monument to a once great civilisation. Its empty seats – once filled with a blood-thirsty crowd cheering for their hardened warriors – are now filled by wandering tourists and dedicated historians.
The Oakland Coliseum is set to become the same for the Athletics; existing only as a monument, a memory, as Raiders now storm the grounds. Where once the crowd was green and gold, it is now black, filled with memories of a championship team long forgotten. If Rome was sacked by the barbarians, the Athletics were sacked by Al Davis. But like the barbarians and Rome, the late Al Davis represented only one reason for their demise, when in reality a plethora of problems caused both the Romans' and the Athletics' decays.
The aesthetics of the stadium are ugly, that's obvious. Saying the stadium is ugly is like saying Alex Rodriguez is overpaid – it doesn't go far enough. Aging facilities, expansive foul ground, ugly seating, and a less than impressive skyline make for one of the worst looking stadiums in the baseball.
A proposal by previous owners would have transformed the stadium into a more baseball-friendly arena. Instead, alterations made when Davis' Raiders moved back meant the stadium became more suited to football than baseball. If you polled major leaguers, they'd undoubtedly report the stadium near the bottom of most desired destinations.
In 2011, Oakland featured the lowest attendance rate in the majors despite being more competitive than 10 other teams. Beating 10 other teams is good, you're saying, but the A's still sucked, right? And fans won't turn out to support a team that's underperforming. Well, in 2006 the A's won 93 games, winning their division and sealing a playoff berth. Their attendance rate for the year measured at 1,976,625 fans. The league average was 2,458,741.
[php snippet=1]
Even after Oakland traded away their three best pitchers and lost two of their best hitters to free agency, the A's chances of making the playoffs remained more or less the same: naught. It was a smart move for the organization. Billy Beane has said that if he can't field a team that will win, then he may as well focus on gathering the players to eventually win, rather than floating in median mediocrity year after year.
The A's knew their house was rotting, and when they expressed their desire to move, a city with twice the population of Oakland jumped at the opportunity.
San Jose bought up pockets of land for the new stadium site and conducted an environmental impact report (EIR) – an essential and expensive part of the process. The city of Oakland, while proposing a few possible sites, is yet to conduct an EIR. And while Oakland has expressed a desire to keep their A's, it seems like posturing at this stage as San Jose is clearly doing more to lure the team. San Jose is also home to a high number of Fortune 500 companies. Presenting sponsorship opportunities the A's will be pushing hard for.
For San Jose, it's the opportunity to shine a light on its city, which will be in constant view as national sports outlets discuss the A's and their new stadium. More so, if the A's are successful, the city will receive attention as being the reason for a rejuvenated team. And Billy Beane is doing his best to ensure that if the team does move, they'll have a chance to win and impress their new fans.
The A's want to move to San Jose but the Giants currently hold territorial rights to the area. In order for the A's to move, Major League Baseball would have to override their original stance and grant the A's the rights to the spot; a proposal the Giants would certainly oppose. In order for them to overrule the territorial rights, a vote by the team owners would be called in which a 75 percent majority would be required to defeat the Giants' claim. If a vote is called, A's fans should feel confident, because MLB Commissioner Bud Selig usually has a good feel of the situation and wouldn't start a vote if he wasn't confident in the result. Interestingly, the new location is actually further away from the Giants than the Athletics' current spot in Oakland. The feeling around baseball is that the vote will be passed and the A's will get their new San Jose stadium – which should be finished by 2015.
A Winning Team
Here's what Billy Beane has done, with an eye on winning in San Jose:
He traded Gio Gonzalez, arguably their most talented pitcher, to the Nationals. The lefty with a massive hook fetched them some good, young starting prospects in Brad Peacock, Tom Milone and A.J. Cole. Peacock is the immediate prize in the deal and could end up being a strong No. 2 or 3 guy. Tom Milone could help the back-end of their rotation and be an above average pitcher for that slot.
Ultimately, the best of the bunch may end up being Cole. The 19-year-old has the biggest upside of the group but is also the furthest away from contributing. His fastball already sits in the mid-90s and his secondary pitches project as being well above average. The Athletics also received catcher Derek Norris, who has the opportunity to replace Kurt Suzuki when he's traded. Norris projects as a potential Mike Napoli-type; solid bat but some question marks behind the dish – although Norris has thrown out runners at a consistently high clip.
Then Beane sent Trevor Cahill, still only 23, to the Diamondbacks. Cahill is an effective pitcher, winning double-digit games in both his seasons while pitching around the 200 innings mark. The prospects received for Cahill should easily outperform him when they make it to the bigs. His 2.97 ERA in 2010 was unrepresentative of his true ability while his 4.16 ERA in 2011 will be closer to where he sits for his career (while a move to the National League may lower it somewhat). In return, the Athletics received a possible front-line starter in Jarrod Parker. He projects as a top-of-the-rotation type but is currently recovering from Tommy John surgery.
Finally, he moved closer Andrew Bailey to the Red Sox for two riskier prospects in reliever Raul Alcantra (a teenager with a live arm) and first baseman Miles Head (some power but doesn't project well). They also received Josh Reddick, a serviceable outfielder who profiles more in a platoon role but could add some value defensively.
The A's are also well placed in the upcoming draft, receiving picks 34 and 47 as compensation as Josh Willingham and David Dejesus departed. The Athletics aren't positioned like Tampa Bay was last year (12 of the first 89 picks) but will be able to add a few extra prospects with one eye on competing in San Jose.
The haul of prospects should be ready to start contributing by 2013 and be regular starters by 2014-2015.
The potential to win is there, which will help convert San Jose fans. But if the A's aren't able to compete when they move, they will at least need a bright young star their fans can rally around.
Losing teams always have hope when they can point to one particular player and say that he's going to turn the team around. The Rays have Evan Longoria, the Rockies have Troy Tulowitzki and the Nationals will have Bryce Harper very soon, and already have Ryan Zimmerman and Stephen Strasburg. Consider what guys like Joe Mauer and Buster Posey are doing for their teams. The list goes on. Losing teams can appease fans by steadily surrounding the star player with the pieces to win. If the A's aren't going to compete right away, they'll at least need a young star's face they can market the team around. Here are a few options:
Michael Choice OF: could be the Adam Jones of San Jose but with more power.
Sonny Gray RHP: small righty with good stuff and a live fastball.
Aaron Shipman OF: good defence and a good eye make Shipman a potential All-Star leadoff hitter; should excite the San Jose crowd with his speed too.
Jarrod Parker RHP: high ceiling righty with excellent stuff. Could be the future ace of the club and take the ball on opening day in a brand new stadium.
A.J. Cole RHP: he is a young righty with excellent stuff and huge potential – still needs to work it all out.
Derek Norris C: probably won't be an all-star but hits for decent power. Defence needs work but the bat will keep him in the line-up – similar to the Angels' version of Mike Napoli.
The group of prospects is solid, but none of them are sure things. They should provide enough talent to enable Beane to field a winning team (one of the criteria for a successful San Jose move) but he may want to look to free agency – with a new San Jose budget – for a star player. Justin Verlander, Felix Hernandez and Hanley Ramirez are all scheduled to be free agents at the start of 2015, and with a brand new baseball-focused stadium, top of the line facilities, and access to a bigger, wealthier crowd base, Beane just might be able to lure them to San Jose – something he could never do in Oakland.
[php snippet=1]