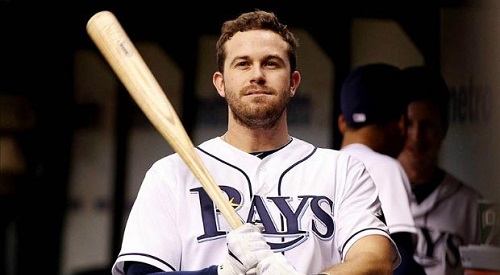 The Case for Evan Longoria as MVP
May 21, 2013
The last year Evan Longoria played in 150 games or more was 2010. That year he put up 7.6 WAR (Wins Above Replacement). In 2011, he played 133 games and still produced a star-like 6.2 WAR. Comparatively, this rate was better than Justin Upton's 6.0, Troy Tulowitzki's 5.7, and Andrew McCutchen's 5.4, despite those players all appearing in at least 10 more games than Longoria. Then, in 2012, injuries reduced his season to 74 games and his WAR dipped to a still respectable 2.5.
His missing 29 games in 2011, and 88 in 2012 has fooled some of us into forgetting how amazing a player Longoria is. The injury bug hampered what would have been five straight highly productive years. In 2013, Longoria is reminding us why his contract is the biggest steal in baseball.
In only 38 games this year he's already amassed a 2.5 WAR, equalling his 2012 production in a touch over half the amount of the games.
[php snippet=1]
The stats:
Batting Average: .331
On Base Percentage: .395
Slugging Percentage: .580
Home Runs: 9
Runs: 32
Runs Batted In: 29
The question, of course, is can he sustain this? If he should reach 671 plate appearances, as he did in 2009, his line would be: 37 home runs, 119 runs, and 107 RBIs. Those, ladies and gentleman, are MVP numbers. If he approached anything close to that the award would be his. But of course the question of sustainability is a valid one.
By examining his plate discipline and batting average on balls in play (BABIP), we can get a better idea of what he'll do going forward. An inflated BABIP usually means that a hitter is getting lucky: fly balls are dropping in, grounders are finding gaps, and line drives aren't going right to the shortstop. Speedy players, like Carlos Gomez and Mike Trout, can sustain high BABIP by beating out groundballs that their slower counterparts cannot. And disciplined hitters like Miguel Cabrera and Evan Longoria, can have high BABIP by hitting a high number of line drives (the hardest ball to turn into an out is a line drive, apart from home runs of course).
Longoria's career BABIP is .307. This year it's .371 (a career high). So he's just getting lucky, right? The balls he's hitting will start to find gloves and those lofty numbers will come down? Not necessarily.
If we look at his line drive rates, and his plate discipline, we can prove that his BABIP is sustainable.
This year, 22.8% of his hits are line drives. His career average is 19.8%. His groundball rate is down from a career average of 37.4% to a career best of 30.7%. Those fewer groundballs he's hitting are turning into more line drives and more fly balls. And by maintaining an average HR/FB rate of 17% (his career rate is 16.5%), he's hitting more home runs.
Put simply: he's hitting fewer groundballs. Groundballs are easier to turn into outs and thus reduce the batting average. He's also hitting more line drives, which are very hard to turn into outs, and he's hitting more fly balls and 17% of those fly balls are turning into home runs. Now, if he was hitting fewer home runs while hitting more fly balls, than you could argue his BABIP will fall, but that simply isn't the case.
His plate discipline is an important indicator of how great a season he's having. Sometimes we see hitters become more aggressive, and for a few plate appearances they have success getting hits and this conceals a dip in production. See Ryan Howard this year: .252 batting average, which is 19 points below his career line, but only a .291 OBP, which is 70 points below his average. He's been swinging more and having a bit of success, but over a full season, strong discipline will always beat luck. And Longoria's got both going for him.
His O-Swing% (percentage of pitchers a batter swings at outside of the strike zone) is 20.7%. His career O-Swing% is 25.6%. In other words he's being more selective. And in the instances when he does chase after something out of the zone, he's making contact at a career best 70.2% (almost 10% higher than his career average).
His Z-Swing% (percentage of pitchers a batter swings at inside the strike zone) is 62.9%. His career Z-Swing% is 64.2%. This, coupled with his Swing % (the percentage of pitches he swings at) of 39% which is down from a career line of 44%, and his career low SwStr% (swinging strike percentage) of 7.3% (down from his career average of 9.4%) shows that Longoria is being more selective with the pitches he's attacking (although he is seeing fewer pitchers per at bat: 3.96 in 2013, 4.05 in 2012).
His Contact% (total percentage of contact made when swinging at all pitches) of 81.1% is also a career best (career average: 77.8%).
So Longoria is being more selective about what he swings at, and when he does swing, it's more likely to be a line drive than last year, and it's more likely to be a fly ball than last year, which means his BABIP of .371 is not wholly unrealistic. A decline can be expected, certainly, but with career high contact rates, and discipline rates, it's unlikely to fall very far.
*Stats all courtesy of Fangraphs.com and ESPN.com.
His fielding, after a slight dip last season is back to gold glove calibre, thus far posting an 18.5 UZR/150 (it was 20.2 and 13.7 in 2009 and 2010 respectively, the years he won gold gloves). He and Adrian Beltre are the best examples of fielding acumen, when measured by both advanced metrics and the eye test.
Last year, many sabermetricians considered Mike Trout to be baseball's best player. While traditionalists argued that Miguel Cabrera, the Triple Crown winner, was the only real choice. And it really was a coin-flip, both sabermetricians and traditionalists appreciated both players, it was just the finer points they were arguing. But this year, if Longoria maintains his pace, it will be hard for either camp to make an argument against him.
His greatest competition, as it was for Trout, will likely be Miguel Cabrera. Cabrera is besting him in average, RBIs, OBP, and slugging. RBIs are of course one of the worst statistics to rate an individual's performance, even traditionalists are coming around to this thinking, knowing that the RBI stat is so dependent upon the team. And it's unlikely Longoria approaches Cabrera's RBI numbers. But if he can maintain a close gap in the other categories: average, OBP, slugging, home runs, then his far superior defence should be enough to tip the voters in his favor (Cabrera's UZO/150 is negative 23.5).
Coincidentally, if Longoria maintains his current pace he should perform to about a 10.0 WAR. The same number Trout lost with.
But while Trout was only the champion of sabermetricians, Longoria will be the champion of both sabermetricians and traditionalists. Finally healthy, Longoria is baseball's best player.
[php snippet=1]