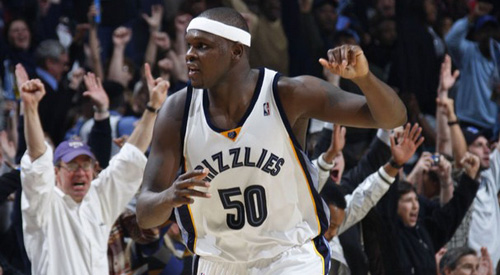 The optimist's fantasy basketball primer
September 21, 2011
When it comes to fantasy basketball, I'd like to think of myself as an optimist.
I believe that, despite all of the glaring signs that point to there being no season, or a half season, that Billy Hunter and the fat cat owners will come to their senses and deliver us from the despair of a basketball-less winter. We must, thus, prepare for another stellar season and specifically for our drafts. Before we do so, however, you should know your history, which in fantasy ball, doesn't stretch much further than a few seasons.
To start, we'll look at the fantasy monsters, the guys that should make up the first round of your draft. These guys are the back bones of your squad, the type of players that if injured, could potentially sink your season. While your first-round draft selection is often the most important in terms of sustainability, the GM's that routinely win out their leagues are the ones that draft solid in the middle to late rounds, the ones who grab a sleeper candidate that they can ride for the whole season to the top. Believe me, we will get there, as in the coming weeks we'll be looking at a position by position break down of who should go where and why, as well as busts, sleepers, players who will be drafted too high, as well as strategies on how to effectively manage your team, trades and the ever controversial topic known as streaming.
A side note: We're playing with what will be our standard issue h2h (head-to-head) format with a 10 team league, which has a randomly-ordered draft. The statistical break down is as follows: Points, Rebounds, Assists, Steals, Blocks, Field Goals Made and Missed, Three Pointers Made and Missed, Free Throws Made and Missed, and Turnovers.
(I'm not saying that this is the best format, because in my opinion there is no best format. An auction Rotisserie might be more your style and speed, or maybe a 16-team keeper league which allows you to hold on to your best two or three players at the start of every year. These formats are all well and good but for the sake of uniformity and ease, let's stick to the most accessible and easy to navigate.)
[php snippet=1]
The First Round:
Ideally, you'd like to go first and be able to select any player that you so choose, but when you win that first slot, that means you choose last in the second round. I've been selected as the first pick before, and watching the next best 19 guys get selected before you hurts. Our draft order is random, so you have no choice, but if your league allows draft pick trading – which some do – I would recommend sliding out of that pick for a lower pick in the first round (3, 4, 5) as well as a supplemental pick anywhere beyond the third round, as nice of a pick as you can score.
What follows is my breakdown of how you should rank your first-round guys. Undoubtedly, some wild cat GM will select a huge reach in the first round trying to look like the genius of the group, while an absent Auto-Draft owner will get screwed with a projected player that is already injured for the whole season, which is why I can't stress enough that you should manually set your order of guys you would like to get.
No Doubt Big Ticket Picks
1. Dwight Howard, C. PPG: 22.9, RPG: 14.1, APG: 1.4, SPG: 1.4, BPG: 2.4
With LeBron James entering the more "team oriented" aspect of his career, the relatively weak competition at the center position and Howard's need to carry the Magic, Howard is poised for another monster fantasy year. When a guy puts up almost seven 20/20 nights in a season you know you're in for something special, especially when he tosses up 4-6 blocks on top of it too. Now, the man has a downfall, but it's one that you're going to find with almost every center in the league, and that's FT%. But don't ever let that stop you from taking Howard, who I just might mention, is in a contract year. Scary right?
2. LeBron James, SF. PPG: 26.7, RPG: 7.5, APG: 7.0, SPG: 1.6, BPG: 0.6
LeBron, of course, couldn't be that far behind Howard. Even though I have him ranked in the second slot, you can bet that there is a distinct possibility that LBJ finishes in the No. 1 position for fantasy points. There is also a possibility that he can conceivably be eligible for more than one position, as some leagues may have him designated as SF with SG, and PF capabilities. Consider yourself lucky if they do because last time I checked Dwyane Wade and Chris Bosh were the starting players at their respective positions. We all know the LeBron story and can see the stat line above and after a season where he was constantly needled and ridiculed, that line might just get better.
3. Chris Paul, PG. PPG: 15.9, RPG: 4.1, APG: 9.8, SPG: 2.3, BPG: 0.1
Do you want to know what's crazy? CP3's numbers last year were his worst in fourth seasons, and that was still good enough for sixth best in my fantasy league for total fantasy points. Playing in 80 games last year was a huge accomplishment after coming back from a knee surgery that healed much slower than anticipated, but you could tell that there were still serious signs of pain. With a summer of rest, and a fresh contract on the horizon you can bet your bottom dollar that Paul will be at the top of his game.
4. Kevin Durant, SF. PPG: 27.7, RPG: 6.8, APG: 2.7, SPG: 1.1, BPG: 1.0
Leading the league in scoring for the second time in a row, the Durantula's scoring numbers were down from the year before. This year, expect to see them rise again after a season where he was praised as the second coming and fell just a tiny bit short (thanks, in part, to Russell Westbrook's development). Here's the thing with Durant, you know exactly what you're getting from him every game. He's going to rebound like a PF. He's going to get to the line and shoot a high percentage. He's going to rain threes, again at a high percentage, and he is going to score in bunches. Most importantly, he is going to stay healthy (knock on wood). In the past four years Durant has missed a grand total of 12 games. 12!
5. Blake Griffin, PF. PPG: 22.5, RPG: 12.1, APG: 3.8, SPG: 0.8, BPG: 0.5
If there was ever a rookie who was not going to succumb to the sophomore slump, it's Blake Griffin. For one, he missed his entire actual rookie season, so really, that gem of a season that we just saw was his sophomore slump. Griffin put the league on notice last year with eye popping dunks, stat stuffed lines and Timofey Mozgov's ability to be a poster boy, and I don't see this year being any different. Griffin managed to play every single game last year and if The Clippers Curse can be held off for another year, then we are in line for much, much more of The Blake Show.
Question Time
Things begin to get a little cloudier once you're out of the top five. That's not to say that there aren't still a whole lot of guys who would merit being the number six choice, but with that group, you have to start to ask yourself questions. Can he possibly stay healthy again playing like he does? Will his new, big, fat (no pun intended) contract sap his passion and drive? Can they continue to stay amicable and co-exist in the same lineup? How will he react to the new coach and system around him? Is it even remotely possible that the log jam of players up front allows him to have a season as close to as amazing as he just had?
6. Dwyane Wade, SG. PPG: 25.5, RPG: 6.4, APG: 4.6, SPG: 1.5, BPG: 1.1
Every year it is the same question with D-Wade. Can he stay healthy playing the style of basketball that he does? After missing 31 games in 2007, Wade has only missed 14 games in the past three years, but I would say, with ease, that he has played hurt in at least 40% of the games he didn't miss. Approaching the over-ripe basketball age of 30, Wade will need to hope his battered body can hold up. With the help of LBJ, perhaps it will. If it does, and we see another predominantly healthy season from Wade, you can expect the same big numbers from one of the best SG's in the game today.
7. Zach Randolph, PF. PPG: 20.1, RPG: 12.2, APG: 2.2, SPG: 0.8, BPG: 0.3
"Grizzlies fans, please welcome, your newly minted four-year, $71 million man, Zaaaaaaaach Randolph". Do those numbers scare you too? Don't get me wrong, Z-Bo deserves every single penny of that contract for what he has done in Memphis for the past two seasons, but in the long run, the question still looms. Is this the Zach Randolph of old who got fat and lazy with his last big contract, or is this the Zach Randolph that hustled on defense, shot an incredibly high percentage and gobbled up rebounds like they were pancakes from IHOP? I know I'm rooting for the latter, and if you draft him this high, you should be too.
8. Russell Westbrook, PG. PPG: 21.9, RPG: 4.6, APG: 8.2, SPG: 1.9, BPG: 0.4
In Russell Westbrook we have a player who may ultimately make or break your season. On one hand, he is a five tool fantasy player that will give you points, rebounds, assists, steals and a high free throw percentage. On the other hand, he is a turnover machine with a low field goal percentage that seemed on the verge of fighting every single one of his teammates by himself in last year's playoffs. If Russell Westbrook can't figure out that he needs to be second banana to Kevin Durant, then you, and the OKC Thunder are in for a boat load of trouble.
9. Pau Gasol, PF-C PPG: 18.8, RPG: 10.2, APG: 3.3, SPG: 0.6, BPG: 1.6
Oh the Lakers, what do you have in store for us next season? No team has as many questions looming over it than The Lake Show. New coach. New system. Kobe Bryant and Andrew Bynum's knees, and well, you can never leave a guy named Metta World Peace off a list of questionable questions. If the Lakers can bring it all together under new coach Mike Brown, then you can expect another consistent season of double doubles, with a high number of assists for one of the best passing big men in the league. Pau should also be eligible for both the PF and C position in your league as well, which is a huge bonus.
10. Kevin Love, PF. PPG: 20.2, RPG: 15.2, APG: 2.5, SPG: 0.6, BPG: 0.4
I know what you're thinking, how can a big man who can shoot the three, lead the league in rebounding and score down low be ranked as low as 10th? Well, have you seen the Timberwolves roster? With the drafting of Derrick Williams, David Kahn created himself a bit of a logjam. Seeing as they already have Michael Beasley who could fit in at PF spot but is projected to start at SF, and Wesley Johnson who should be playing the SF spot but is the projected starting SG, we are in for a muddy ride. This logjam will almost certainly effect all of their numbers in a negative way and will probably lead to a trade near middle of the season. As fantasy players know, sitting on a player who isn't getting the full shine he deserves for half of a season usually spells trouble in the rankings. If you are drafting last in the round though, you will have first selection in the second round, so feel free to grab K-Love here.
[php snippet=1]