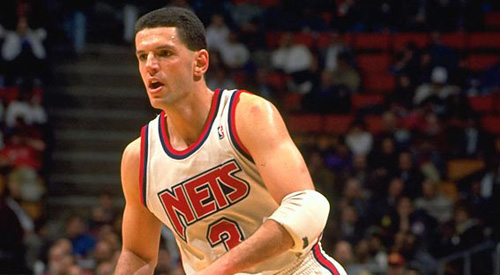 Drafting the NBA's global blueprint
July 1, 2011
For the 1992 Summer Olympics in Barcelona, the United States united the single-greatest basketball team to ever take the court.
Jordan. Bird. Magic. This ridiculous assemblage of unrivaled basketball ability destroyed the international competition by an average of 43.8 points per game. Players on opposing teams took time out of their lay-up drills to stand in reverence, watching the likes of Barkley, Robinson and Pippen simply warm up. The Americans took home top prize, beating theDrazen Petrovic and Toni Kucoc-led Croatian team by 32 in the gold medal game — their slimmest margin of victory throughout the entire tournament.
Since, this watermark for American dominance of basketball — both athletically and culturally — has come and gone. Something the international basketball community has been aware of (and banking on) for years; this is something that the NBA-only fans are just beginning to realize. The latest evidence, and possibly the most compelling, is the influx of foreign-born players drafted this year; not only in big numbers, but also in big numbers at the lottery spots.
Before 1992, the disparity between American and international talent was absurd. Due to rules dictating that players must not be professional athletes, the U.S. would never send its best professional players to international tournaments, instead winning the tournaments using the best college players against professional equivalents from other countries. Their scrubs against your best, the Americans will win because it is supremely an American game.
Basketball is thought of in American terms. While Wilt's 100-point game is lauded by some as the pinnacle achievement of any single game of basketball, Drazen Petrovic upped Wilt by 12, scoring 112 for his Yugoslavian team and even took three less shots than Chamberlain. (The other team, Smelt Olimpija, actually still played defense too.) Historically, it's difficult to place. North Americans don't know how to judge this achievement — for all we know we could've been playing against children on an 8-foot net — and if it didn't happen in our pro league, it happened in a lesser pro league, so it doesn't count as much.
The NBA's intercontinental influx started in Eastern Europe. Before Petrovic and Vlade Divacmade their names in the States, Bulgarian Georgi Glouchkov was selected in the seventh round of the 1985 draft by the Phoenix Suns, joining nine other non-Americans in the Association at the time. He then promptly gained weight as he adjusted to a North American lifestyle, justifying the fact that you've never heard his name until reading it just now.
[php snippet=1]
In 1996, a decade of defaulting as world champions morphed into a chest-pounding, trash-talking Dream Team 2. The significantly closer margins of victory and sudden worthiness of their opponents proved the Americans aren't invincible as they once were, conveniently at a time when American basketball's giant ego was promptly strutting like a thugged-out rooster.
Soon, Hakeem Olajuwon and the Rockets took two championships from an MJ-depleted league and Arvydas Sabonis showed us flashes of one of the great NBA careers we never got to see. The ensuing decade would see genuine top talents Dikembe Mutombo (Congo), Peja Stojakovic (Croatia), Manu Ginobili (Argentina) and Dirk Nowitzki (Germany) emerge into an NBA that would also include foreign-born role players such as Rik Smits, Shawn Bradley andTony Parker. A new wave of foreign-born players would make their mark: Yao Ming (China),Leandro Barbosa (Brazil), Luol Deng (Sudan via the UK), Pau and Marc Gasol (Spain), among others, would follow years later.
Today's evidence proves that the game is growing and the talent disparity is shrinking. In the years since, it's been impossible to ignore the increasingly global reach of basketball, with the rise in percentages of foreign-born players holding roster spots on NBA teams and the ability of international teams to compete against (and beat!) the Americans.
Truly global, international basketball is getting competitive not only between America and the Eastern Bloc, but now Spain, Greece, Serbia and Montenegro, Argentina, France, Brazil, Canada and China are emerging basketball mini-powers.
Two decades post-Dream Team, the USA is now in the position of having to actually try its hardest to beat the competition. According to the Wall Street Journal, 83 foreign-born players held roster spots on NBA teams in 2010-11. The following June, 14 of the 60 players drafted in the first two rounds of the 2011 NBA Draft were not born in the United States of America.
Let's not get ahead of ourselves. Americans were drafted at the top two spots and the coverage beforehand was billed as a choice between two men in a two-man-deep draft. Still, no one seems all too excited about Kyrie Irving or Derek Williams. Irving ended up as Cleveland's number one pick and even then analysts immediately billed the decision as the Cavs simply needing a point guard more than a 'tweener forward.
Almost as a matter of fact, analysts had it nailed — and I am paraphrasing here — that "there are only two sure-fire NBA players in this draft." They suggested that "hey, you have to selectsomeone for these other 58 picks."
After, they came in a five-man rush from three continents, all big buys. If you trust the experts, each is only somewhat likely to crack a roster spot: Enes Kanter from Turkey to Utah, Tristan Thompson from Canada to Cleveland, Jonas Valanciunas from Lithuanaia to Toronto, Jan Vesely from the Czech Republic to Washington and Bismack Biyombo from the Congo to Sacremento. Nine picks later at sixteenth, Nikola Vucevic (another big guy) would sign to the 76ers, then Spanish forward Nikola Mirotic would eventually end up in Chicago. Later, Canadian point guard Cory Joseph, the only true foreign guard taken in the first round, would stay in Texas, moving from his NCAA Texas Longhorns in Austin to the Spurs in San Antonio.
In the second round, seven more foreign-born players would be chosen: more big guys and a few guards. Other than a few players who stand out solely from reasonably strong Final Four showings, the foreign-born guys are just as forgettable as their American counterparts. The second round of a weak draft.
But what's with all the big guys? No one knows. Seriously. NBA scouts and GMs don't even seem to know. In that run of five-straight Big Huge Foreign-Born Picks (BHFBPs), nearly all of them have giant proverbial question marks circling around their giant, foreign heads.
Some clues abound, though speculation reigns. The biggest mystery of the bunch is Enes Kanter, also selected the highest among the BHFBPs at third. His intent to play for John Calipari at U of Kentucky and subsequently being ruled ineligible by the NCAA is Turkish folklore at this point. As a result Kanter didn't play competitively for months on end, but stories of him breaking Dirk Nowitzki's scoring record at the Nike Hoops Summit in 2010 sparked the Jazz' interest in the 19-year-old.
Brampton, Ontario's Tristan Thompson was a surprising selection by the Cavs at number four considering he entered the draft as a freshman, earlier than some thought he should go after putting up weaker numbers than expected. Similarly, the Raptors, Wizards and Kings have been quick to quell the excitement on their picks, suggesting that each needs medium-to-major development to be able to play quality NBA minutes in the future.
Why are GMs finally taking "chances" on foreign-born players?
Because they aren't the "chances" they once were. The Nowitzki-led Mavericks can take some credit for this, but realistically it's a process that has been gaining momentum since Hakeem Olajuwon started leading the Rockets to championships during MJ's baseball sabbatical, with Petrovic and Sabonis, Divac globalizing the NBA before that.
Other reasons spring to mind right away, too. Has the looming uncertainty towards the CBA and the possibility of not having a 2011-12 NBA season allowed GMs more leeway to gamble with their picks? Probably. Did a weak class of American players inspire NBA execs to look beyond American borders to find talent? Probably that too.
The credit should fall to a more culturally-inclusive generation of NBA fans. Young people in general are less xenophobic than their parents and older cousins. It's the "global village" phenomenon having taken hold for a while now, and after a decade of a very successful worldwide marketing strategy bearing fruit (thank you, Yao Ming and Michael Jordan), the growth of professional basketball in North America is tied to the economic growth of the NBA in international markets.
It's a nod to economic necessity that the NBA needs to be more globally inclusive. Look at the growth of the NBA among African American audiences as NBA rosters became predominantly black throughout the 70s and 80s — that's no coincidence and also perhaps so obvious it's easy to forget. The extra financial benefits from a growing international audience (Asian audiences getting NBA games through satellite TV and digital streams, Brits attending NBA pre-seasons games in London, etc.) could be the chunk of cash that makes NBA salaries affordable for NBA franchises. It's that insane paradox that has us teetering on the brink of lockout.
Right now David Stern and co. are arguing with the NBA Player's Association over the future of how the 30 franchises pay their 360 employees, simultaneously determining the fate of entertainment for a few hundred million people across the globe. The successful strategies for American pro basketball will be the ones that shift the balance of power in international basketball away from the USA, with the legacy of the 2011 NBA Draft manifesting itself in the thousands of basketball hoops springing up all over this planet's six other continents.
[php snippet=1]