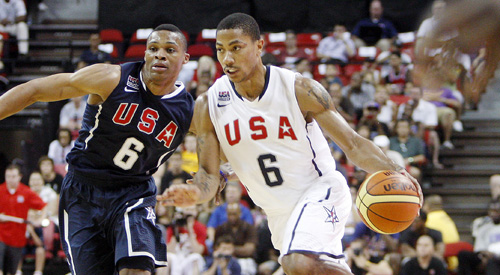 The class of 2008 and the gentlemanly NBA
July 8, 2011
I like to think that when Anthony Mason watches an NBA game that has taken place in the last decade, he recoils in horror in the same way that the ghosts of James Dean and Steve McQueen recoil when Leo DiCaprio fires up the Prius to pick-up vegan scones and a cafe au lait. The prevailing sense of emotion I am trying to convey here is that alpha-males in powerful, iconic roles need to "man up", do it hard, assert their aggression and stop being so damn friendly to everyone.
On the court, players have reason not to act as rugby players. The very existence of the NBA was threatened during the most aggressive, low-scoring periods of the game. Now the rules make a basketball contest one of finesse and skill, not brute force or attrition. A more gentlemanly affair.
Off the court, this attitude still prevails. Today's NBA players tend to be friends with one another, regardless if one is a Celtic and the other is a Laker. In many cases, they've been sharing the court with one another since their early teens in AAU tournaments and All-American showcases. They tweet and text each other semi-publicly, and appear together in commercials, basketball camps and golf tournaments – as well as all the extra-curricular activities we don't know about.
It's easy to link a casual softening of the NBA to the chumminess of the players themselves. A large part of amateur sports is the unique condition of wanting to knock someone's head off during competition, and an hour later hoping to share drinks or a car ride home with that same individual. It's only reasonable to expect professional athletes to have an even better sense of gamesmanship and so it's no surprise that NBA players are usually able to concede with class. After all, it's ridiculous to think that any of these players will enter the NBA and play with the same 11 guys for their entire career. In the NBA there is always the lingering idea that your boss might hire the guy you clipped at the knees last season… or slept with your mom. In short, don't burn all your bridges.
It's been the 2003 Draft class recently credited with changing the culture of the NBA away from the thuggishness and aggression that seemed to prevail in the 90s and early 2000s. Widely acknowledged as the most talented class since the 1998 Draft – if not ever – this includes the likes of current anointed superstars LeBron James, Carmelo Anthony, Dwyane Wade and Chris Bosh.
[php snippet=1]
Last summer's offseason drama was such a huge story for a variety of reasons. Trades and signings are always a big deal, but never before did the athletes also seem to be the agents. While the exact details aren't available (because no one is willing to share such info), it is known that the merger of Bosh, Wade and James was in some small way imagined while the players spent time together at All-Star Games and the 2008 Beijing Olympics.
These accusations of collusion skirt the usual order of how trades and signings work. Teams have historically had the upper hand in negotiations, meaning that, if you were traded, you went where you were sent. In recent decades, contracts have been more accommodating to athletes trying to control where they play. Since the 2005 CBA came into effect, "sign and trade" clauses have seen teams unable to protect prized assets during free agency, getting hosed and plummeting towards the basement of their respective conferences in the process.
Bonus stipulations in contracts paying big money for playing in big markets, a staple of current shoe and promotional deals today, provide extra financial incentive to leave small-market teams. Terrible weather and a lack of numerous five star restaurants don't help either. As a result, Toronto and Cleveland have become wastelands trying to achieve mediocrity, destroying the very financial viability of those franchises for seasons.
Of course, Minnesota similarly felt the loss of Kevin Garnett, when he forced his way east, joining Paul Pierce and Ray Allen via a trade with Boston in 2008. In a similar move to that of last season's Heat, the Celts "Big Three" took significantly less criticism for "stacking the deck". Some argue that this Celtics move cast the mold for the 2010-11 Heat, but critically, in Boston it was Danny Ainge, the club's general manager, who arranged that deal, not the players themselves.
Anyone who watched the rugby matches between the Knicks and the Heat in the 90s will tell you that the NBA hasn't always been this chummy. Not only were the actual 48 minutes of basketball much more physical pre-2003, fans also got the feeling that the fight would spill over into a Manhattan or South Beach strip club restaurant if those guys got in the same room together. I bet that if P.J. Brown was to walk into a Las Vegas casino restaurant today and see the sharp razor lines of Anthony Mason's haircut, he would still promptly find somewhere else to be.
This is in stark contrast to the way the newest generation of NBA stars like Chris Paul and Kevin Durant act, seemingly able to phase shift from warrior to diplomat at the sound of a buzzer. When the Hornets threatened to upset the Lakers in the 2011 Playoffs, it looked almost as if Kobe Bryant was giving Paul words of encouragement in the midst of post-game celebrations. The same thing happened between the older generations Mavs, lifting up the spirits of the upstart Thunder after their Western Conference semifinal loss.
On the inverse, the friendly interaction between the Celtics and Heat after their Eastern Conference quarterfinal series quickly devolved to a bitter concession to the new crew from the old guard as all but Allen and Delonte West fled the court without shaking hands.
This conciliatory attitude towards your conqueror might be the result of an overly politically-correct culture that expects their athletes to be exquisite role models. Or perhaps more realistically, it is the marketers that want a squeaky clean product to sell, and it is hard to sell these athletes as role models when they are doing the violent, indecent things that naturally bubble to the surface during competition.
This necessary marketability is rubbing off on the new guys. The 2008 Draft class is quickly gaining a lot in common with their 2003 brothers: they're instantly as marketable as they are talented, they know how to give interviews, their discontents are quiet and their handshakes at the beginning of games aren't forced.
Reigning king of the 2008 class is MVP Derrick Rose, with super-athletic guard Russell Westbrook bringing an intense athleticism to the an impressive Thunder playoff run, and Kevin Love beating Moses Malone's record for most consecutive double-doubles since the NBA-ABA merger in 1976. Other 2008 classmates making a noise last season were Jerryd Bayless and Mario Chalmers, Serge Ibaka, and J.J. Hickson; with O.J. Mayo and Michael Beasley doing so for some not as great reasons.
This class also seems closer than their 2003 predecessors. While they may not coordinate outfits like LeBron and Wade, Rose, Westbrook and Love coordinated their offseason workouts between seasons last year, training twice a day for six days a week together in a Santa Monica high school gym. The results were evident in all their stats this season, but will we see it in trades in the coming years?
Love is also quite friendly with fellow 2008 classmates Bayless, Mayo, and Beasley, having attended tournaments and functions with one another as highly-recruited high school talents. The 2008 documentary "Gunnin' for That No. 1 Spot" (directed by Beastie Boy Adam Yauch) is a great portrait of young NBA hopefuls and how they are herded into the insane realm of pro basketball. In preparation for a showcase at famed Rucker Park in Harlem, it's evident that the players are taught just as much about the NBA marketing apparatus as they are the game of basketball. It is in these moments of awe in hotels, in airports and busses, interviews and fittings that these players are becoming friends and possibly building their futures together.
Like employees in all sectors of work, after a few years on the job you start to tweak things to get it the way you want. It is years later, it seems, where they begin to realize that they are truly first-rate commodities in charge of their own destiny.
Gamesmanship isn't something that is natural. Historically, only the promise of mutual profit has been able to unite countries in war. While the Anthony Masons of the 90s inherited an aggressive, who-needs-friends game inspired by Bill Walton and Rick Barry, the turn of the millennium has seen the corporate interests trump the violence of competition.
Rival gangs at war have become brands in synergy, and the NBA is responsible for this change in culture. The teams are friends, why shouldn't the players? Creating a more marketable product means everyone has to get along. During a crisis of lockout, the NBA is looking to maintain this brand and keep the economic momentum it gained this year. For the owners, maintaining control of their roster decisions is one of the key ways to manage and control their franchises. Without this sense of power over the businesses they so publicly control, owners are more so at the whim of their top employees, thus creating a pressing need to maintain this legal upper hand as they negotiate the current CBA.
It cannot be ignored that much (or all) of the momentum gained this season is a result of "The Decision", and that players themselves have much more of a distinct and vocal role in marketing the NBA product due to the phenomenon of social media.
A wave is about to crest, and after it does we'll know whether we've entered a new era of the NBA where athletes and agents hold the power over GMs and owners. Whatever comes of the new CBA, it is unclear whether the powers at be can stop Russell Westbrook, Derrick Rose and Kevin Love from making the 2015 Chicago Bulls into a not four-, not five-, not six-, but seven-time world champion.
[php snippet=1]