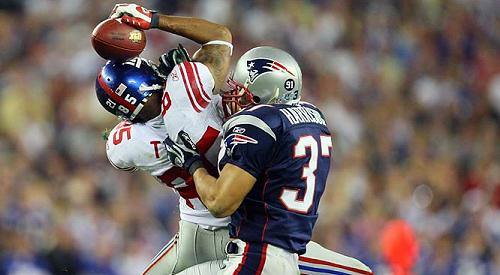 Giants and Patriots set to meet again, but without many notable figures
February 2, 2012
The overarching theme for previews of this year's Super Bowl have been the focus on a rematch of Super Bowl XLII, which saw the New York Giants defeat the then-perfect New England Patriots 17-14 in one of football's most famous upsets. Four years have passed, however, and many notable figures on both sides from 2008 have moved on. An interesting element of Super Bowl XLVI may be the players who were there four years ago but aren't anymore, and who's come in to take their place. Here are some of the most important departures:
Michael Strahan, Giants DE
Strahan left a memorable impact on the NFL, earning seven Pro Bowl nods and four first-team All-Pro selections over his 15-year career. Super Bowl XLII was his final game, but he wasn't merely hanging on; he recorded nine sacks that season and put up three tackles and a sack in the big game, while forming part of a Giants front that was crucial to harassing Patriots' quarterback Tom Brady all day long.
Appropriately, Strahan hasn't faded into the background since retirement, doing commercials for Dr. Pepper and Subway (amongst other brands) and serving as an NFL studio panelist for FOX.
While he was a key player for the Giants, though, he won't necessarily be missed Sunday, as the new defensive line looks just as dominant if not more than the old one; the current Giants feature holdovers Osi Umenyiora and Justin Tuck (who didn't start the 2008 Super Bowl, but was a dominant player in it with two sacks), but also have added Jason Pierre-Paul, who recorded a team-high 16.5 sacks this year; tackles Chris Canty and Linval Joseph have also been impressive. Despite Strahan's absence, the defensive line is still a Giants strength. 
[php snippet=1]
Randy Moss, Patriots WR
Moss had one of the best years of his incredible career in 2007-08, recording 1,493 receiving yards and 23 touchdowns during the regular season. Moss was held to five catches for 62 yards in the Super Bowl, but did record a touchdown, and his 62 yards were the second-highest receiving total on the team (behind only Wes Welker, who's still a strength of the modern day Patriots).
New England hasn't really replaced Moss, as no one on the team has his speed, but they still have an incredible receiving corps with outstanding possession receivers like Welker and Deion Branch and two matchup-destroying tight ends, Rob Gronkowski and Aaron Hernandez.
Antonio Pierce, Giants LB
Pierce was a key piece for the 2007-08 Giants, recording 77 tackles and leading the defence from his spot at middle linebacker. He retired after the 2009 season, and his nominal replacement at MLB, Greg Jones hasn't been anywhere near as productive, but the Giants still have at least one superstar in their linebacking corps: strong-side linebacker Mathias Kiwanuka.
Laurence Maroney, Patriots RB
Maroney was a solid contributor at RB for the Patriots in 2007-08, picking up 835 yards and six touchdowns. He also had a team-high 36 rushing yards in the Super Bowl, but was held to 4.5 yards per carry. His production declined sharply the following year, and the Patriots traded him to the Denver Broncos in 2010
The Broncos didn't re-sign him this year, and no one else was interested. The Patriots' running game is still a bit of an issue, though: BenJarvus Green-Ellis led the team with just 667 yards on 181 attempts this season, an average of just 3.1 yards per carry.
Plaxico Burress, Giants WR
During the 2008 season, Burress led the Giants with 1,025 receiving yards, but was held to two catches and 27 yards in the Super Bowl. Burress infamously shot himself in the leg at a club in late 2008, was charged with criminal possession of a handgun and wound up doing two years in jail. He signed with the New York Jets this year after his release. He's been replaced by new star Victor Cruz, who had 1,536 receiving yards respectively this season.
Mike Vrabel, Patriots LB
Vrabel, a weak-side outside linebacker, led the Patriots with 12.5 sacks in 2007-08, but was held to two tackles and no sacks in the Super Bowl. After a stint with Kansas City, he's now an assistant coach at Ohio State University. Nominally filling that role now is veteran Tracy White, but the real star in the linebacking corps is now MLB Brandon Spikes.
Amani Toomer, Giants WR
Toomer had 760 receiving yards in 2007-08, and he came up big in the Super Bowl with 84 yards on six catches. Toomer was signed by Kansas City in 2009, but was cut before the season started. He's been replaced by a receiving corps that includes Cruz and Hakeem Nicks, who had 1,192 yards this past season.
Rodney Harrison, Patriots SS
Harrison, a two-time Pro Bowler and a two-time All-Pro selection, was a key part of the 2007-08 Patriots. He had 54 tackles that year (with injury limiting him to 11 starts) and recorded a team-high 12 in the Super Bowl. He's been replaced by Patrick Chung, who was limited to eight games by injury this year and recorded 39 tackles.
David Tyree, Giants WR
The most famous face, or helmet, of Super Bowl XLII never recorded another NFL stat afterward. He missed the 2008-09 season with injury, was cut in early 2009 and despite catching on with the Baltimore Ravens that year, never made a catch in a game with them.
He only recorded 650 career regular-season yards, but was the crucial figure in the Giants' 2008 victory thanks to his helmet catch. Which off-the-radar figure will step up to replace him this year? Well, no one knows, so that's perhaps one of the best reasons to watch Sunday's game.
[php snippet=1]