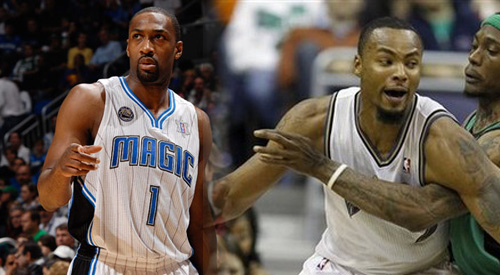 Gilbert Arenas or Rashard Lewis: Whose contract is worse?
August 12, 2011
Quick, name the five highest paid players in the NBA.
Three of the five shouldn't surprise you: Kobe Bryant, Kevin Garnett, and Tim Duncan. They're franchise cornerstones, perennial All-Stars, MVPs and have 10 rings between the three of them. Kobe is The Black Mamba, dominating and intimidating all comers even as his heavy legs slow him down year by year. Kevin Garnett remains the poster boy of intensity and competition, an unquestioned leader with a motor that never quits. Tim Duncan, the silent giant, the model of consistency, teamwork, and victory, just hit another eight-foot bank hook on a cold February night.
The other two? One is a shoot-first turnover machine who is seemingly justified only by the remarkable feats of his past. The other is a big man who stretches the floor with a soft, clutch three-point shot, a former championship piece whose poor decision-making left him picking up the pieces with a rebuilding team.
Gilbert Arenas and Rashard Lewis, traded for each other in December of 2010, are two very different players with two things in common: They both fancy the long ball and they both have contracts that would make the San Antonio Spurs recoil in pain.
Anybody who follows the NBA closely has heard of Arenas' exploits. For a while it seemed like he had the world in the palm of his hand. He was the underdog, Agent Zero, Hibachi, the high-scoring and trash-talking Champion of the People. Incredible moments like "The Utah Shot" and "The Hibachi Game" only furthered his reputation not only as the NBA's black sheep, but as a star to be reckoned with. Entering his late 20s, the typical prime of an NBA career, Arenas was solidified as The Other Star of the league.
After the 2006-07 season – yes, it was that long ago – Gilbert got paid. It was his third consecutive year of posting at least 25 points, 40/35/80 percentages, and a PER of above 20, and the Wizards somewhat controversially rewarded him with a whopping six-year, $111 million contract with a player option for the final two years. At the time Arenas was ironically applauded for taking less money than the Wizards offered him, in order to not "financially bind" the team.
[php snippet=1]
Then, his knee blew out. He came back too early and blew it out again, so he had it drained four times. Then there was the gun incident, in which Arenas allegedly brought firearms into the locker room after squabbling about an unfinished bet with then-teammate Javaris Crittenton. That was the last straw for Washington management, who felt Arenas' actions not only humiliated them as an organization, but disrespected the memory of their former owner, the late Abe Pollin, who changed the franchise's name from "Bullets" to "Wizards" to get away from the image of gun violence in the nation's capital.
However, Washington was (again, see the irony here) financially bound by Arenas' contract. He had only agreed to sign if the Wizards also re-signed veteran forward Antawn Jamison, which they did for four years, $40 million. Their only option was to trade him, and there was only one contract able to match Arenas' in both fiscal absurdity and lack of production.
Enter Rashard Lewis. Lewis was the second-best player on a decent Supersonics team in the early 2000s, where he posted an average PER of 18.3 over the eight years he was a regular in the rotation. His final two years in Seattle, with consecutive seasons with a PER of 20+, led him to the Orlando Magic. With Stan Van Gundy's three-heavy offense and a young Dwight Howard dominating the middle, the match was almost too good to be true. The options Lewis provided to the team made him near invaluable to Orlando, and he was compensated as such: six years, a $113 million max contract.
Lewis became a key component of the Magic's contending run of the late 2000s. Orlando's unprecedented comeback against the Boston Celtics, coming back down three games to two and clinching the Eastern Conference Finals in Beantown, can largely be attributed the absence of Kevin Garnett, which created a tremendous mismatch with Lewis' size and range. This also came in handy in dispatching the favored Cleveland Cavaliers, as his outside touch almost neutralized Anderson Varejao and Zydrunas Ilgauskas. Even in the Finals against the Los Angeles Lakers, it took a superb effort from Lamar Odom to quiet Lewis' efficiency, allowing both Gasol and Bynum to work with Howard.
After the 2009 run, however, Lewis seemed to fade. He still provided the Magic with one of the league's biggest mismatches, but his effort and consistency left plenty to be desired. In the 2010 playoffs he registered a meek 14.2 PER, posting percentage drops of nearly 20 points in both FG% and 3P%.
To begin the 2011 season, Lewis was suspended the first 10 games after testing positive for a testosterone enhancer, similar to that which Manny Ramirez tested positive for before his retirement. Whether the suspension messed up his rhythm or through some explanation involving the substance, Lewis' 2011 season began subpar at best, and he was subsequently traded for Arenas, in an attempt to get the Agent Zero of old and for Orlando to return to the Finals.
Neither situation has worked out so far. Lewis is on a Washington Wizards team that has a bright future, but is a few years away from becoming a serious threat. Instead of a 33-year-old (as of last Monday, happy birthday Rashard!) veteran playing as a specialist in his prime, Lewis' talents seem to be wasting away on an undercard team. Arenas is a focal point, as always, but not for his play. There were small flashes of productivity in the playoffs, but after Orlando's early exit the man has returned to what he's best at now: being quite possibly the most eccentric personality in the NBA and mildly amusing at best.
But which contract is worse to the team? It's easy to look at points, efficiency, and the like, but Arenas and Lewis are in very different situations with very different expectations. Arenas was obtained to be Agent Zero again, to be Howard's second fiddle and to take over games when need be. Lewis is needed to be a veteran leader, a mentoring voice on a young team. While both are obviously overpaid, the reasons as to why need to be looked at a little closer.
***
First, their contracts. Unless the CBA drastically changes things, Arenas' contract will pay him $19,269,308 next season, while Lewis will be making $22,152,000.
Yeah, it's that bad.
Arenas' contract has an extra bite, though. After the still-technically pending 2011-12 season, Arenas has a player option he can choose to accept. One would have to think he would accept that, which would pay him $43,154,458 from 2012-2014, giving him a three-year total of $62,423,766. Lewis' contract expires without an option after the 2012-13 season, giving him a two-year total of $45,942,000, similar to the final two years of Arenas'. Given that increase, Lewis would actually end up with a higher three-year total than Gilbert Arenas.
Finances: Arenas
Why are we in a lockout again?
So while Arenas' will be eating up more money in the long run, the contracts are similar in year-by-year fiscal destruction. Both of the players' PERS are horrid. Arenas registered a nightmare-inducing 8.6, worse than both Mike Bibby and Joel Anthony's season with Miami. Lewis finished with a 12.8, tolerable compared to Arenas' but still comparable to Jeff Green (12.9) and Brad Miller's career-low (12.9).
Individual production: Lewis
On the court basketball is a team game, and individual stats don't always tell the entire story. According to 82games.com, Lewis was on the floor 1,013 of the 1,536 minutes of game time while he was with Washington, a good 66% of the time. While he was on the floor, the Wizards' suffered a total of a -5.5 point swing, but other than that the changes are minimal: In 1,013 minutes the Wizards were only outscored by 99. Arenas' Orlando stats aren't up yet, but in his short time in Washington the results said enough. With Arenas on the floor, the Wizards suffered a -9.3 swing, were outscored in total by 113 in only 725 minutes, and Washington's defense actually improved by 3-4 points when he was off the court. Take into account that Arenas' PER dropped from 14.0 to 8.6 when he was traded to Orlando, and you can imagine the rest.
On-the-court production: Lewis
While both players are horribly overpaid, Arenas' destruction goes beyond the bank. He posted a career-high turnover percentage while with Orlando, continues to disgrace himself on Twitter, and is hurting both his image and that of the Magic's on a day-by-day basis. Even though Lewis' contract is unforgivably high, even his poor production only hurts the Wizards on the court, where they're not so hot anyway. Everywhere he's gone, he's gotten praise as a high-character teammate. While Otis Smith made a gutsy roll of the dice acquiring Arenas, the consequences have already begun to take place far off of the basketball court.
With that in mind, by every stretch of the imagination, Gilbert Arenas' is the worst contract in the NBA.
[php snippet=1]