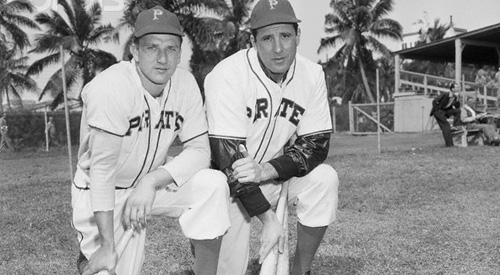 A year in the life of Hank Greenberg
November 21, 2011
Now, more than ever, the act of one player playing for one team is perceived as something of an alien possibility. The game isn't built for one player to commit that kind of loyalty to a single franchise. But this event wasn't uncommon in the game's early years; the best players are remembered almost as much for the jersey's they wore as the plays they made. Mickey Mantle wasn't just a great center fielder, he was a Yankee center fielder. Same with Joe DiMaggio. Roberto Clemente just wouldn't look like Roberto Clemente if he wore Cardinal red instead of Pirate yellow. Ted Williams, Cal Ripken Jr., Tony Gwynn; all Hall of Fame athletes who never had to worry about which hat they would wear in Cooperstown.
Henry Benjamin Greenberg never had to worry about that dilemma, either. One of the games greatest sluggers, Greenberg ruled the Detroit Tigers in the 1930s and 40s. He twice won the American League MVP ('35 and '40), and twice led the Tigers to a World Series win ('35 and '45). In 1938, Greenberg hit 58 home runs, tied for the highest in Major League Baseball (with Jimmie Foxx in '32) since Babe Ruth's famous 60 in 1927 (it was also the second highest mark until Roger Maris broke Ruth's record 34 years later).
Greenberg's Hall of Fame credentials spoke for themselves; he was elected into the HOF in 1956. But on his plaque, there are two things that pop out. One, a gap of playing time between 1941-45, when Greenberg served in the US Army during World War Two. The second occurred in 1947, the only year Greenberg spent in the majors not as a member of the Detroit Tigers. That year Greenberg wore a jersey of different stripes; his final year in the majors, a member of the Pittsburgh Pirates.
Greenberg's journey from Detroit to Pittsburgh doesn't come from the books of a fairy tale. It's not the story of an already Hall of Fame ballplayer spending his final season playing for his boyhood team. It's not the story of a veteran star taking a rag-tag group of loveable losers all the way to the league championship. It was the story of a man, ready to call it a career, lured back because of a desire to play and the concessions given to him by an ownership all-too-eager to put him in uniform.
[php snippet=1]
By 1946, Hank Greenberg was pretty much a hero for the Detroit Tigers. He won the MVP twice, once in 1935 as a first baseman and once in 1940 as a left fielder. He was the first player to win that award playing two different positions. His first MVP season brought the Detroit Tigers their first World Series title. After the war, Greenberg returned to the Tigers homered in his first game back. He played half a season, made the All-Star team and led the Tigers to their second World Series title. There really wasn't much left for him to prove.
But Hank still played, and played well for the Tigers. He struggled to begin the '46 season but finished strong, leading the league with 44 home runs and 127 RBIs. The offseason following featured a pair of events that would eventually push Greenberg out of Detroit and into the National League.
There was a deal in place for Greenberg to receive a $75,000 salary, including a $55,000 base and a $20,000 bonus should he retire or be sold to another team. It was one of the biggest contracts in history. But despite Greenberg's strong season, when he kicked the tires regarding retirement, new Tigers GM George Trautman informed him he would not be receiving the bonus. Clearly this did not sit well with Hank, who argued it was his money all along, just paid out in a different manner.
When it came to financial matters, Greenberg was always ahead of the curve. He was a master and bettering himself financially and finding legal loopholes. It didn't help matters that Greenberg was a Jewish player in a time of socially-acceptable anti-Semitism, and that his talent stood hand-in-hand with the stereotypes that defined his culture. In his autobiography, The Story of My Life (co-written by Ira Berkow),Greenberg spoke about his ability to come ahead financially and how some of the rifts that created with upper management. "The clubs didn't like it," he wrote. "Maybe they didn't like Jews coming up with such ideas."
In January of '47, an article in The Sporting News appeared with a feature on Hank Greenberg and his apparent desire to finish his career with his hometown Yankees. The story was accompanied by a picture of the slugger holding a New York Yankee jersey and smiling. Never mind that the picture was taken four years prior (Greenberg was in his army uniform and was about to play in a bond game at Polo Grounds; he needed a jersey to play in); the article did loads of damage to Greenberg's reputation in Detroit. Fans, as well as Tigers owner Walter Briggs were upset. It didn't matter that Greenberg denied the story; the damage was done.
On January 18th, 1947, Greenberg received a telegram saying his contract had been waived and he was assigned to the Pittsburgh Pirates. 16 years, two World Series trophies and two MVP's later, Hank Greenberg was done in Detroit.
"When I got that telegram from the Tigers my disillusionment with baseball set in." Greenberg said in Life. "This was the most insulting way, waiving out the highest-priced player in baseball from the American League contending team to a last-place club in the National League. I became so disillusioned overnight that I made up my mind to quit."
And Greenberg would have quit too, if not for a lunch date with Pirates management. Later that same January, Greenberg was a brand new father living in New York when he got a call from John Galbreath, one of the Pirates owners. He wanted to meet with the slugger but claimed he wasn't trying to convince Greenberg to come play for his team, but that wasn't necessarily the case. During their meeting Galbreath asked about the reasons Greenberg didn't want to play. He originally expressed a disinterest in playing in the National League, feeling a certain loyalty to the AL. There was nothing Galbreath could do about that, but once Greenberg started listing reasons that were possible to accommodate, the Pirates began to make their concessions.
The outfield wasn't conducive to Greenberg's power? Galbreath would renovate Forbes Field, bringing in the left-field wall from 365 to 335 feet, and the section would be known as Greenberg Gardens. Greenberg didn't want to travel by train? The team paid for Greenberg to fly. He didn't want a roommate? Greenberg got a suite. He desired a $100,000 contract and an outright release at the end of the year? Please sign on the dotted line.
It was the easiest negotiation of Greenberg's career. By the end of the meeting, Hank Greenberg was a Pittsburgh Pirate.
Greenberg's year with the Pirates started as well as any. In the opening game, the former Tiger drove in the only run, an RBI double in a 1-0 Pirates win over the Cubs. As a hitter, it would be one of the few bright spots of the season for Greenberg. He struggled offensively in his new environment, as many 36-year-old veterans would. He got into a fist fight with a teammate, pitcher Jim Bagby over a misplay that resulted in slanderous comments, and Greenberg ended up with a black eye. He grew frustrated with the team's lack of winning and the laid back attitude in the clubhouse. It wasn't what he was used to.
But this doesn't mean Greenberg's season with the Pirates was a disappointment; quite the opposite. There were moments and relationships that may have not seemed important at the time, but would prove to be incredibly beneficial.
An important meeting took place on an otherwise ordinary mid-May afternoon at Forbes Field. Greenberg's Pirates had just enjoyed the last three days off and were welcoming the Brooklyn Dodgers to town. These Dodgers, however, carried a little extra baggage than most teams. Batting second for the visiting team was a rookie infielder named Jackie Robinson.
As expected, Robinson's rookie year was littered with racial epitaphs and death threats from fans, opponents and teammates alike. Greenberg was one of the only players in the league who could identify with that kind of hatred. As a Jew he had heard his fair share of racial heckling. However, Greenberg would be the first to point out that Jackie had it much worse.
In Greenberg's opening at-bat he drew a walk, and greeting him at first base was Robinson (Jackie played first base for the '47 season; he didn't start playing second for Brooklyn until '48). A conversation sparked between the two, and Greenberg told Jackie "Don't pay attention to these Southern jockeys. They aren't worth anything as far as you're concerned."
Robinson asked Greenberg to dinner that night, an invitation Greenberg declined so not to put Robinson more-so on the spot.
The mere optics of a Jew and a black talking to each other during a major league game drew the attention of the 13,471 in attendance that day. Imagine if the technology of today was available during the mainstream bigotry of those times; ESPN might have exploded.
The impact Greenberg had on Robinson was clear. "Class tells," said Robinson. "It sticks out all over Mr. Greenberg."
Greenberg would be the first to call his play on the field in a Pirates uniform a disappointment. The team finished with a 62-92 record, tied with the St. Louis Cardinals for worst in the NL. He set a career low in batting average and made his mistakes in the field. But for all that, Greenberg made his mark with the team outside of the conventional parameters. His name recognition alone was enough to drive the gates to new highs; Pittsburgh topped the one million mark in attendance for the first time in franchise history. It was a thrill for Pirates fans to see one of the best hitters of all time manning first-base, even if, by his own standards, he was a shell of his former self. Greenberg's influence spread within the clubhouse as well, particularly with a 26-year-old outfielder by the name of Ralph Kiner.
Kiner was in his second big-league season in 1947. Born in New Mexico but raised in Los Angeles, Kiner somehow had become a Detroit Tigers fan growing up, and Greenberg was his boyhood idol. During Spring Training, Kiner was introduced to Greenberg, and the two immediately hit it off.
Greenberg wanted to play mentor to Kiner, and the younger player was all-too-happy to oblige. The duo spent hours taking batting practice, Greenberg teaching Kiner to stay close to the plate and pull the ball. He stressed the importance of hard work and perseverance, and taught him the art of studying pitchers.
Greenberg was clever and gave his protégé a couple of tips to fool the opposing pitcher. Greenberg taught him how to steal signs from the catcher; Kiner would memorize the hand signals catcher's would throw down, and he, Greenberg, and Pirate catcher Billy Sullivan would work on trying to crack the code.
Kiner also learned how to trick pitchers during games. Greenberg advised Kiner, at the beginning of games if nobody was on base, to sometimes swing poorly at certain pitches. Then, later in the game, when the stakes were higher, look for those same pitches and crush them.
The elder first baseman's influence clearly rubbed off on the young one. In his first and only year as a teammate of Greenberg, Kiner saw his home run numbers jump from 21 in '46 to 51 in '47. His batting average rose from .247 to .313. His strikeouts fell from 109 to 81. Much of this came from Kiner's maturity as a hitter, a maturity gained from playing a season with his hero.
"Hank was the biggest influence of my life." Kiner said in Life. "No one except Hank taught me anything."
Greenberg and Kiner roomed together for most of the season, even after Hank's request to be by himself during his "negotiations" with Galbreath. By the end of the '47 season, the aforementioned "Greenberg Gardens" had become "Kiner's Korner." In 1975, Ralph Kiner was elected into the Hall of Fame.
Greenberg finished the 1947 season with 25 home runs (a personal benchmark he set himself at the start of the season) and led the league in walks. However, he hit only .249, by far the lowest of his career. Pittsburgh management tried to get Greenberg to come back for one more year, but Hank wasn't interested. He received his unconditional release on September 29th and retired from active play.
Hank Greenberg entered Cooperstown in 1956 and his plaque rightfully shows him wearing a Detroit Tigers hat. His one season in Pittsburgh is mentioned below his 16 with Detroit. It was an important year, but it's easily forgettable, a fitting mirror to the career of one of the greatest and most overlooked players in baseball history.
***For more on Hank Greenberg's career, check out his autobiography The Story of My Life, co-written by Ira Berkow.
[php snippet=1]