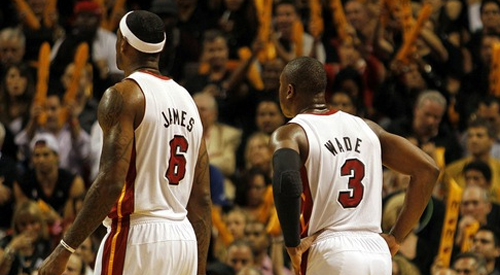 The Big Two made the wrong decision
November 17, 2010
Big Three? What Big Three? Can somebody let me know who makes it three, because it certainly is not Chris Bosh.
He doesn't block many shots. He's soft and doesn't play aggressively on defense. He isn't anything special with his back to the basket either and, simply put, just isn't an enforcer.
Despite these weaknesses, with all said and done, Bosh is an undoubtedly great player. The problem is that he isn't a superstar, nor does he have any idea how to be a role player. This middling basketball personality just doesn't mesh with two of the five best NBA stars.
Right now, there is no Big Three on the Miami Heat. It doesn't exist. It's a myth, in the mold of Sasquatch and the Loch Ness Monster, perpetuated by the often tabloid-esque musings of ESPN.
LeBron James and Dwyane Wade make it a Big Two, and Bosh makes it a big 2.5, but the Heat, their fans, and most experts were expecting a Big Three. They haven't gotten it, and they never will. The idea that anyone actually expected that is somewhat laughable. Bosh was never the superstar he was exaggerated to be over the summer. His strengths and weaknesses were well documented, and he is who he is. Not that there's anything wrong with that.
Bosh was clearly an All-Star caliber player in Toronto when the ball continually circulated through him on offense, but even over the past year, he has made statements claiming that not only does he not want to be a center, but that he wants to be the man on his team. Unfortunately in his last year as a Raptor, Bosh was a guy who couldn't even lead his team to a .500 record or a playoff berth in hands down the best season of his career. Where's the elite in all of this? Does he really sound like a good choice as Robin to two Batmans?
[php snippet=1]
But let's not bash Bosh. That's not even the point to be taken from all of this because Bosh would still be playing at an All-Star level in most other situations. Heck, his numbers are certain to improve this year. Let's question James and Wade for making the decision they did, because it was, point blank, the wrong one.
This is not an overreaction to Miami's slow start, which has featured two convincing losses to their biggest competition, the Boston Celtics. It's a reaction to Bosh, James and Wade being who they are and who they've always been. I've been sharing these sentiments since LeBron announced his Decision over the summer.
Yes, the franchise is in good shape for years to come. They will in all likelihood win their division and compete this year and in the future for the Eastern Conference's best record. The fact is that the Miami Heat are going to be just fine, and they can compete for a couple championships as planned. Whether or not they will win any is unknown, but if Wade and James wanted to go down as true champions and instill complete fear in the hearts of every other team, they chose the wrong franchise and the wrong city.
Mark Jackson, former NBA point guard and current announcer, stated recently that Bosh needs to become an enforcer and average in the teens in rebounds, forgetting about what he has done in the past. The problem with sentiments like these is that, as good as they sound, they just aren't realistic. Chris Bosh is who he is, and he just doesn't have the ability to become that guy. If James and Wade thought that he could become that guy, they were mistaken.
If they wanted to play with that guy, he's in Chicago screaming with each block, each tip back dunk, and each aggressive rebound. His name is Joakim Noah.
This Noah guy is pretty good. He won a pair of championships at the University of Florida and brings more passion to the game of basketball than anyone else in the league. His improvement from year to year has been nothing short of phenomenal. Noah alone is more valuable to any team than Chris Bosh. He has heart, energy, and he's anything but soft. He rebounds like a mad man, and strives to get better, continuously working on his jump shot, his post moves, and his physical stature. His defensive prowess makes Bosh's ability on that end of the court nothing more than laughable. Scoring isn't his biggest strength, but he can do it when called upon, and has shown great improvement with a number of successful moves. Joakim Noah would have been the perfect complementary player for James and Wade. It's that simple. And the great players that they are, they should have realized it.
Another good thing about Noah is that he plays with Derrick Rose, who should have been the main selling point for James and Wade. Maybe you saw him lead his team as a rookie against the Boston Celtics in a legendary seven-game 2009 playoff series. Maybe you saw reports on how he worked out hour after hour every day this summer to improve his game. Maybe, like me, you see the fire in his eyes, for wins not attention. Rose can not only score in dominating fashion, but he is developing the court vision of any true point guard. He draws defenders with ease and either scores or kicks it back out seamlessly. What could anyone do if the players on the wing next to him were Dwyane Wade and LeBron James, as opposed to Luol Deng and the Bulls' smorgasbord of shooting guards? Teams couldn't do anything; they would be as helpless as any defense against any offense in history. Yes, in history.
The Chicago Bulls organization could have found a way to bring in both Wade and James if that is what the players had decided to do. In the end, they never really had a chance, as the two seemingly had their minds made up. Perhaps they were blinded by their friendship with Bosh. As a result, they failed to identify the upcoming progression of Rose and Noah and blew it.
If the question is Chris Bosh or both Joakim Noah and Derrick Rose, the answer is obvious. Frankly, I'd take Derrick Rose alone over Bosh without thinking, and I'd certainly choose Noah over Bosh as a complementary piece. A starting lineup containing Rose, Wade, James and Noah is without question much more imposing than the Heat's current starting five. To top it off, the well of potential for Noah and Rose hasn't even completely been tapped.
LeBron James and Dwyane Wade could have decided to go the Chicago Bulls this summer. Actually no, they should have decided to head to the Windy City this summer. Wade should have gone home, and LeBron should have joined the franchise he rooted for growing up in Akron. They should have joined a city with basketball tradition, where games constantly sell out, and where fans stuck with the team after Michael Jordan and Scottie Pippen left, even when the roster was easily the worst in the league. Their diehard fans stuck with the team when former general manager Jerry Krause shipped a young Elton Brand away for the chance to have Eddy Curry and Tyson Chandler together (oops). They stayed, through all of it, and they rooted for their team. Where have the fans been in Miami? They haven't been in the stadium the last couple years, so it stands to reason they missed the ride on the bandwagon to get them there.
But really, the argument that they should have gone to Chicago is not about the city itself, or the fans, or the winning tradition with Jordan and Pippen, it's about the current roster. It's about Derrick Rose. It's about Joakim Noah.
But maybe it's a good thing it didn't happen. If James and Wade had decided together to sign with the Chicago Bulls, then the league would know the next six champions; the Chicago Bulls, the Chicago Bulls, the Chicago Bulls, the Chicago Bulls, the Chicago Bulls, and the Chicago Bulls. Sure, the Lakers would compete and the Celtics would have a say for a couple years, but really, nobody would win a seven-game series against a healthy roster of Rose, Wade, James and Noah.
Nobody can say that about the Heat, as plenty of teams will have shots at the championship over the next half decade. They are a great team with realistic title aspirations, but they aren't a team that will go down as legendary, like a Chicago Bulls squad would have done.
In the end, the events of this past summer are in the rear view mirror and everybody is moving forward. The Bulls are happy with their team and the Heat are happy with theirs, but the question begs to be asked, and yet no one is asking it.
What if the right decision had been made?
[php snippet=1]