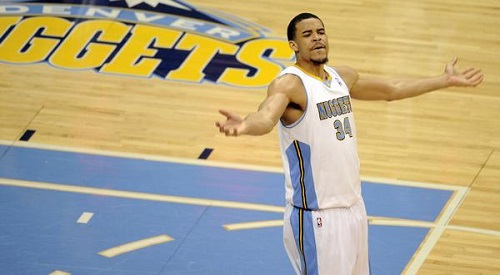 The Javale McGee Effect
April 1, 2013
Remember the other recently ended NBA streak, the one not getting as much buzz?
The Denver Nuggets just ripped off a 15-game win streak, which unfortunately happened to coincide with a gigantic Miami Heat win streak. It's too bad the Nuggets aren't getting more attention: they're one of the best teams in the tough Western Conference and they're ripping through opponents without any superstars.
Indeed, they've got one of the most enjoyable players in the NBA and play a wildly entertaining style of basketball. They're a team any basketball fan could love. A team you should love. Allow me to explain.
First and foremost is the singularly entertaining JaVale McGee. You probably know him by his reputation: a player who makes bad plays. It's a rep he earned in his Washington days, on a dysfunctional team featuring him, John Wall and Andray Blatche. Last March, Washington blew up the team, sending McGee to Denver in a three-team deal. I think it's fair to say Denver won that deal.
Roll the tape and watch: McGee's one of the best pure athletes in the NBA right now. He's 25, 7'0" tall and capable of mind-boggling things. In a recent game against Chicago, McGee threw the ball in from over the basket, something you'd normally see in a dunk contest. In a December game against Memphis, he went up to block a Zach Randolph shot and grabbed the ball in mid-air. He did it again a few days ago against Philadelphia, too.
[php snippet=1]
The only kinds of people who don't like McGee are those going out of their way to not like him. He plays an energetic, aggressive style of basketball. He slams blocks deep into the stands, off of other players and to create a fast break. He dunks over two players. And he's not afraid to make jokes on national TV. Buzzfeed called McGee "the most consistently weird, funny, crazy athlete on Twitter," no small accomplishment going up against Shaquille O'Neal or Chris Bosh.
Or look at his stats: McGee doesn't play as many minutes as half the team, but he's an efficient player. He leads the Nuggets in PER and is among the team leaders in points per 36 minutes, Win Shares per 48 and shooting stats. And look at his off the court activities, like how he helps out with a youth center in Flint.
And McGee's just one part of a surprisingly likeable Nuggets team. There's Kenneth Faried, who dominates the boards and the scoring combo of Danillo Gallinari and Ty Lawson. There's Andre Iguodala, freed from basketball purgatory in Philadelphia and finally with a good shot at a deep playoff run.
They combine for a high-flying, offensively minded team that's a blast to watch. The Nuggets are third in the league in points scored per game and second in pace. They run up the score – they've scored less than 100 points just three times all month – running transitions like the Phoenix Suns of yore and dunking without any regard.
In a league full of Big Threes, the Nuggets are refreshing. They weren't built by luring together a few top-tier free agents. They don't have anyone the average fan would consider a star: Igoudala, perhaps, but even that's a stretch. Nobody from the Nuggets played in this year's All-Star game.
And it helps that they're pretty good, too. They're third in their conference, just a hair above the Clippers. They have a better record than nearly all of the Eastern Conference and have the league's fifth-best SRS. They don't get the buzz the Spurs or Thunder get and aren't quite as compelling a story as the race for the conference's eighth seed is.
But that's cool. And so are the Nuggets: they aren't fashionable, they aren't compelling and they're not star-driven. They're a goofy, fun team with one of the league's goofiest players. And they dunk better than FGCU, too. If you're sick of seeing the Heat talked about every night, there's no better team to start watching.
[php snippet=1]