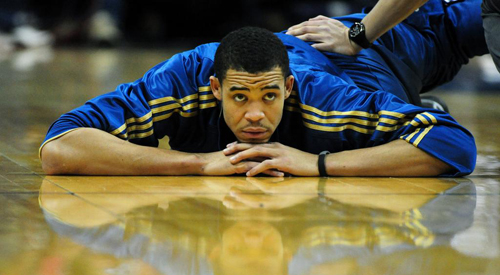 The pathos of JaVale McGee
February 7, 2011
JaVale McGee dunks the way that I would if I could, if one day I woke up and had the necessary lift or athleticism. He does it all the time. One part leaping ability and one part wingspan, his dunks are resolute expressions of the joy that comes from being professionally tall.
McGee is listed as 7'0″, the magical height that makes you "tall" even by the NBA's hyper-inflated standards. He's also surprisingly athletic for a man with his height, capable of running the length of the floor and driving the lane with a degree of control uncommon in other centers.
And, he just really likes to dunk. A lot. To the point that his page on Basketball-Reference.comis sponsored by an anonymous Wizards fan promising McGee that he can have as many ally-oops as he wants as long as he remembers to play defense and box out.
The problem with the 23-year-old's dunking resume is that it's heavy on quantity and light on quality. His best highlight reel on Youtube (the Library of Congress for basketball, per se) is a mix-tape of the game in which he slammed a career high eight dunks. A few of them are "Top-10 Play of the Night" worthy, probably in the 4-7 range, but nothing worth selling an unborn child for. And isn't that all we really we want in a dunker?
Watching McGee play though, it quickly becomes clear that neither my – or anybody else's – subjective perception of what it takes to be a "good dunker" means little to McGee. Each slam, for him, is a labor of love, followed by a triumphant salute to the crowd that he uses like a trademark catch phrase. He's like a child who finally discovered the existence of sugar but lusts equally for Skittles as French truffle cake.
[php snippet=1]
As far as praise and recognition are concerned, it doesn't help that he plays for the Washington Wizards. The Wizards don't win very many games, and consequently don't get a whole lot of positive press. As a result, McGee and his many dunks don't get a whole lot of coverage. It's understandable, then, why so many people are perplexed that he has been selected for the Dunk Contest this All-Star Weekend.
To make it even more perplexing, McGee and his many mundane dunks are competing against the earth-shatteringly explosive Blake Griffin, who by all accounts, is the runaway favorite to win. Griffin is such a favorite that it feels like the other contestants are simply there because letting Griffin dunk on his own isn't really in the spirit of the whole thing.
But that's not all that stands between McGee and greatness. There will always be "The Attempt", a controversial moment in an otherwise dismal Wizards season that scholars may one day classify as McGee's own personal Eureka! moment, the moment in which his true artistic (forgive the pun) wizardry emerged.
It happened at the end of an early season blowout at the hands of the equally-dismal Sacramento Kings. The game was long over, and the players were playing out the clock because they're paid millions of dollars to pretend to try. With 24 seconds left, on a Kings' inbound that would have mercifully ended the game, McGee – perhaps unconsciously sensing an opportunity to shine – interjects a 3'6" arm into the passing lane, pokes the ball ahead of himself and takes off on a rangy fast break.
No one bothers to chase him down, and it's in the three long strides he takes to break away from the pack that you can sense his anticipation of the blank canvas before him. As he crosses the three point line he takes one last explosive step and launches himself from the free throw line, extends his arm out, and emulates the greatest dunk of all time: Michael Jordan's Free Throw Line Special.
If you've watched the replay, you've seen the moment where, like Homer Simpson trying to jump Springfield Gorge, it clicks that the loft isn't there, that there's no way he possibly makes the dunk. The ball flies out of his hand, up off the backboard, and back into the hands of an opposing player. The arena explodes in raucous laughter and he has to shamefully bound back to play defense.
The video went viral and we all spent a few days laughing at the audacity of a man who thought he could dunk like Jordan, but failed.
Which brings us to the most insidious part of the whole issue: by missing the dunk McGee succeeded in getting noticed. Sure, it's an undeniably selfish attempt to emulate an icon in the name of making YouTube history at the end of blowout loss. But, by the same token, it got his name onto SportsCenter and a YouTube highlight with 360,000+ hits.
And now he's in the Dunk Contest, which even in the hollowed-out shell of its former self, is still capable of turning stars into superstars and fringe players into cult heroes (brought to you by Sprite, no less).
It might not matter that while his predecessors in the Art of Dunk have given us Classicism (Julius Erving), Neo-Classicism (Michael Jordan), Abstract Expressionism (Jason Richardson), and Post-Modernism (Dwight Howard and Nate Robinson), JaVale McGee's dunks seem more like those of a preschooler who successfully recreates "Starry Night" with finger paint.
The most recent chapter in McGee's endless pursuit of aerial fame, comes via Twitter. On Jan. 30, he wrote: "Anyone have ideas for the dunk contest…real ones…For the contest?…hit up my email."
While it's highly likely that McGee is so desperately out of ideas he's asking his followers for help, it's also possible that he's building his brand through a sly interactive social media marketing campaign. Maybe now we just ought to pay attention.
For someone crazy enough to imagine that they could dunk like Michael Jordan, in mid-game, anything is possible.
[php snippet=1]