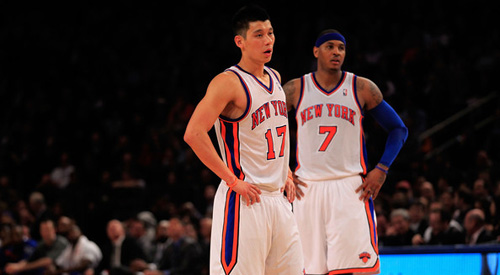 Linsanity vs Carmadness
March 19, 2012
Remember Linsanity? Remember when Jeremy Lin came from obscurity to run the pick and roll and set a scoring record for a player's first five starts? How quickly he developed the gravitas to clear the floor and take the last shot in a close game? And remember how he hit it?
It wasn't all that long ago that the Knicks were one of the best stories in the NBA. Lin came from nowhere – well, California, if you insist – and in a seven-game winning streak, broke onto the national scene. In the first win of that streak, Lin scored 25 coming off the bench. Five starts later, his 136 points were a record for a rookie starter.
Lin was ubiquitous.  He was on the cover of Sports Illustrated (twice!), Sportsnet Magazine and Time. Jimmy Fallon's show sang a song about him. He had the best-selling jersey in the NBA. For a time, Linsanity was in full swing and Knicks coach Mike D'Antoni was a genius for setting it off.
How quickly things changed when Carmelo Anthony returned to the Knicks, drastically altering their playing style. A couple of weeks ago at Grantland, Sebastian Pruti broke down what was and wasn't working. The short answer is Lin and Anthony work best in different areas: Lin's strengths came in pick-and-roll situations, Anthony in isolation. In other words, each need the ball and to play at different temps to be effective. That doesn't work too well when they're on the floor at the same time. 
[php snippet=1]
According to 82games, three of the top five used on-floor units for the Knicks involve Lin and the other two Anthony. The one used the most has Lin, Anthony, Amar'e Stoudmire, Wilson Chandler and Landry Fields: it's played a total of about 75.2 minutes, and shoots the ball well, with an effective field goal percentage of .460 while holding opponents to .446.
But when they swap out Anthony for Bill Walker, their eFG jumps to .514 (although with Walker out for a few months, that's not really an option anymore). In other words, with Lin controlling the ball, the Knicks shoot better and get to the line more, but also allow more points and turn the ball over more frequently.
It's a little trickier than just looking at stats, though. There's perception, too: just over a year ago, the Knicks gave up three draft picks, six players and cash for Anthony and Chauncey Billups, who's since moved to LA. They can't just leave the lone player left from that trade sitting on the bench, especially when he's getting paid over $13 million this season.
So when they go on a slump, what are they to do, blame the person they just gave up so much to get? Or dump it on a scapegoat?
In some media circles, Anthony is taking the blame, which isn't really fair. Columns calling him Stephon Marbury 2.0 spent more time patting their authors on the back than actually explaining what the problem between Anthony and D'Antoni was – or if there even was one.
There was a similar situation up on Toronto earlier this year with the NHL's Maple Leafs.  The Leafs were in a playoff spot as recently as January, but after losing 15 times in a 17-game stretch, they plummeted down the standings. Was it all their coach's fault? Leafs GM Brian Burke gave Ron Wilson the blame when he axed him at the beginning of the month.
Are the Leafs playing any different? Despite being spoken to and a newfound dedication to physical conditioning, they're still losing. They've had trouble scoring, too, going through a streak where they scored eight times in five games. But something had to be done: the Leafs were losing games! The crowds outside were chanting at Burke like he was Ceausescu in '89 and he threw them a body.
Never mind that he could have waited for the season to end to fire Wilson, and could have hired the waiting-in-the-wings Dallas Eakins; head coach of the AHL-affiliate of the Maple Leafs.  Never mind how the Leafs' season is all but lost, with four teams between them and the last playoff spot with less than a dozen games left: they're only eight points out!
So goes the cult of the quick fix. D'Antoni's departure won't solve any more problems than firing Wilson did. The problem isn't a team that's underachieving; it's a team that isn't good to begin with. Don't look now, but Carmelo's stats are his worst in years: a PER of 18.7, an offensive rating of 103 and .119 Win Shares per 48 minutes. He's not alone: Stoudemire's shooting numbers and PER are down, too. As a whole, the Knicks aren't great. Their SRS is 16th in the league at 0.95, their offensive rating 19th at 102.9.
This is a team that seems right about where they should be: a borderline playoff team in the competitive Eastern Conference. D'Antoni may have had some problems with his team – it's hard to think he didn't when the Knicks lost six games in a row – but to throw Anthony under the bus makes about as much sense as saying Lin's the point guard of the future: it's Carmadness.
[php snippet=1]