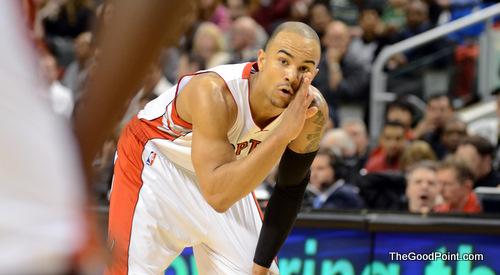 Numbers Game: Jerryd Bayless flirts with stardom
May 10, 2011
Numbers, although deceiving, don't lie. It's an infamous cliche both comforting and disturbing for Toronto Raptors scoring point guard Jerryd Bayless. The 22-year-old, after all, has seen combinations of digits dictate the majority of his brief career, occasionally for better, but often for worse.
Numbers of opportunities have limited his chance to showcase the offensive ability he flaunted as an Arizona Wildcats freshman. Numbers of minutes, in that regard, have kept him from getting into a scoring rhythm when he finally gets those opportunities.
Until now.
After finding a fourth organization in his three-year career (another number impressive in its own right), Bayless has found a situation in which the opportunities to shine no longer fall in short supply. In the month of April, as the Raptors stumbled to the finish line of a frustrating season, his number of minutes didn't either.
"The NBA is about opportunities and right now I'm getting a great opportunity, just trying to take advantage of it," he said, after dropping 28 points in a loss to the Cleveland Cavaliers last month.
Head coach Jay Triano agrees.
"It's the time. It's the amount of time that you give him to be on the floor and show what he can do," said Triano. "I think he's more relaxed right now."
[php snippet=1]
As a rookie averaging just over 12 minutes per game with the Portland Trail Blazers back in 2008-09, Bayless had a single game of 20-point game. The next year he added four more. In April of this season alone he did it six times, while taking command as a vocal leader of a young injury-riddled Raptors team looking to close out their year.
In terms of numbers, in eight April games, Bayless averaged 22.5 points and 5.6 assists in 37:47 minutes per contest. He did so on .484 shooting from the field and with a carousal of opponents alternating between good health and a lack thereof.
It's in this case, and only this case, where the relentlessly objective judgment of numbers work to his advantage. Suffice it to say, those are All-Star numbers.
Towards the end of the 2010-11 campaign, Jose Calderon, Andrea Bargnani and Amir Johnson all spent time in suits watching as the losses piled on long after they had been eliminated from playoff contention. Simply put, it was one of those years.
Bayless, not one to squander an opportunity, used the experience as a working portfolio in more ways than by simply filling the box score.
"[We're] just trying to finish the season as strong as possible," said Bayless. "I still work on my game every day, but [on] nothing in particular. I'm just getting the opportunity right now and it's going well."
Though he wasn't alone leading the Raptors, it was the guard's fervid attitude that set him apart from those promising reserves who have come before him. It may very well be that attitude that keeps him in a prominent role as the future nears.
Whether calling audibles from behind the arc as his teammates line up for a free throw or barking out commands as he brings the ball up the court, Bayless' passion, his obsessive insistence on things going as planned is hard to ignore.
"We can't forget how young he is," said Triano. "These minutes and this valuable experience is something that's going to bode well for his future when he's a 26 or 27-year-old point guard in this league."
Using Triano's timeline, Bayless has five years to prove that he deserves starters' minutes, even when injuries heal and veterans return to resume their roles. Though it won't be long before Bayless is considered an outright vet himself, the onus is on him to give coaching staffs no other choice but to play him.
If that means serving as an extension of the coach on the court, so be it, if that means maintaining his April production and creating offense with his lateral quickness and an unpredictable crossover, even better.
"He's a scorer. We keep telling him that, 'Score first'," said Triano. "And then when they take that away 100%, that's when you make a pass pass. If you come off screens looking to make passes it's tough to get into a scoring rhythm."
It seems counterintuitive for a lithe point guard to opt out of playmaking duties, but it's been his success deviating from the position's traditional responsibilities that have allowed him the opportunity to step out of a reserve role and into the driver's seat as a potential star in the first place.
The NBA has seen undersized shooting guards thrive as committed scorers in the past. The city of Toronto has even seen unheralded reserves emerge as leaders of professional sports teams in the area, take MLB's Jose Bautista or the NHL's Clarke MacArthur, for example.
Now with the precedents set, all eyes will be on Bayless to see if he can complete the transition to join them. Will he reap the benefits of his test run as a go-to scorer? It may very well come down to whether he's able to get numbers to work for him, for once, as opposed to against him.
If the notoriously hard to impress Triano's endorsement is any indication, he's on the right track.
"I think the biggest thing has been that he's more consistent," said Triano, reflecting on Bayless' late season success. "He's been pretty solid with his numbers."
[php snippet=1]