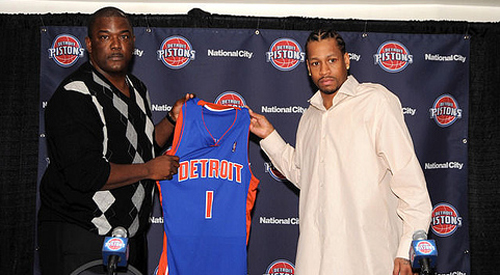 Has Joe Dumars lost his way?
February 28, 2011
After being named the general manager of the Detroit Pistons in 2000, Joe Dumars turned heads quickly. In no time at all, he assembled an impressive championship-caliber squad which completely recreated the team's identity.
Over the course of a six-year span beginning with the 2002-03 season, the Pistons made the Eastern Conference finals six straight times, including two trips to the NBA Finals. They won as many as 64 games in a season after winning the NBA Title two years prior. Needless to say, that's pretty impressive for a team with no true superstar.
Simply put, the team was a perfect compilation of talent, personality, and philosophy.
As such, the Detroit Pistons were once a symbol of hope for a struggling city, a respite from hardship and one of the city's few economic and cultural positives.
The Palace at Auburn Hills, once the place to be, has since become a microcosmic symbol of Detroit. Once the home of greatness, it is now simply a shell of its former self with nothing more than memories of what once was. Fond memories they may be, but professional sports franchises don't thrive based on past successes.
Let's be honest. The Motor City has lost its luster. And so have the Pistons, where the fall from "where amazing happens," has been dreadfully quick. As sad as it is to say, the problems all seem to come down to one placethe shoulders of Joe Dumars.
[php snippet=1]
Dumars has certainly received a ton of credit for putting the championship roster and staff together, and rightfully so. In all probability, that is why he still has a job. And while the past should not be forgotten, the evidence does not lie. Looking at the sheer number of awful mistakes that Dumars has made since the glory days, many fans have likely been wondering: did he get lucky?
In professional sports, this question is inherently superficial. It implies a lack of skill that is completely illogical; at least considering the team Dumars was able to assemble over a six year period. Luck is very subjective in professional sportsis it even possible for anybody to get that lucky in the first place? As such, judging Joe Dumars now does not need to involve a critical judgment of his past. He was a great general manager, period. He knew what he was doing when he put that winning roster together.
Nevertheless, the Pistons ownership has some serious thinking to do. I'll concede that Dumars was a great general manager five to 10 years ago, but does his list of mistakes since then outweigh the list of noted positives? And if it does, can Dumars be trusted with the future of the team from here on out? Pistons nation has every right to be concerned with the man in charge, and these are the questions everybodyand most importantly ownershipshould be asking.
Loyal Dumars supporters might say that he deserves a little slack for what he has done in the past. He's a legend from the days of the Bad Boys! He gave us a championship in 2004! They might say that he is just trying to rebuild and needs a little time. However, looking at his overall body of work, and everything he has done since, it would seem that Dumars should be working on a short leash. Thus far, his "rebuilding effort" has been erratic and misguided.
After hiring two very experienced head coaches in Larry Brown and Flip Saunders, Dumars switched gears, reversing his hiring philosophy and hiring two straight coaches with exactly zero years of previous experience. The first hire was former player and assistant Michael Curry. After watching just a few games, even the most casual fan could see that he was completely outmatched. It was a disaster from the outset. Luckily, Dumars realized his mistake quickly, replacing Curry after a year. Unfortunately, he chose another rookie head coach, John Kuester, a former assistant with the LeBron James led Cleveland Cavaliers.
Supplementing a largely veteran roster with these hires made no sense at all. Recent clashes between Kuester and the current Pistons roster have come to light. The team still includes three main pieces from the 2003-2004 championship squad: Richard Hamilton, Tayshaun Prince and Ben Wallace. They've seen what good coaching is and if they don't believe they are getting it, the benefit of the doubt absolutely needs to go their way.
Let me be clear; there's nothing wrong with deciding to go into rebuilding mode, or hiring a rookie coach. But those decisions need to be supplemented with the right roster. Let's be honest, Michael Curry, despite his weaknesses, had no chance when Dumars traded team leader Chauncey Billups, alienating legions of Pistons fans in the process. Similarly, Kuester may or may not have potential as a head coach, but did he really have a chance when Dumars retained veteran players that should have been traded away for young talent, draft picks, and cap relief?
To put it bluntly, Dumars has hired two rookie coaches and put them each in a position to fail miserably. That's not the sign of a general manager with direction or foresight. Dumars may claim he is rebuilding, but the roster moves don't lend credence to that. Dumars should not be retaining veterans from his previous squads if he desires to go in a new direction. Either he has no idea how to rebuild or he doesn't know which direction to take the franchise in, torn between retaining the past and moving forward.
While trading Billups was a questionable move, it did have its positives. Despite an unhappy fan base, and an unhappy Richard Hamilton (a close friend of Billups), the Pistons did clear over $30 million in future cap space after Allen Iverson and Rasheed Wallace left. Unfortunately, Dumars did not take advantage of this and used the cap space on Ben Gordonand Charlie Villanueva. Oops. These two signings were met with great criticism, which has since been proven valid. To give either of these players a long term, expensive contract, would have been a mistake. And Dumars gave it to both of them.
Even worse, Dumars minimized Gordon's value, retaining wing players Hamilton and Prince, along with point guards Rodney Stuckey and Will Bynum. Where would Gordon fit in? It seemed as though Dumars was just spending money because he had it.
What other roster moves have been mistakes? Drafting Darko Milicic over Carmelo Anthony,Dwyane Wade or Chris Bosh was a disaster. Additionally, at the time, Larry Brown was still the coach and had no intention of developing Darko.
To compound his mistake, Dumars gave up on Darko too early, trading him just three years after drafting him, despite not developing him, and knowing that he would be more of a project than other choices. Yes, hindsight is always 20/20, but how many times do you say that about a general manager before you realize that something isn't right?
Once Dumars is able to figure out the direction to take the team in, he might be able to put himself in a position to right the ship. At the same time, with the contracts of Gordon and Villanueva haunting him every night, it could be too late. The new, mystery CBA could be a major issue moving forward and albatross contracts could have an even more negative impact on a team's roster and cap flexibility.
Back in the days of the Bad Boys, Joe Dumars became a Pistons legend. In 2011, the Pistons look poised for a long stretch of losing unless something major is done because of the roster moves he has made.
It might just be time for the Pistons organization to think about cutting ties with their general manager. I don't want anyone to forget how good of a player Dumars was or how good of a GM he was for a six-year stretch. But if former Bulls GM Jerry Krause can get fired years after putting Michael Jordan and Scottie Pippen together then Joe Dumars is not invincible.
[php snippet=1]