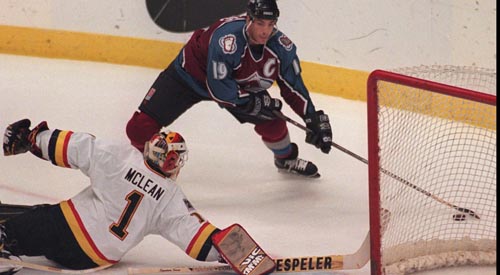 Joe Sakic: 20 Years of Excellence
July 24, 2009
Many words come to mind when one mentions the name Joe Sakic. Passion, dedication, leadership, loyalty, class, and humility are a small handful of descriptors that characterize the seasoned NHL veteran, but perhaps no word personifies Sakic's illustrious career in the National Hockey League better than the word excellence.
Joseph Steven Sakic was born on July 7, 1969 in Burnaby, British Columbia. As a quiet, occasionally shy centreman, Sakic played his junior hockey in the Western Hockey League for Saskatchewan's Swift Current Broncos. At a mere 5'11" and 195 pounds, Sakic began to show the world that his less-than-physical stature was no match for his grit and determination. In just two seasons with the Broncos, Sakic earned himself awards for Rookie of the Year, Most Valuable Player and Canadian Major Junior Player of the Year. This was without question a sign of things to come.
In the 1987 NHL Draft, Sakic was drafted 15th overall by the Quebec Nordiques. He would make his NHL debut a little over a year later and in his quiet, unassuming manner would slowly begin to make his mark. Playing most of his career as No. 19, Sakic spent all of his 20 NHL seasons with the Quebec Nordiques/Colorado Avalanche franchise, serving for 16 of those seasons as team captain.
On July 9, 2009, "Burnaby Joe" as he has come to be known, informed the hockey world that he would be hanging up his skates. He leaves behind a 20-year legacy that brands him as one of the greatest to have ever played the game.
Below is a chronological snapshot of the career of Joe Sakic. As a man of such modesty and humbleness, it is indeed Sakic's resume that does the talking for him.
[php snippet=1]
1. Welcome to the NHL
Joe Sakic officially entered the NHL on Oct. 6, 1988. In his first ever NHL contest, Sakic notched his first NHL point, an assist, against the Hartford Whalers. Two days later, he would score his first NHL goal against Sean Burke of the New Jersey Devils.
2. In Sakic We Trust
After playing for two seasons as co-captain, Sakic was named the Nordiques' sole team captain in 1992. That year, he would lead the team to the playoffs for the first time in six years, setting a franchise record for wins and points in the process. Quebec's memorable season was due in large part to Sakic who tallied an impressive 105 points.
3. Burnaby Joe
A proud Canadian, Sakic represented Canada in international play whenever possible. At the 1994 World Championships in Italy, Sakic tallied seven points in eight games to help lead Team Canada to its first World Championship in over three decades.
4. Raising Stanley
In 1995, the Nordiques moved to Colorado and Sakic wasted little time putting Denver on the map. In the 1995-96 season, Sakic recorded a career-high 120 points and led Colorado into the playoffs. He notched 34 points in the post-season, including a remarkable 18 goals, six of which were game-winners – a record for game-winning goals in the playoffs. A Stanley Cup Final sweep of the Florida Panthers saw Colorado hoist its first Stanley Cup in franchise history. Needless to say, No. 19 was awarded the Conn Smythe Trophy as playoff MVP.
5. Reaching Milestones
In late December of 1999, in a game against St. Louis, Sakic recorded an assist and became the 56th player in NHL history to reach the 1000-point plateau. Three months later, playing against Pheonix, Sakic sniped a hat trick to earn his 400th career goal, the 59th player to do so. The feat also allowed him to surpass Peter Stastny as the all-time points leader for the Quebec/Colorado franchise with 1049 points.
6. Trophies Galore
In the 2000-01 season, Sakic earned 118 points, including a career high for goals with 54. Under his guidance and leadership, Colorado would go on to win their second Stanley Cup Championship. In addition to the Cup, Sakic also earned the Hart Trophy as league MVP, the Lady Byng as most sportsmanlike, as well as the Lester B. Pearson Award for most outstanding player as voted by the Player's Association. Aside from the abundance of hardware, Sakic showed himself as a class act through and through that season. In a moment that characterizes Joe Sakic as a person, when awarded the Cup as team captain, rather than hoist it high above his head, Sakic immediately handed the grail to teammate Ray Bourque, who had waited patiently for 22 seasons for his chance to lay claim to Stanley's Cup.
7. Triple Gold MVP
At the 2002 Winter Olympics in Salt Lake City, Utah, Sakic played a pivotal role in Canada's Gold medal run. The lanky centreman tallied 10 points in the tournament, including four in the Gold Medal Game against the home-team USA. He was named tournament MVP as Canada captured Olympic Gold in men's hockey for the first time in half a century. Sakic also became one of the first Canadians to join the Triple Gold Club, an elite group of players who have captured a gold medal in both the Olympics and World Championships, as well as the Stanley Cup.
8. The 500 Club
Sakic potted his 500th career goal on Dec. 11, 2002 against the Vancouver Canucks, making him the 31st player to accomplish the feat.
9. All-Star Glory
In his 12th All-Star Game appearance, the 2004 Western Conference All-Stars were victorious thanks in large part to a hat trick from Burnaby Joe, who would be named the game's Most Valuable Player.
10. World Cup Champion
In the 2004 World Cup of Hockey, Sakic tallied six points in six games, helping lead Team Canada to victory.
11. Points-A-Plenty
On Oct. 25, 2006, Sakic recorded an assist against the Washington Capitals, bringing his career point total to 1500. Doing so with one franchise put him in elite company alongside Gordie Howe, Wayne Gretzky, Mario Lemieux, Ray Bourque and Steve Yzerman.
12. 600 and Counting
Playing against the Calgary Flames on Feb. 15, 2007, Sakic netted his 600th career goal – the 17th player in history to achieve this milestone.
13. Better with Age
On the final day of the 2006-07 regular season, Sakic tallied his 100th point – the sixth time in his career that he hit the 100-point plateau. At 37 years old, Burnaby Joe became the second-oldest player in NHL history to reach this mark.
14. To the Point
On Oct. 26, 2007, playing division rival Calgary, Sakic potted a goal to land at 1599 career NHL points. Sakic would hit the 1600 mark in overtime when he set up Ryan Smyth for the winner.
15. 1000 Helpers
On March 22, 2008, in a game versus Edmonton, Sakic became the 11th player in NHL history to achieve 1000 career NHL assists. He would finish his career with a grand total of 625 goals and 1016 assists for 1641 points, placing him eighth on the all-time points list.
[php snippet=1]