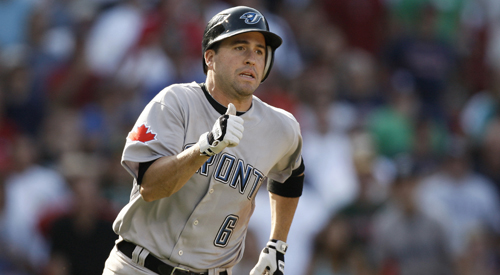 John McDonald's tears cure Swine Flu
September 18, 2009
Blue Jay fans love John McDonald. It's a surprising form of loyalty since the veteran shortstop spends the majority of the season in the dugout. However, there's something about "Johnny Mac" that has captured Toronto's collective heart, despite his career .238 average (as of Sept. 14). Maybe it's his highlight reel-worthy defense. Perhaps it's his speed and hustle on the base paths. It could even relate to having a name similar to the country's first Prime Minister, Sir John A. MacDonald.
Even so, there are many reasons why the man has developed such a special and passionate following. Listing every single one would take weeks. So to understand this unique athlete, here are just a few Johnny Mac facts:
[php snippet=1]
Alex Rodriguez has a mega man-crush on John McDonald.
When Roy Halladay needs advice, he turns to one man: John McDonald.
There's only one man who can make Tim Lincecum cut his hair: John McDonald.
When Tina Turner sang "The Best," she was singing about John McDonald.
Why did the chicken cross the road? To get John McDonald's autograph.
John McDonald is faster than the Flash, stronger than Superman, and spins a better web than Spider-Man.
John McDonald doesn't chase down groundballs; groundballs chase down John McDonald.
John McDonald can hit a home run while blindfolded.
John McDonald only agrees to trades involving just him.
John McDonald can sing "Take Me Out to The Ballgame" in 17 different languages.
John McDonald can perfectly spell Marc Rzepczynski's last name backwards.
Derek Jeter spends his winters studying John McDonald's fielding technique.
John McDonald's glove is made from the energy of 1000 suns.
John McDonald vs. a fifth-inning cleanup crew? No contest. Johnny Mac comes out on top.
Kat Von D has a tattoo of John McDonald on her right arm.
When John McDonald wants to steal a base, the opposing catcher lets him.
John McDonald can make an unassisted triple play with both hands tied behind his back.
U.S. President Barack Obama keeps a wallet-sized photo of John McDonald for good luck.
John McDonald put New London, Connecticut on the map.
John McDonald tells the staff of the Rogers Centre when to open the roof and when to close it.
Usain Bolt fears John McDonald.
John McDonald should have been Danny Ocean's 12th man.
John McDonald is the only person in the world who can calm Lou Piniella down.
John McDonald knows the Caramilk secret.
John McDonald loves the smell of FieldTurf in the morning.
The word "error" is removed from every single dictionary John McDonald has ever looked at.
Every time John McDonald makes an acrobatic defensive play, Cito Gaston sheds tears of joy.
Every time John McDonald hits a home run, all fans in attendance receive seven years of good luck.
When Lyle Overbay prepares for a throw from John McDonald, the first baseman feels he's about to play catch with God.
John McDonald can eject umpires from the game.
Some might view John McDonald as a simple utility player. Others will recognize him as someone who does more than just keep the bench warm. Cooperstown might be out of reach for Johnny Mac, but at least he's achieved a cult status that rivals any Hall of Famer.
[php snippet=1]