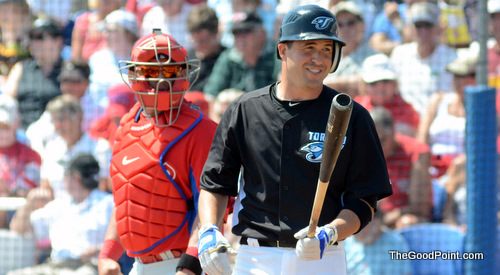 John McDonald, leadership defined
March 29, 2011
The concept of leadership in sports is as intangible as it is cliche, plied more often to soft-spoken veterans in the clubhouse than to anyone else for any legitimate reason. If not used to generically describe athletes with acknowledged service time, the oft-misused tag is pinned to players for whom simple statistics and accomplishments don't do justice.
Alternatively, the label can stick for players whose presence on Major League rosters lack obvious justification. Such is the case, it would seem, for John McDonald.
McDonald, a 12-year veteran in his sixth year with the Toronto Blue Jays has a .275 career on-base percentage. At 36 years old and 5'9″, McDonald is anything but a booming prospect poised to legitimize the sub-standard stat line, yet, somehow, his presence with the Blue Jays organization is as valuable as ever. Why?
With all of the attention in Toronto on Ricky Romero, Jose Bautista and co., it's easy to overlook the contributions of the rest of the young, competent roster. It's impossible, however, to overlook the contributions of the veteran that holds them all together.
At a time when the word "leader" itself has lost meaning, McDonald serves the clubhouse and the organization as valiantly as any to ever accept the role. Now, a decade and a half after the versatile middle infielder was drafted in the 12th round by the Cleveland Indians, it's time for McDonald's merit as a leader – in every sense of the word – to take the forefront.
With the 2011 season opener now days away, morale in the Blue Jays clubhouse is as high as one would expect for a roster loaded with competent youth and developing arms. Had it not been for their American League East residency – and perhaps in spite of it – the Jays would be staring an almost certain playoff berth in the face for the first time since 1993.
[php snippet=1]
In the last two years the franchise has shed humble icon Roy Halladay, and boisterous team favorite Vernon Wells, but the Jays are no worse for wear. In fact, the moves have paved the way for a new brand of veteran presence that combined with their promise makes for an even brighter outlook going forward. The previous figureheads of the roster, the former de facto leaders, now suit up in Philadelphia and Los Angeles respectively, making room for a young roster to flourish.
Though the Jays may miss the routine complete games of Halladay or the charisma of center fielder Wells as the 2011+ era unfolds, life in the new generation – one led by Bautista and Romero but held together by veterans like McDonald and catcher Jose Molina – is ready to begin.
"I think it's making sure that everybody is prepared, [making sure everybody] is working," says McDonald, abbreviating his role as one of the few elders on the Jays' 25-man roster. "[Making sure] that if they have questions, they're answered."
You might not guess it, but McDonald shoulders a lot of responsibility with this year's Toronto Blue Jays squad, not because he'll be asked to increase his characteristically low power numbers or improve his already otherworldly defensive skillset in the infield, but because it's a big year for the growth of the roster over which he presides.
McDonald may not be relied on to turn the team's fortunes around on the field, but a lot still depends on the veteran's production over the course of the coming season. With so many impressionable young assets coming into their own in Toronto, manager John Farrell and Alex Anthopoulos will be counting on their utility infielder to help nurture the developing young core that they've worked so hard to assemble.
"We want our young players to really go out and play. They have a lot of ability and shouldn't be worried about things that they shouldn't be worried about."
Whether helping the first, second, and third-year big leaguers acclimate to the city of Toronto – a city McDonald and his family "love" – or just Major League Baseball in general, the answers he provides to the boundless questions he'll face as the roster matures will factor greatly into the final product of the promising young franchise.
"If they have questions about things to do around town, how to act, how to tip," McDonald explains, "… clubhouse etiquette, on field Major League etiquette, what's going on on the plane, [for example]. So things are easier, so things are smoother. So that they're not thinking about all these other things and just concentrating on baseball."
If McDonald can come through on his responsibilities, the city of Toronto could be looking at a roster not only gifted enough to hypothetically make noise in the AL East, but one destined to do so, at least eventually.
"We want them to let their abilities take over. We want them to make as few mistakes as possible because all younger players make mistakes, there's always a learning process."
An example of a young Blue Jay whose found himself struggling to find a way in the Bigs only to be relieved by McDonald is 23-year-old outfielder Travis Snider. After making his debut at the end of the 2008 season, Snider has become one of the poster boys of the organization's future.
Although he's bounced around in the years since, both with the Jays and Triple-A Las Vegas, the disabled list, and in former manager Cito Gaston's batting order, Snider remains a legitimate power threat poised to break out into potential All-Star form.
"Johnny Mac is unbelievable," says Snider. "[With] his ability to approach you in any situation with the right demeanor and get his point across in a respectful manner."
"He mentioned something to me last year, I was going through a little bit of a scuffle in the middle of the season after I got back from being hurt. I was starting to get frustrated and show it. Both McDonald and Molina did a great job of pulling me to the side and reassuring me that I was here for a reason and that my abilities are going to play as long as I don't let my emotions and frustration overtake what I'm doing every time I step on the field."
"It was a good lesson learned for me and hopefully I'll be able to pass that down to some of these young guys as they make their mark."
With the proper frame of mind – like Snider's now – and luck on their side, the Jays could come out of 2011 in an even better place than where they are heading into it; in the postseason. Granted, the Red Sox, Rays and Yankees aren't going anywhere any time soon, it's just as likely that the Jays will meet them at the top than any of the others meeting them at the bottom.
"It's been a fun camp, we have a tremendous coaching staff that allows us to be prepared and to enjoy the games," McDonald explains. "I think a lot of those guys in the clubhouse right now are enjoying what they're doing. Guys are excited to get to the ball park, there's a good amount of ribbing going on between players, it's just a fun place to be."
If McDonald can continue to fulfill his duties with the club well into the season and beyond, the quiet jack-of-all-trades whose logged time at four different positions in each of the last two seasons may start gaining some recognition for something other than his ability to field ground balls.
It's hard enough finding true leaders in professional sports, athletes whose sole responsibility is to make sure that the men they share a clubhouse with are prepared for a future of success. It's harder yet to find someone as good at it as John McDonald.
Adds Snider, "[As a young player] you understand that he's been in this game a long time. There's a reason why he's still around."
And it's not because of his on-base percentage.
[php snippet=1]